Planning a sustainable wedding involves being mindful of your choices and their impact on the environment, as well as supporting local and eco-friendly businesses. With increasing concerns about climate change and environmental sustainability, numerous couples are seeking methods to diminish the carbon footprint of their wedding festivities. 
According to our 2023 Wedding Industry Report, approximately 40-43% of couples surveyed in the UK and Ireland expressed their optimism towards a venue with an eco-friendly policy. A significant 58% of couples surveyed in the UK claimed that they are integrating planet-preserving components into their celebrations. 
In celebration of the sixth Annual Global Recycling Day on the 18th of March, we put together some ways you can make a positive impact by planning a sustainable wedding. By following these steps, you can plan a wedding that is not only eco-friendly but also helps to support local businesses and communities.
Here are some steps to consider when planning your wedding:
Choose a sustainable venue:

Choose a venue that is eco-friendly and that has sustainable practices in place, such as recycling, composting, or using renewable energy. Consider outdoor venues, parks or botanical gardens, as they require less energy to maintain.

Choose sustainable food and drinks:

Choose a caterer who uses local, organic, and seasonal ingredients or enquire with your venue if they can provide this for you. Offer vegan or vegetarian options, and avoid single-use plastic or disposable items.

Opt for sustainable fashion:

Choose sustainable options for your wedding attire such as vintage or upcycled dresses or suits, rental outfits, or eco-friendly fabrics such as bamboo or organic cotton. You can also choose ethical and sustainable jewellery and footwear. Also, consider donating or recycling your dress after the wedding.

Transportation:

Encourage guests to bike to the venue, carpool or use public transportation to reduce the carbon footprint of the wedding. Alternatively, you can arrange shuttle buses or consider renting electric or hybrid vehicles to transport the bridal party.

Donate leftover food and flowers:

Minimise food waste by donating leftovers to a local food bank or shelter. Flowers can also be donated to a local nursing home, hospital, or charity.



Choose ethical vendors:

When choosing vendors make sure they have sustainable and ethical practices in place such as using renewable energy, fair labour practices, or eco-friendly materials.
Sustainable Wedding Decor
The best way to reduce waste for your wedding is by keeping your decor simple and minimalistic. Using only a few key items will create a cohesive and elegant look. This reduces waste and is also more budget-friendly.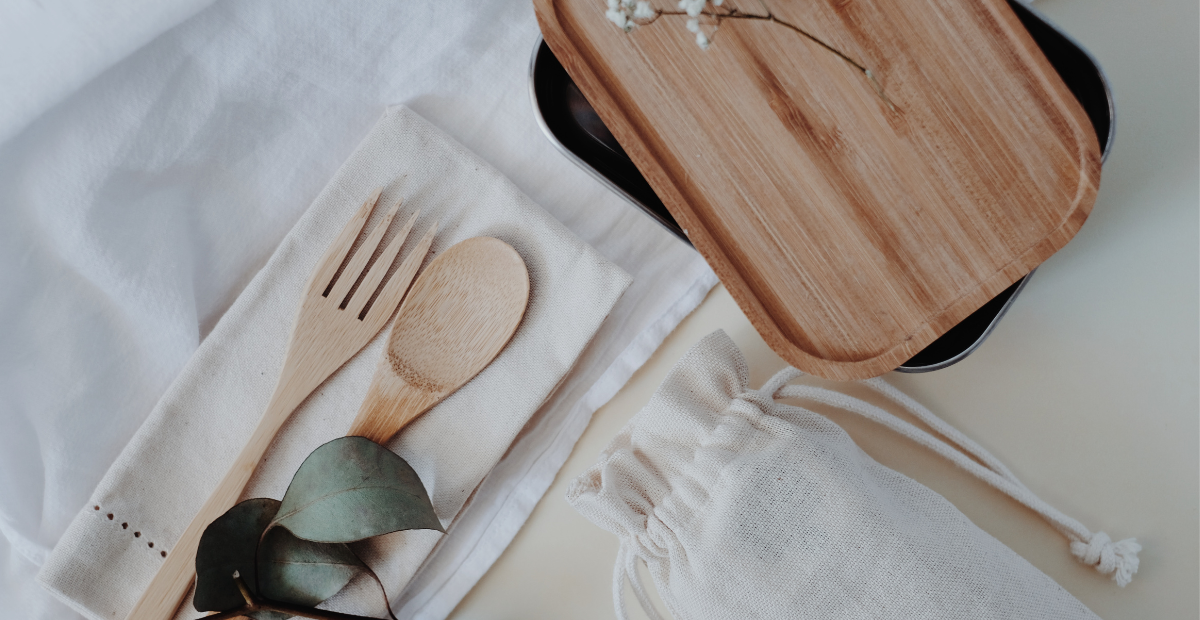 Here are 8 ways to use sustainable decor for your wedding: 
Use locally grown and seasonal flowers: Choose flowers that are in season and grown in the area near the venue to reduce the carbon footprint of your wedding. As an added bonus you will also be supporting a local business. You can also use potted plants as centrepieces, which can be taken home by your guests as party favours. Also, remember to use biodegradable confetti or flower petals instead of plastic confetti.
Natural and biodegradable materials:

Include natural elements in your decor, such as potted plants, succulents, or even branches and leaves. This can add a touch of greenery to your venue and create a peaceful, organic atmosphere. Make sure to use reusable or compostable tableware where possible, such as bamboo or compostable paper plates, cups, and utensils. This reduces the amount of waste generated from your wedding and is also more cost-effective in the long run. For other decor items like table runners, chair covers or napkins use natural materials instead of synthetic materials like bamboo, jute, cotton or linen. These materials are more eco-friendly and can be reused or donated after the wedding.

Rent or borrow decor items: Instead of buying new decorations, rent or borrow items from friends, family or local rental companies. This will reduce waste and save you money. Alternatively, check with your venue to see if they have decor on site that you can use.
Use paper alternatives:

Create beautiful floral arrangements, bunting, signs or garlands using recycled paper, old books or newspapers. There are a lot of tutorials on Youtube on how to make them. For invitations, menus and place cards consider using paper alternatives like seeded paper. These items can be planted after the wedding to grow into flowers or herbs

Photo from Simply Sweet Weddings
DIY decor: Create your own wedding decor using materials you already have or can easily find, or upcycle and repurpose decor. For example, you can make a photo booth backdrop using fabric scraps or old window frames or create a ceremony arch using branches and flowers. Use items you already have at home or in your community to create unique centrepieces. For example, mason jars, wine bottles, or old cans can be spray-painted and filled with flowers or plants. Decorate your wedding with items that have been repurposed or upcycled.
Edible decor:

Use edible items like fruit, herbs, or flowers as decor items. Create centrepieces that double as delicious treats. For example, a fruit or vegetable arrangement, or a tower of cupcakes, macarons or cake pops. Provide guests with edible wedding favours sourced locally, such as small jars of honey or homemade jams. You can also decorate your cake with edible flowers or berries instead of single-use plastic decorations.

Donate or repurpose decor after the wedding: Donate or repurpose your wedding decor after the wedding. For example, you can donate your flowers to a local nursing home or repurpose your table runners into pillowcases. There are also online groups, websites and marketplaces where you can sell your decor to other couples that can re-use them.
Go digital: Instead of using printed signage, consider using digital signage for your wedding. You can display your seating chart, menu, and other information on a digital screen or projector. This will reduce waste and save you money on printing costs. The same goes for wedding invitations and save the dates. You can create a wedding website with all the information or send e-vites to guests.Photo from Wedsites
By following these tips, you can plan a beautiful wedding that has a positive impact on the environment and the community. Together we can reduce our carbon footprint and make the planet a better place for future generations.
Do you have any other ideas? We'd LOVE to hear from you. Tag us on Instagram, TikTok, Facebook or Twitter. 

Attention wedding industry professionals! Don't miss out on our must-have 2023 Wedding Industry Report. This invaluable tool provides crucial insights into the ever-changing landscape of wedding planning, highlighting the latest trends and preferences of modern couples. Stay ahead of the game and download your copy now to stay in the know about the top trends for this year.