Found in the South East of England, sweet Surrey is an historic county full of character and charm, yet has modern hotels, award-winning vineyards, and restaurants so mouth-watering you'll have to wait in the queue. A good chunk of historic Surrey is now known as Greater London, but word on the street is the locals still call Surrey home. This county is filled with hidden gems in which to say 'I do' and each is perfect in its own way. Surrey is considered the best place for a wedding with an outdoor element – enjoy blooming gardens in Summer or the blanket of snow in Winter – easily done thanks to mild temperatures in the area. Here's some Surrey wedding venues and a few more nearby that are sure to pique your interest.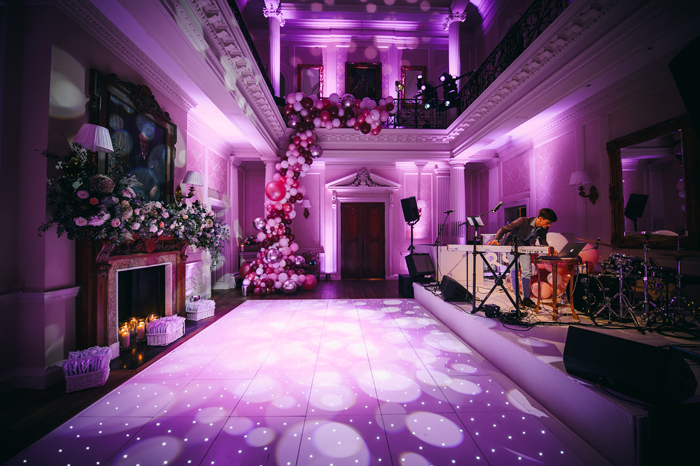 Begin your big day by driving down a beautiful rhododendron-lined driveway. Cross the threshold at a Georgian country house and accept your invite to the Bridal Suite, where you will get ready for your wedding ceremony in style and comfort. Say 'I do' beneath the Italianate domed Centre Hall. Finally, dine and dance beneath a trio of shiny chandeliers in the ballroom. This is Hedsor House.
This incredible venue is breath-taking both inside and out and will leave your guests in awe. The exclusive-use hotel is available on a dry-hire basis or if you're looking to work with some of the best in the wedding industry, you can choose from three curated wedding packages: The Darcy, The Augusta, and The 1776.
Hedsor House has been hailed by Vogue as their Dream Wedding Venue, and who are we to argue with fashion royalty? You'll cherish the memories you make here.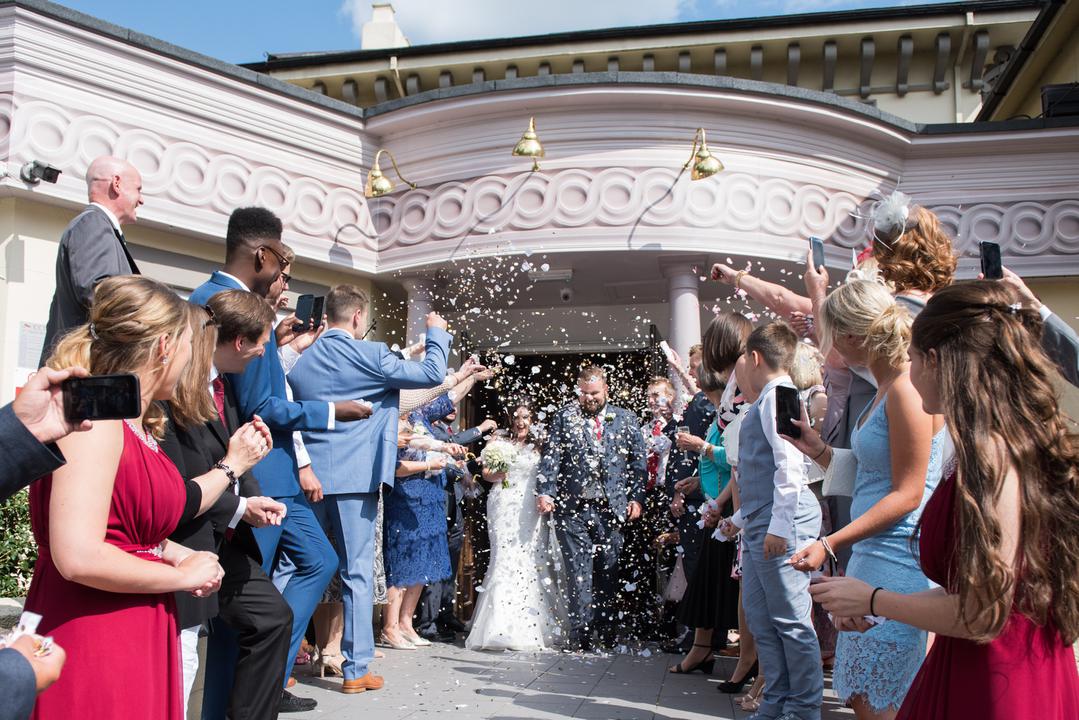 Reigate Manor is a blissful haven of contemporary elegance. This Surrey wedding venue offers couples a place in which to have their dream wedding, surrounded by family and friends, in the heart of this gorgeous county and away from the hustle and bustle of city life. Here, couples can begin this new chapter together in tranquillity.
That said, if a grand celebration is what you're after, the team at Reigate Manor can make it happen in the stylish Ballroom, which has its own private bar. Or if you're leaning towards something more intimate, that can easily be arranged. Gather your most beloved into the Conservatory to watch you make your vows to each other.
The experienced and friendly team offer three different wedding packages, so matter your budget and guest list size, a gorgeous wedding at Reigate Manor is within reach.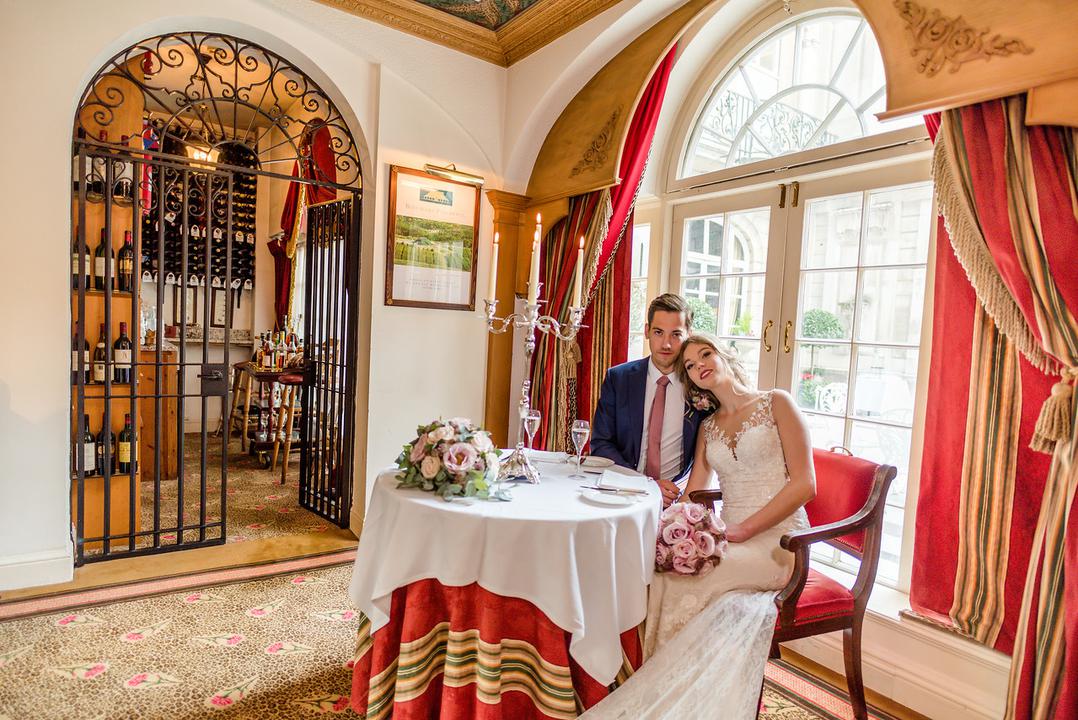 Lady Whistledown would expose her identity in a heartbeat if she thought it would get her an invite to a wedding at this grand establishment. The Chesterfield Mayfair Hotel is in London's most exclusive district and exudes all the old-world British charm you've come to know and love if you're a Bridgerton fan. Even if you're not, this wedding venue is not to be skipped when making your venue choice. This hotel is elegant and chic, charming and captivating. Each room is different, offering you the perfect selection from ceremony to reception, no matter your style or party size. However, each space has a few things in common, tonnes of natural daylight, grandeur, and style. Creating a photo album to cherish will be simple within the walls of The Chesterfield Mayfair Hotel. Now is your chance to start planning with their passionate wedding coordinators before they're all booked up!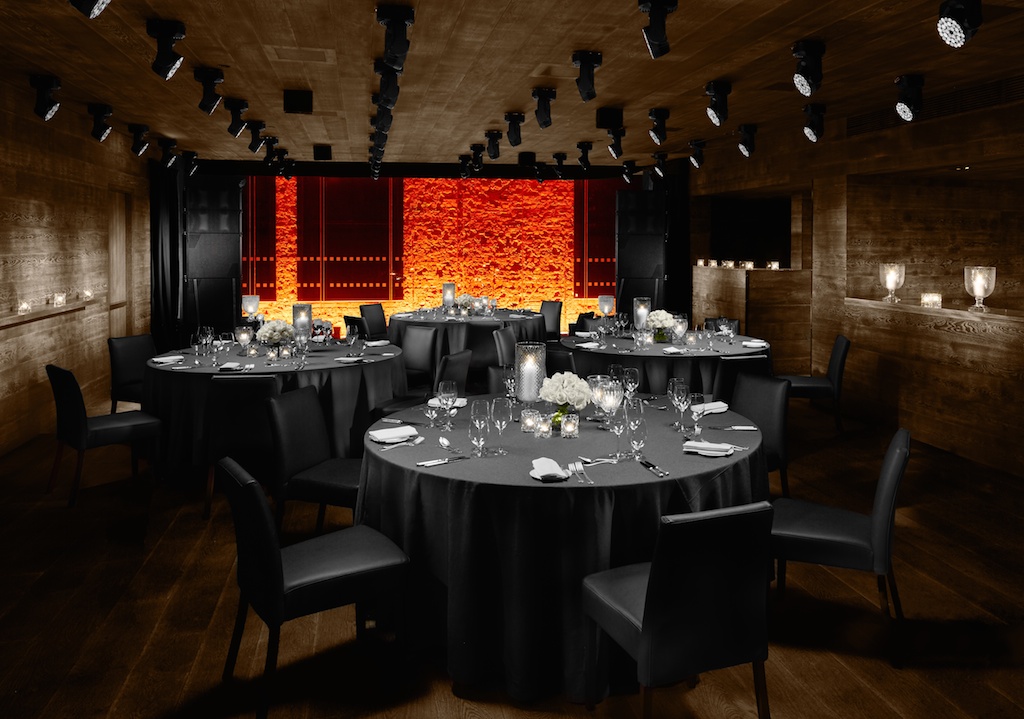 The London Edition is not just a hotel – far from – but a reimagining of the landmark building. Outside you will be met by eye-catching red brick and tall stone pillar framing the grand entrance. Inside, the memories you make here will echo around the large rooms with high, ornately decorated ceilings. This boutique hotel perfectly blends a luxury design and intuitive service with fine dining and lively nightlife, all within a rather bold space.
The staff at The London Edition have created wedding packages that cover all the essentials to having a wonderful day. These include a complimentary food tasting for two people – it will be challenging to choose from their delectable menu. A night's stay for the newlyweds is also included, ensuring the feeling of a great day is never-ending. And special rates are up for grabs for your wedding guests to spend the night too.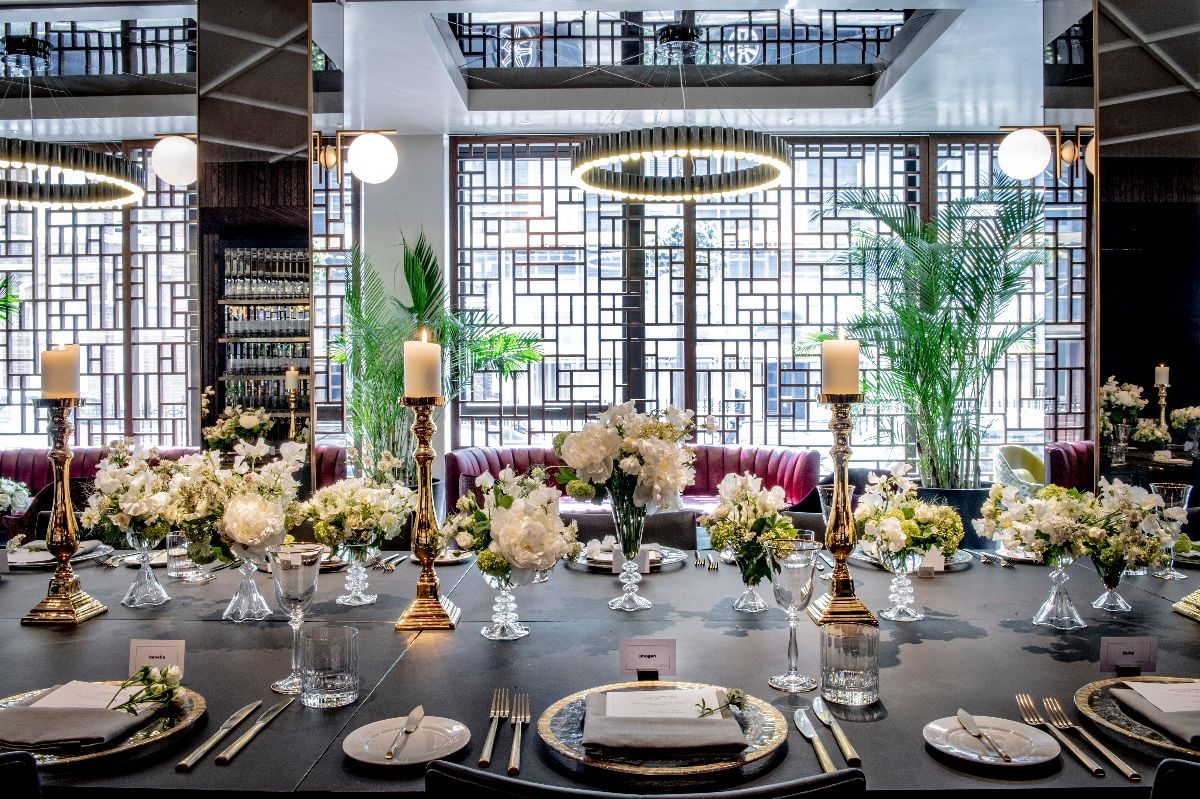 Marylebone Village is currently one of the trendiest places in all of London. This neighbourhood is within a short distance of bustling streets like Oxford Street, Bond Street, Mayfair and Harley Street. For a proper metropolitan wedding, The Marylebone is the place to go. The wedding venue is perfect for intimate city weddings and has many choices when it comes to function rooms, no matter your chosen wedding style or the size of your guest list.
The hotel is full of vibrant charm and a chic yet welcoming ambience. The hotel boasts many inviting nooks and crannies, each with its picture-perfect backdrop. Many of them bring a sense of inviting the outdoors indoors too, which gives you excellent scope for a beautiful and varied wedding album.
Service is paramount here at The Marylebone, so if you have a particular idea in mind for your dream wedding, never hesitate to share it with this passionate team.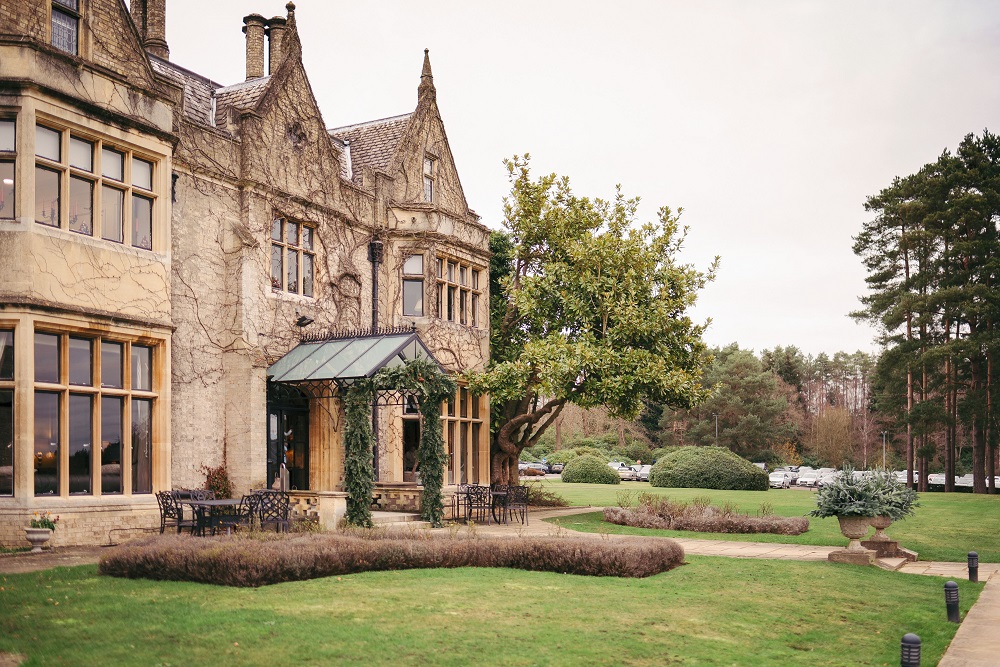 Foxhills Club & Resort is an idyllic Surrey wedding venue. Here, you and your guests will enjoy a 400-acre estate, which even includes an outdoor wedding gazebo, if what you're hoping for is tying the knot outdoors. The beautiful white structure will be waiting for you at the end of a white carpet aisle, with your smiling guests on either side. Inside the resort, you will be greeted by a great selection of unique rooms, which can accommodate intimate ceremonies and large celebrations.
This venue boasts a few perks for the wedding party that others do not – an onsite spa, a make-up parlour, and a hair salon! The ability to get ready for your big day beneath the same roof as you'll say 'I do' will bring you so much relief and relaxation, allowing you to bask in the day's joy.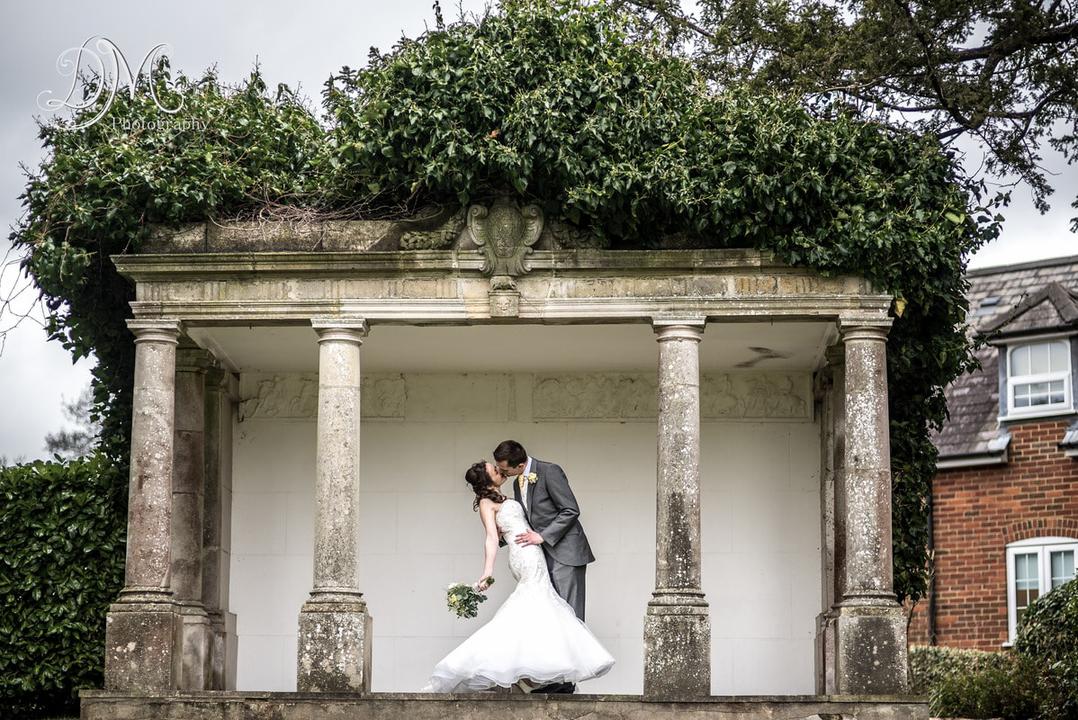 For a simply stunning Surrey wedding venue, look no further than Highfield Park. At the end of a beautiful tree-lined driveway, you will meet an elegant house in Queen Anne and Georgian eras styles. Surrounded by 35 acres of breath-taking parkland, this hotel has the perfect backdrop for your nuptials. Inside, the venue is filled with stunning and tastefully decorated suites, each offering oodles of natural light, highlighting your big day.
The wedding coordination team at Highfield Park are exceedingly passionate about what they do and are trustworthy dream makers. They have suggestions at the ready, but they really want to hear your thoughts on how your big day should look and run. They even have a penchant for intimate Asian weddings! No request is insignificant here. Your wedding is your day, and you're sure to have it your way at Highfield Park.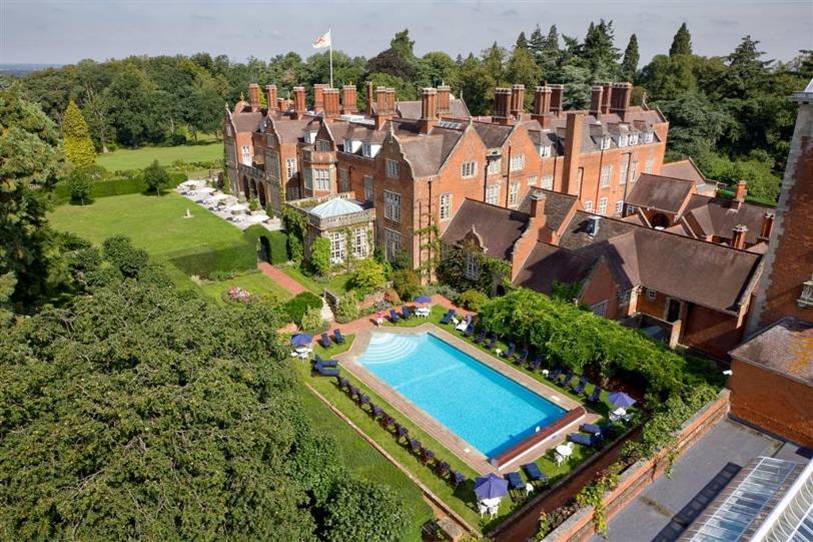 Lovers of traditional weddings will adore Tylney Hall Hotel. This mansion house's Tylney Suite is decorated in a baronial style. It has a high vaulted ceiling, giving it a sense of grandeur. You and your guests can enjoy musicians playing in the minstrel's gallery as glasses are raised for toasts. Natural light will flood through the windows between you and the blossoming Rose Garden. This is an outstanding and romantic hotel for any traditional wedding.
The historic gardens are ablaze with colour throughout the warmer seasons, creating the perfect backdrop for your wedding photos. For a change, pose by the Boathouse Bridge, which spans the tranquil lake. For a winter wonderland wedding, choose the main Hall; its sweeping wood panelling will reflect the glow of log fires crackling in their grates.
Romance abounds at Tylney Hall Hotel, and the possibilities are endless when it comes to making your wedding perfect.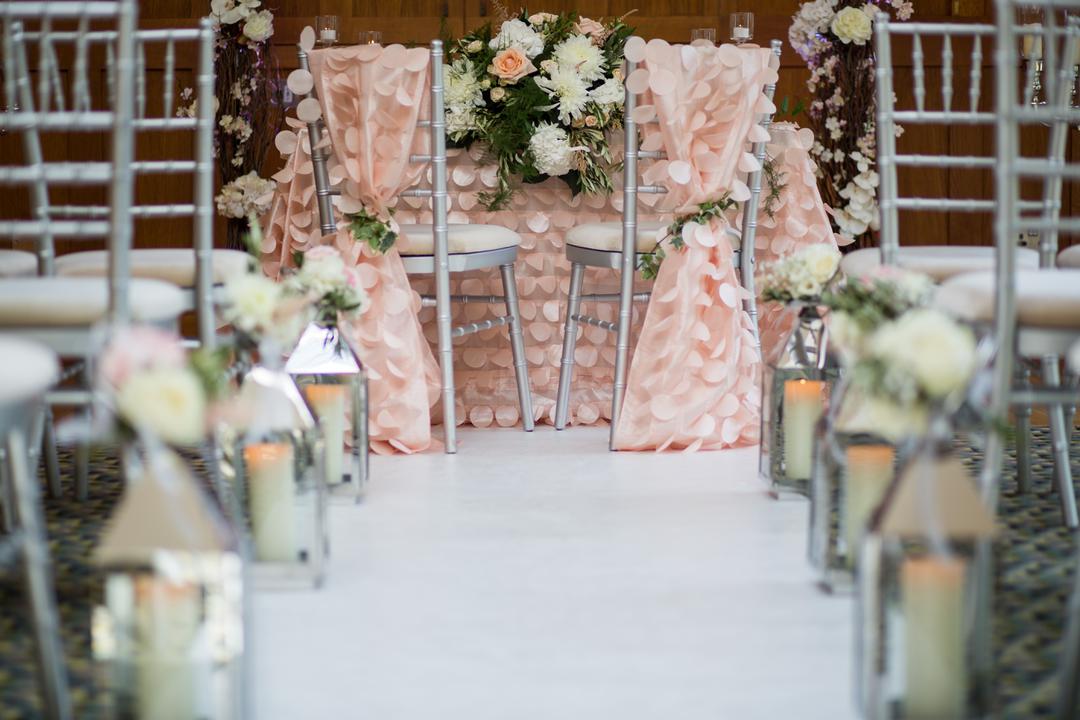 The Mandolay Hotel isn't simply a Surrey wedding venue. The hotel is teeming with dedicated professionals awaiting your first enquiry. From there, they will take you in hand and do what it takes to make your vision spring to life. The four-star venue's passionate wedding planning team are always on hand to offer guidance and practical advice, but they never lose sight of the fact that this is your day and it's going to happen your way. They refuse to allow any unique suggestion or idea of yours to be diluted for their convenience or to be forgotten. These are dream makers.
And what a beautiful venue in which to experience such exceptional service. Choose the Oak Suite for its quaint romance or wood panelling. Or go for the elegant Surrey Suite and bar. Or maybe a garden ceremony on lush green awns beneath the stunning white gazebo is in order!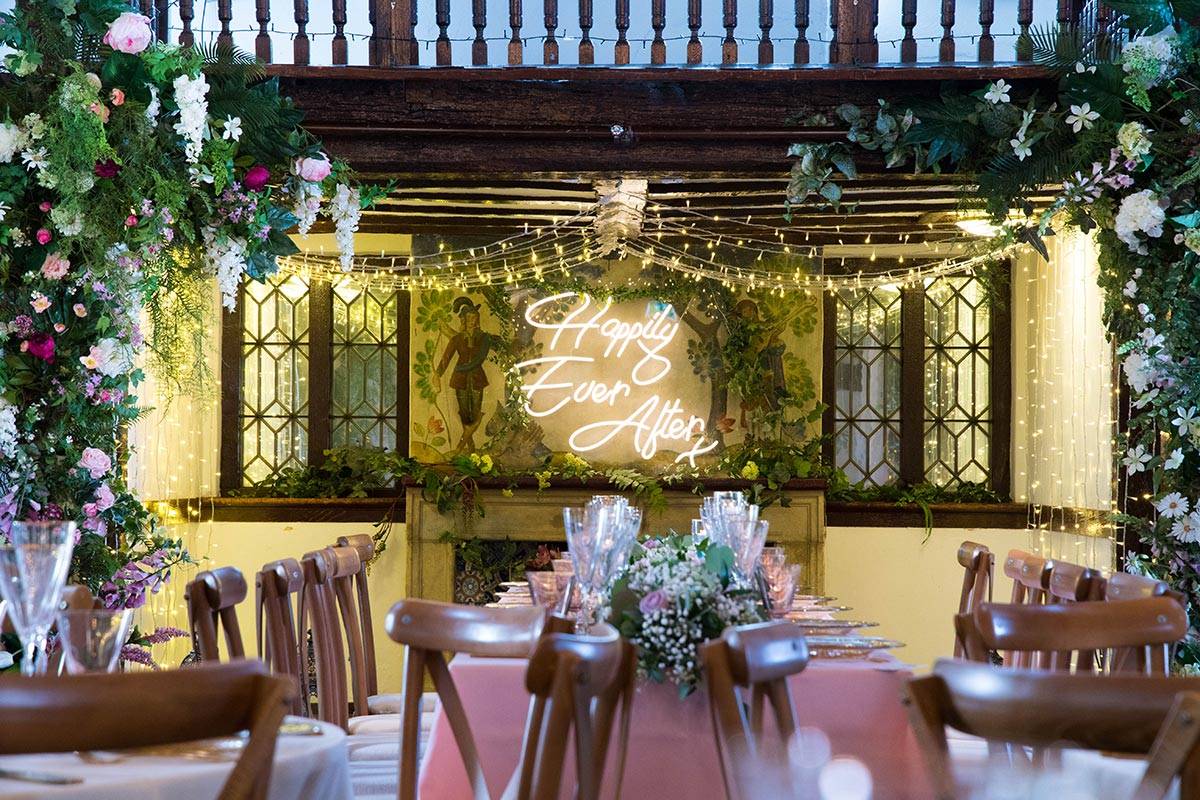 For a wedding venue with a difference, choose Mercure Box Hill Burford Bridge Hotel! This Surrey wedding venue is actually a refurbished 17th-century barn. Couples can have the ultimate countryside wedding with a modern twist here.
You and your guests will enjoy your own entrance and private bar at the Tithe Barn. You can dance the night away beneath the exposed rustic oak beams or dine under a blanket of twinkling fairy light suspended from the high ceiling. For smaller weddings and more intimate gatherings, couples can choose the charming Garden Room. As the experienced and dedicated team say, your wedding is yours to make your own.
The hotel is surrounded by landscaped gardens and breathtaking views of Box Hill. These are sure to make stunning backdrops for your wedding photographs and lifelong memories all year round.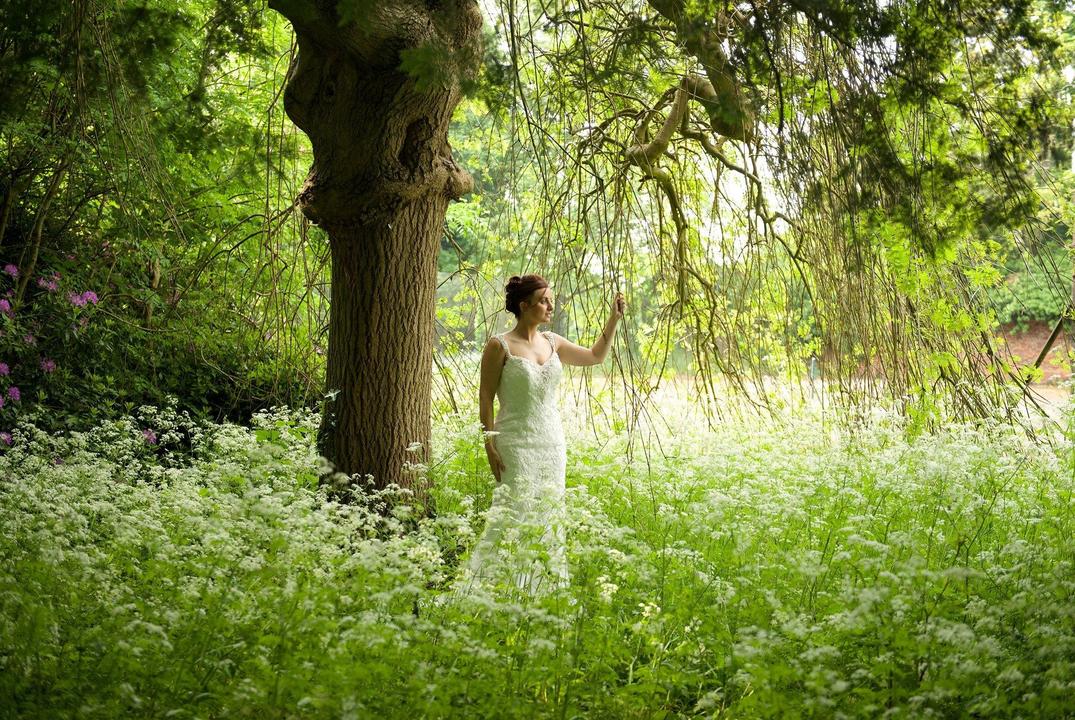 Whether you're living for the idea of a private extravaganza or are dreaming of an escape for two, Coulsdon Manor Hotel & Golf Club may be the wedding venue you've been seeking.
This country house was originally built as a rural retreat, away from the hectic London city life, just 15 miles away. The building sits upon 140 acres of gorgeous parkland. A collection of rare trees surrounds the house, gathered from all over the world and brought there by Lord Byron's family. Steeped in history and beauty, this venue is as stunning on the inside as it is outside. It boasts open fireplaces and a glass atrium you won't see the likes of anywhere else.
Not to depend solely on the loveliness of the building, the culinary team have honed an enviable reputation for fine dining and is sure to whip up some delectable wedding day memories.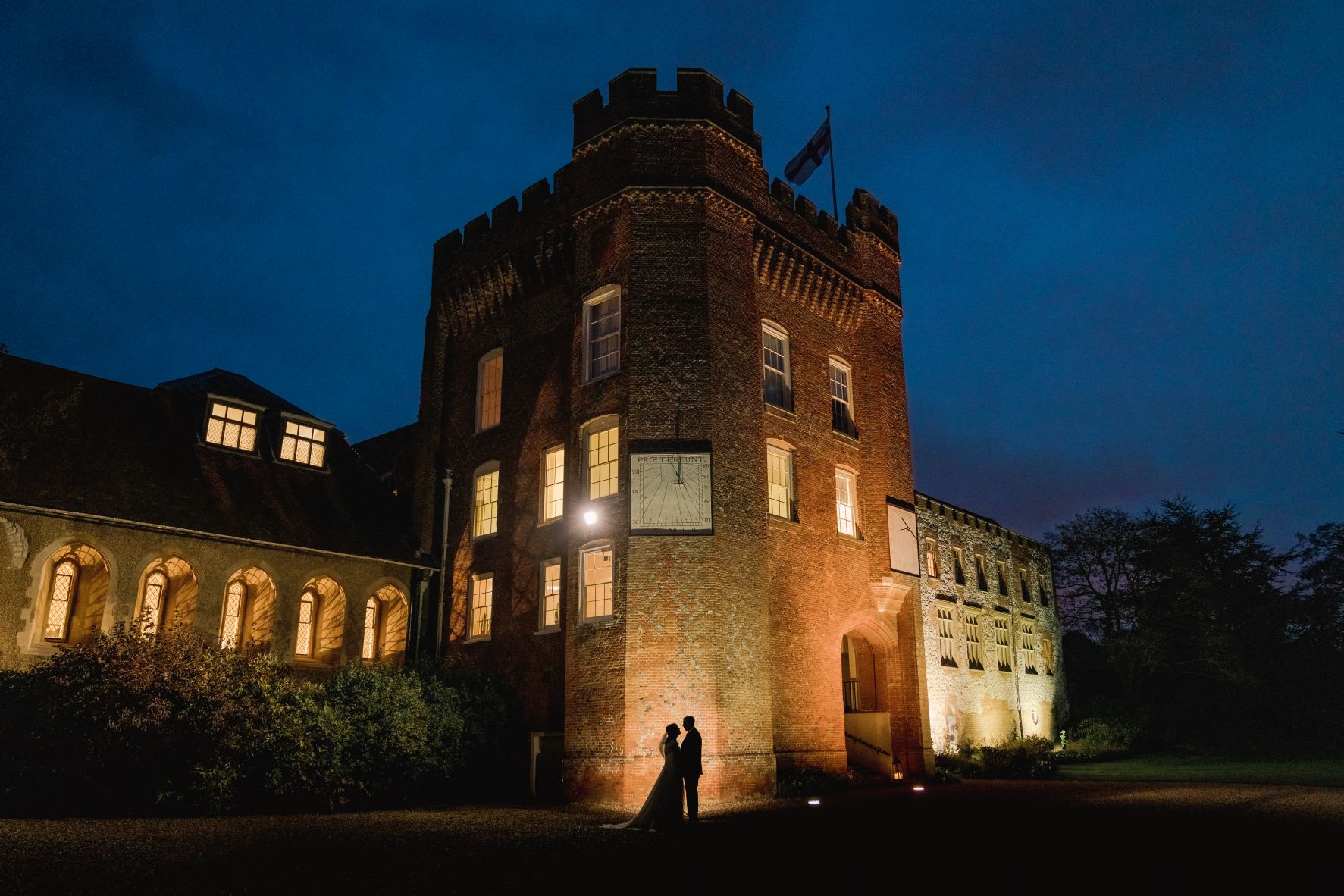 To look at photos, one would think Farnham Castle is the stuff of dreams, not a real place where dreams come true. Yet, it's precisely the latter. Farnham Castle has an elevated stature over the charming town of Farnham. At this exclusive-use Surrey wedding venue, it is easy to be royalty for a day and reign over your kingdom.
Prepare for your royal day in the Gatehouse or Pembroke Suite and share the run-up to the festivities with a select few loved ones over breakfast, brunch, or bottles of bubbly! There are many stunning places to say 'I do' at Farnham Castle. Venture outside to the East or Great Lawns for a romantic outdoor ceremony. Inside the Lantern Hall, unite beneath impressive stone arches and beautiful lancet windows. There are two historic chapels on offer for Church of England ceremonies too; The Norman Chapel and The Bishop's Chapel.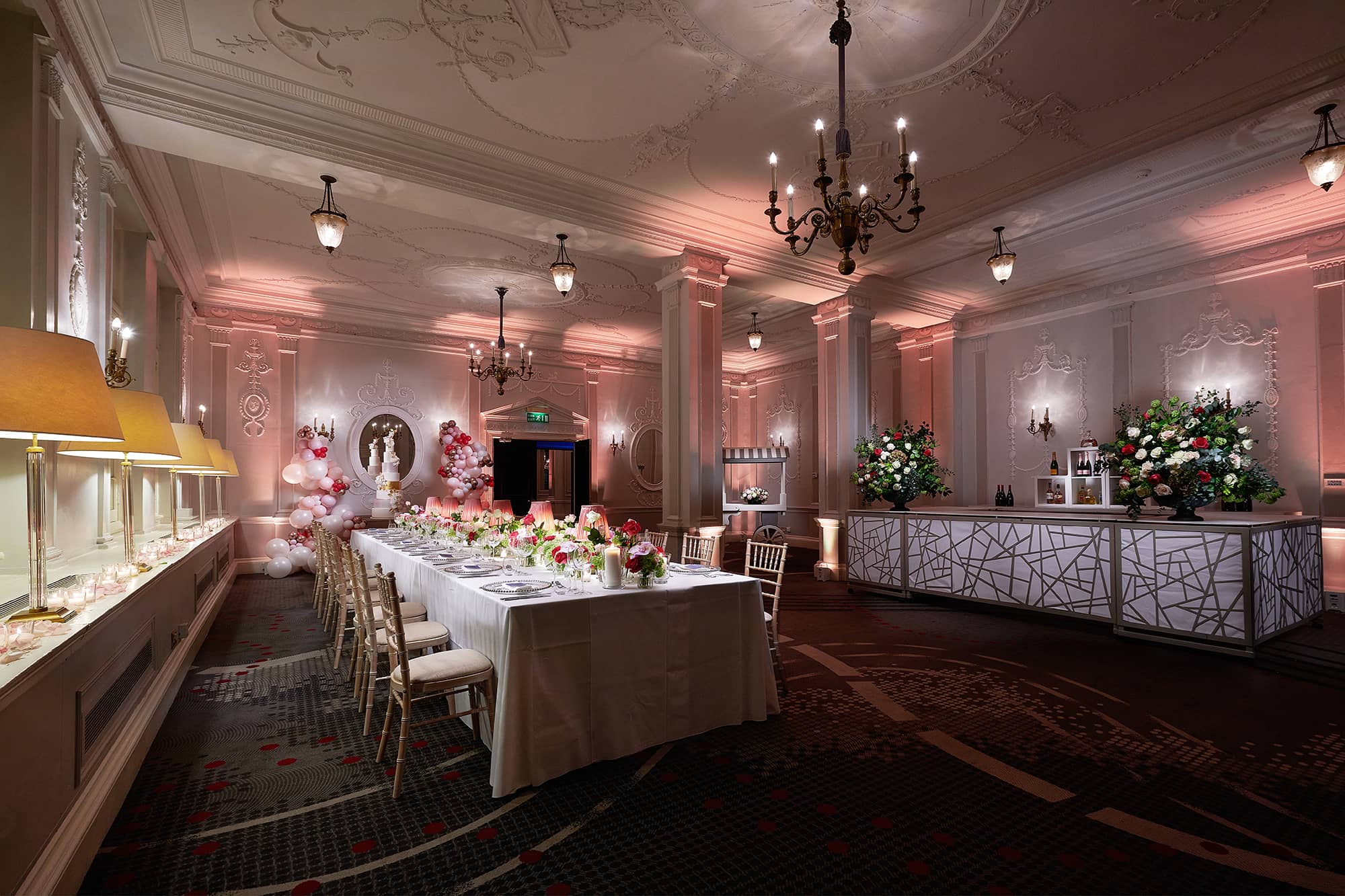 The Dilly Hotel is a magnificent metropolitan wedding venue. It exudes elegance and contemporary stylings. There are large windows everywhere you look and many glass ceilings; your wedding day could be indoors yet full of natural light, making all those cherished moments picture-perfect.
The wedding coordination team at The Dilly Hotel strive to make your day happen your way. They've spent years cultivating excellent working relationships with an extensive network of local wedding suppliers, each of which is top of their game and just as invested in making your wedding perfect. The Dilly's team are approachable and attentive. If you want your day flawlessly planned without stress, this is the chic place to say 'I do'.
For foodies, choose from bespoke menus created by the in-house chef or choose a private catering option; whatever it takes to make your vision a reality. And no need to leave the puppy at home with their pet-friendly policy!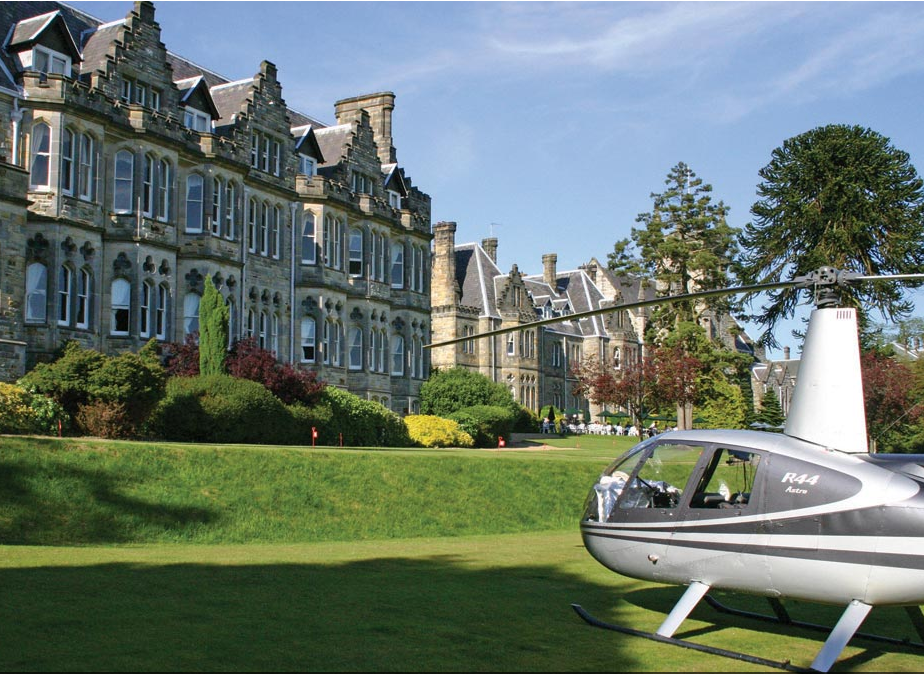 For the outdoorsy couple, a woodland wedding might be something you want but thought you couldn't have. Ashdown Park Hotel & Country Club is a gorgeous house nestled into Ashdown Forest. It is surrounded by immaculate lawns, secret gardens, lakes, and woodland trails amongst 186 acres of Sussex countryside. The outdoor opportunities are endless!
The venue's Summer House stands in a tranquil part of the property and overlooks the lake. Imagine celebrating your union while the water laps against the shore and the birds soar overhead. Couple that with photos taken in the beautiful and blossoming Secret Garden, and you have an outdoor-wedding guests will talk about for years.
Inside the mansion house, couples can say 'I do' in the converted chapel with stunning stained glass windows. The sunlight will peer through the glass and reflect a rainbow of light upon you and your love during your ceremony. Bliss!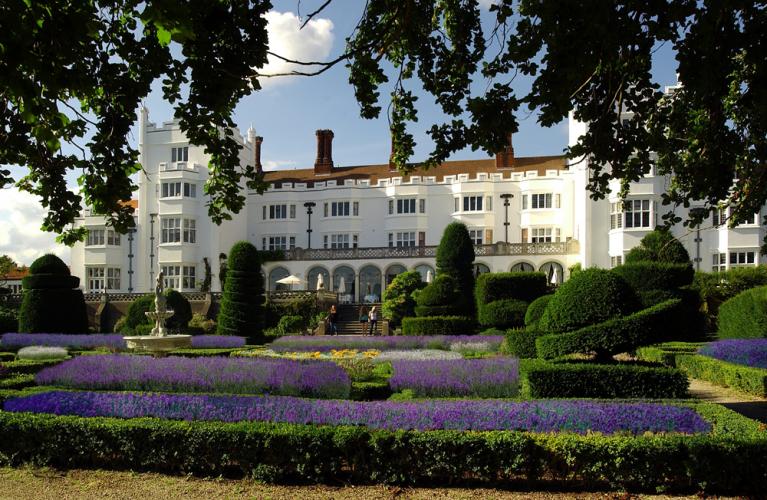 The Tudor family were royalty who genuinely shaped the United Kingdom into what it is today. Embrace that native history by saying 'I do' at Danesfield House Hotel and Spa, a magnificent Tudor-style mansion set within a 65-acre country estate. To one side, your wedding will overlook the River Thames, and beyond that, your guests will have their breath stolen by the stunning Chiltern Hills.
This popular wedding venue features elegant architecture, beautifully landscaped gardens, and a luxurious spa, which is the perfect space to relax those pre-wedding jitters.
Whether you're planning a large and lavish party for up to 120 guests or an intimate affair with close friends and family is on the cards, Danesfield House Hotel and Spa has all the ingredients required for an unforgettable wedding day.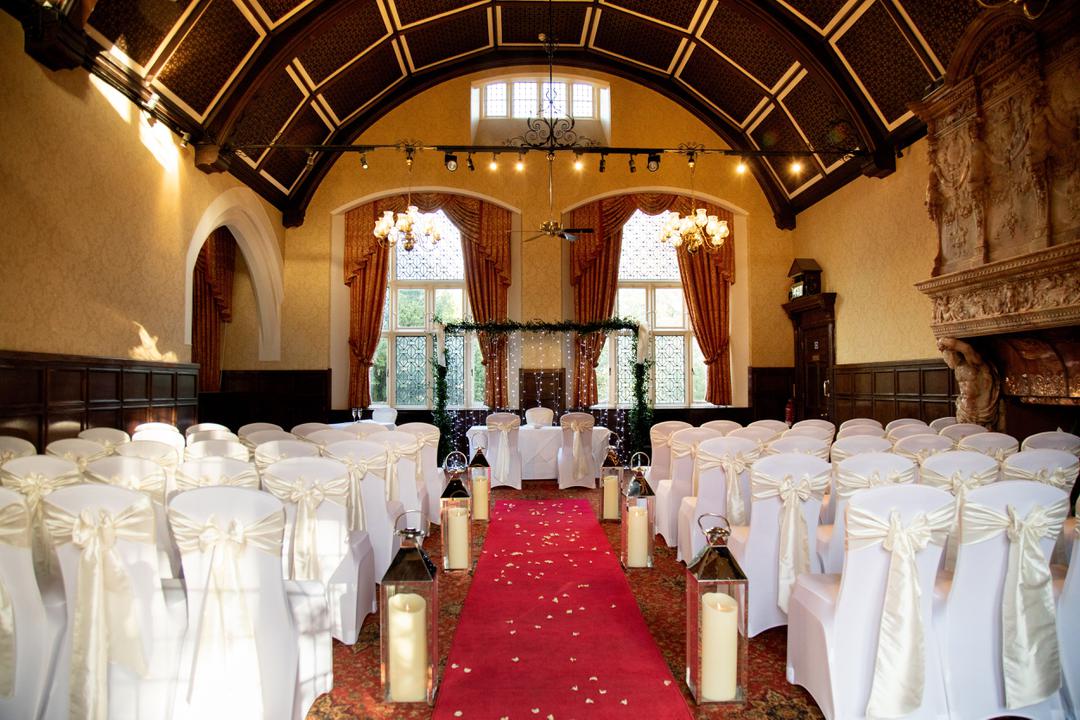 Grim's Dyke Hotel is the perfect Surrey wedding venue for fabulous foodies. This hidden gem is ideal if fine dining and delicious food are to take centre stage at your wedding – after 'I do', of course!
The wedding coordinators can provide you with a wide selection of menus to choose from; there's sure to be a selection to suit all tastes. The talented and experienced in-house chef uses only the best quality ingredients available, always locally sourced and, more often than not, straight from the hotel's kitchen garden.
This gorgeous and one-of-a-kind 19th-century country house is surrounded by 40 acres of stunning gardens and woodland. Bask in the serenity of this secret oasis, not too far from urban life. Inside, feel the romance of the building's history in every step you take through its high-ceilinged rooms, by its ornate fireplaces, and down the candlelit aisle. Inside or out, this wedding venue is a picture-perfect backdrop to your nuptials.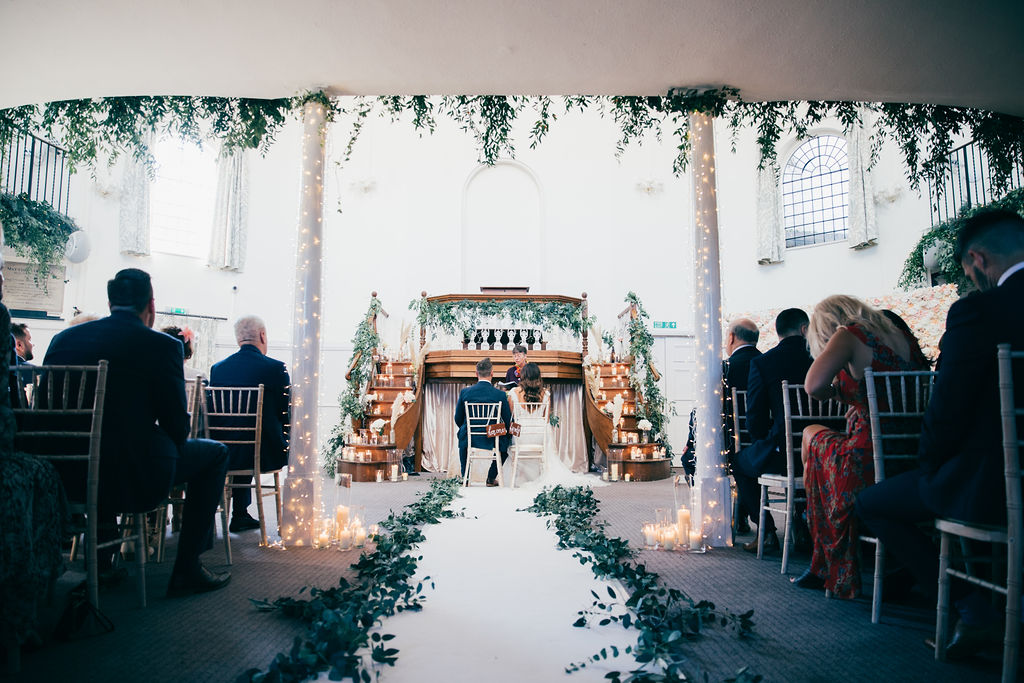 For a feel of dear old England, choose Kings Chapel. Found in the heart of the quaint town of Old Amersham, this building is a stunning 18th-century chapel with many original features that will take your breath away. It's easy to create a spectacular day in such a magnificent venue.
This Surrey wedding venue boasts the world's second-largest unsupported domed ceiling – only beaten by St Paul's Cathedral! Beneath the spectacular roof is the Romeo and Juliet balcony, a beautiful place to tie the knot as your guests look up in romantic awe. If your dream is an outdoor wedding, fear not, for the chapel also has a gorgeous walled garden, complete with year-round blooms.
Your heart's desires have been taken care of, but what about your tummy's? All taste buds can be catered to, from a traditional roast or five-course feast to a relaxed barbeque.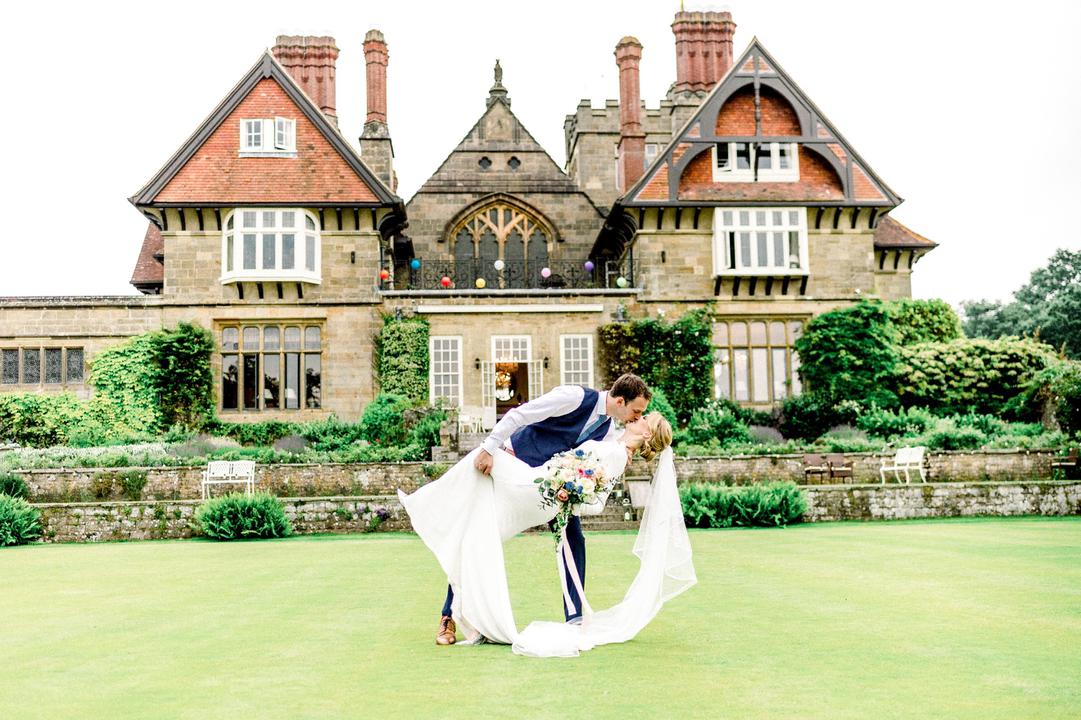 A glorious country estate, Cowdray House, is tucked into South Downs National Park. This magical location sits atop 110 acres of designed gardens. You'll find it difficult not to create a wedding album of dreams here. Outdoors your guests will also enjoy activities such as polo, golf, clay pigeon shooting, fly fishing, and many more. This is an excellent place for a weekend-long wedding!
Inside, you'll be astounded that one building could be so beautiful. Buck Hall has vaulted ceilings, an arched minstrels gallery, and stunning stained glass windows.
Spend the weekend with your guests. They can choose from any of the opulent and luxurious en-suite bedrooms. Or some can stay at The Lodge, which can accommodate 16 guests exceedingly comfortably. There are also another four pretty holiday cottages from which to choose. Guests from far and wide will have no trouble finding a comfortable place to stay while celebrating your wedding, that's for sure!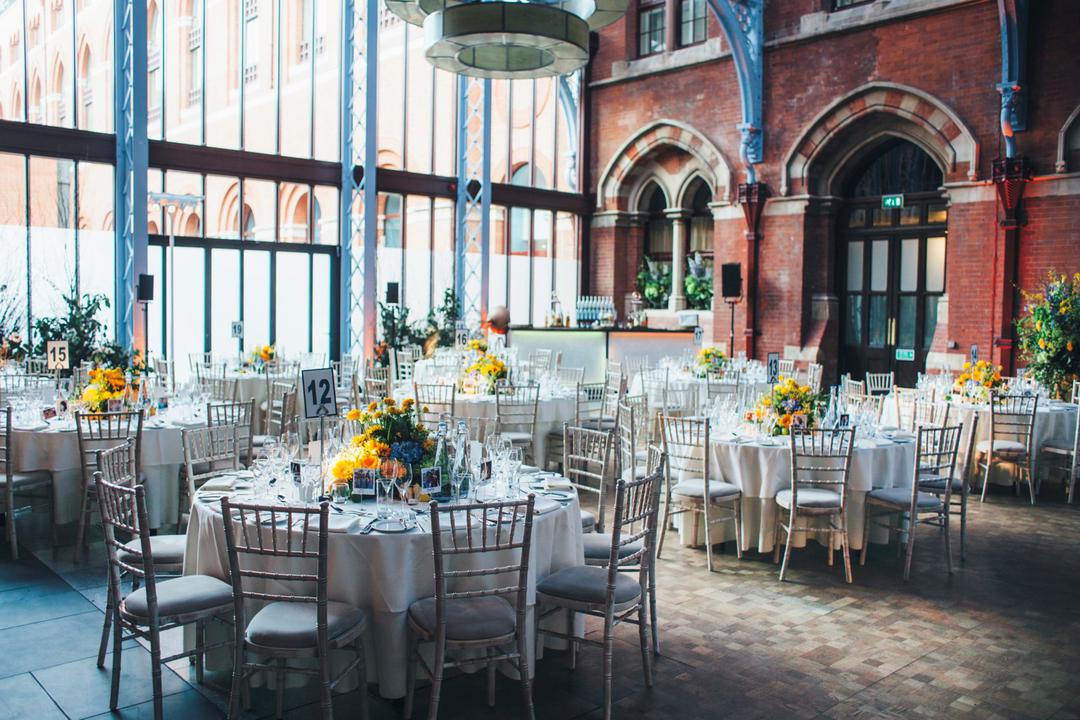 St. Pancras Renaissance Hotel has been hailed as London's most romantic building, and it's tough to argue with that once you've clapped your eyes on it. Sir John Betjeman once called this Gothic masterpiece "too beautiful and too romantic to survive" in a world of concrete and tower blocks. Yet, here it still stands, as magnificent as ever, a restored Victorian masterpiece waiting to host your wedding.
In the middle of the city, you'll feel transported to another time by the Gothic Revival metalwork, gold leaf ceilings, hand-stencilled wall designs, and the sweeping Grand Staircase. This magical building that has defied the odds also harbours a secret – it's five different wedding venues! Each space is unique. No matter the dreams you've had about your wedding since childhood, they can become a reality here. There's even an elegant rooftop garden, which offers a backdrop for gorgeous photos and pre-wedding breakfast drinks, afternoon tea, or moonlit champagne toasts.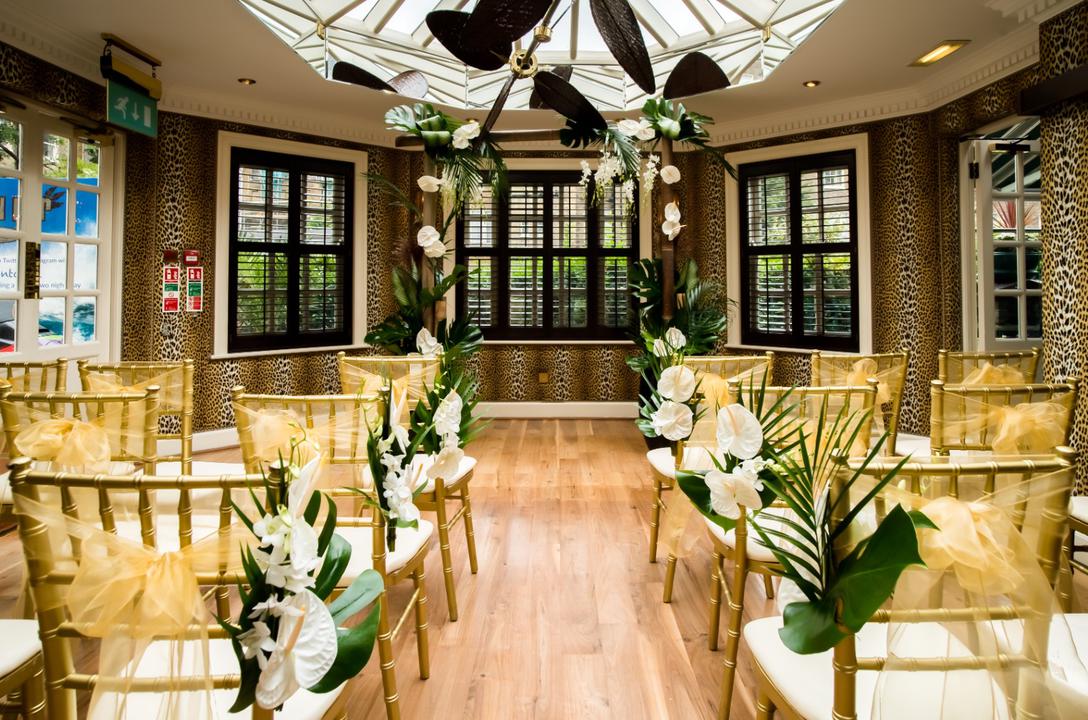 Visions of your dream wedding may include a Georgian townhouse with English charm, traditional but impeccable service, experienced wedding planners, stylish interiors, rich furnishings, and exquisite antiques. Look no further than The Montague on the Gardens, where the dream makers will make your vision a reality.
This four-star wedding venue resides in the heart of Bloomsbury. Your wedding can take advantage of the spacious wood deck and many terraces, each of which overlooks the beautiful private gardens of the Bedford Estate. Enjoy your first sunset as newlyweds from the height of luxury, overlooking nature as you've never experienced it before.
From your first enquiry, you'll be matched with a dedicated wedding coordinator, who will work alongside the hotel's operations manager, and together, they will be on hand to advise you, from deciding on the setting for each element of your wedding day, to a choice of menu and accompanying wine.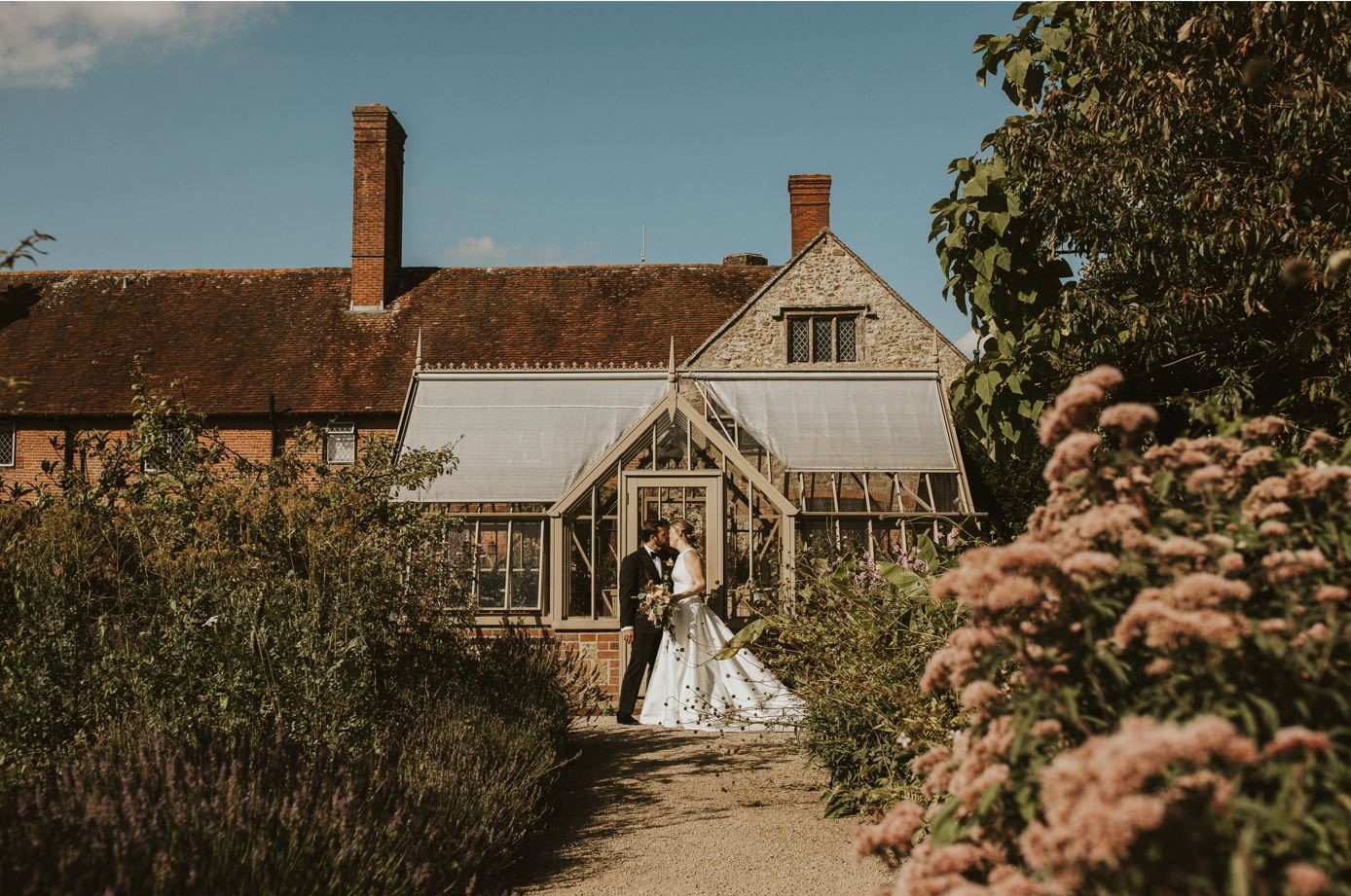 Getting married at landmarks can be tricky – permits, permissions, protections, oh my! But what if you could say 'I do' at a luxurious wedding venue overlooking such a national landmark?
The Walled Garden at Cowdray is a sought-after wedding destination due to its proximity to the Cowdray Ruins. These are what remains of Cowdray House, and despite their fallen demeanour, there's something romantic and magical about them. To say 'I do in their sunset shadow would be a truly magical moment.
The wedding venue boasts two large function rooms or outdoor celebrations are possible too. The Walled Garden at Cowdray is a relaxed and rustic place with a boho feel. This is the spot for a celebration of love with all your close family and friends. It is a home away from home. Your guests will feel comfortable and welcome yet still enjoy the luxury of being waited on for a day.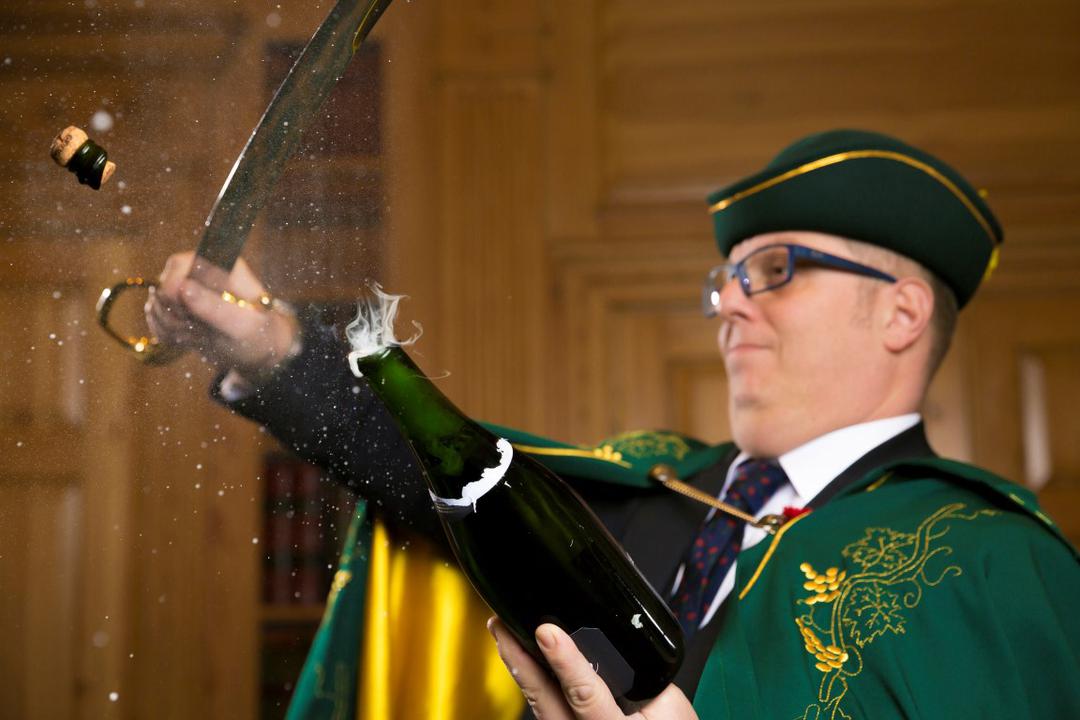 For a touch of old-world charm on your wedding day, choose The Milestone Hotel and Residences. The Surrey wedding venue is a romantic setting in which to say I do. The space is filled with beautiful and rich furnishings. The hotel architecture is elegant in its Victorian magnificence and lends itself well to romance. Unique artworks adorn the walls, and delicate ornaments and antiques are placed all around to add a touch of history to any wedding day. The hotel is between Kensington Palace and Gardens and the Royal Albert Hall, so there is a sense of grandeur even just approaching the building!
Every aspect of your wedding will be tended to with meticulous skill and subtle precision. You won't even notice the dream makers at work! The expert team of chefs, sommeliers, waiting staff and event organisers will set your mind at ease, so your only focus need be enjoying your happy day.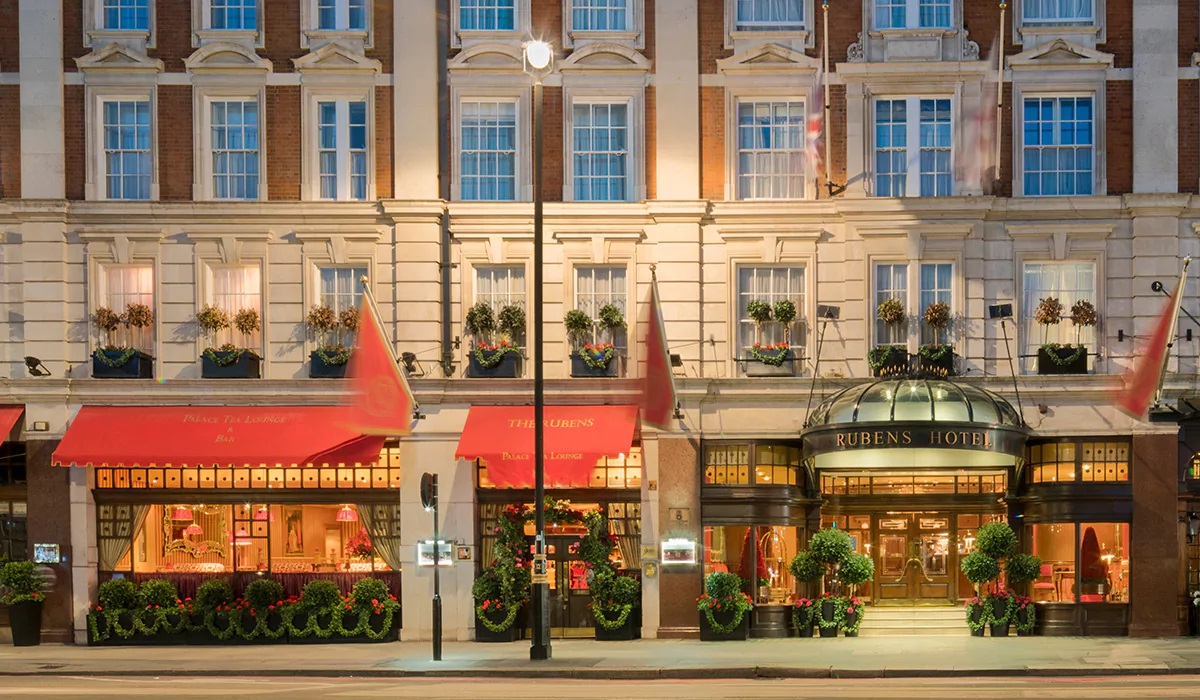 If beauty, history, and a touch of royalty are all on your checklist for a wedding venue, Rubens at the Palace may be just the ticket. This historic wedding venue is directly opposite the Royal Mews and Buckingham Palace, tucked into the heart of Victoria. It has been a part of London's social scene for over a century and is steeped in high society history. It epitomises elegance, and your union can easily become part of its heritage.
Inside, you'll find a property full of character, draped in rich fabrics and adorned with timeless and beautiful antiques and artworks. The luxury space is also teeming with passionate staff, ready and waiting to offer their generous hospitality and delectable cuisine. Your wedding is sure to be unforgettable amongst such magnificence and superb service.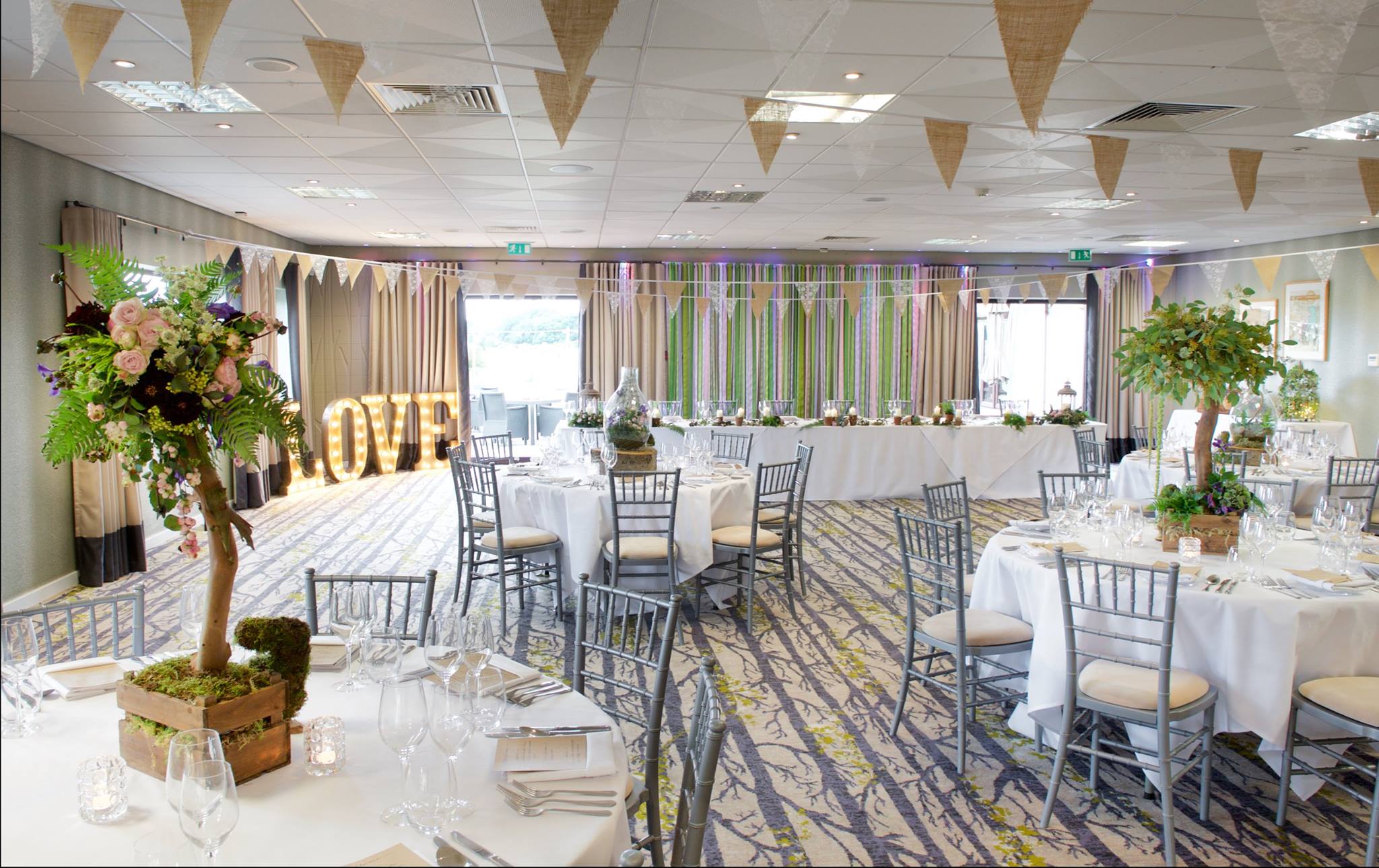 Farleigh Golf Club is quite unique for a romantic wedding from beginning to end. You and your guests can start the day by arriving via the lavender-lined sweeping driveway. The scent of lavender will remind your loved ones of your big day for years to come. You'll be met at the drive's end by the contemporary clubhouse, sitting upon 350 acres of beautiful Surrey countryside adjacent to the manicured golf course. At some point during the special day, the bride and groom can even take a private buggy tour of the grounds, taking advantage of a few intimate moments amongst the scenic greenery, pond and vistas. It's an excellent opportunity to take your wedding photos against such gorgeous backgrounds. On a clear day, take in the panoramic views as far as Canary Wharf and London's iconic Shard building. This is an ideal all-in-one intimate yet stylish wedding venue.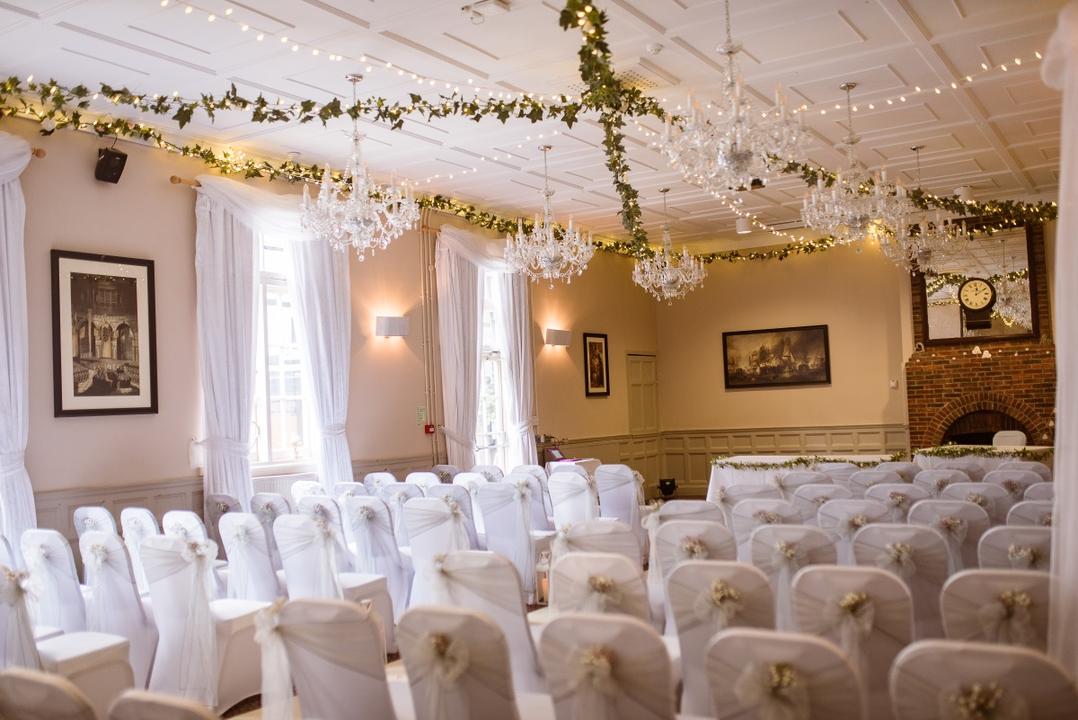 A charming coaching inn in the past, The Talbot Ripley is now a piece of history and a perfect place to say 'I do'. This refurbished barn wedding venue is a unique space no matter your vision of your big day. If you want hay bales and wellies, the team can arrange that! Or, if you dream of sparkling chandeliers and vintage lace, that is no problem either.
The Talbot Ripley offers charm and character in abundance and is licensed for civil ceremonies, so having your entire wedding beneath the rustic exposed beams of this barn is not only possible but encouraged.
The team here are masters at wedding planning too. They believe that your wedding day should be anything but stressful for you, so hand your vision over to them, and they'll take care of the rest. Their experienced wedding coordinator will make your dream a reality.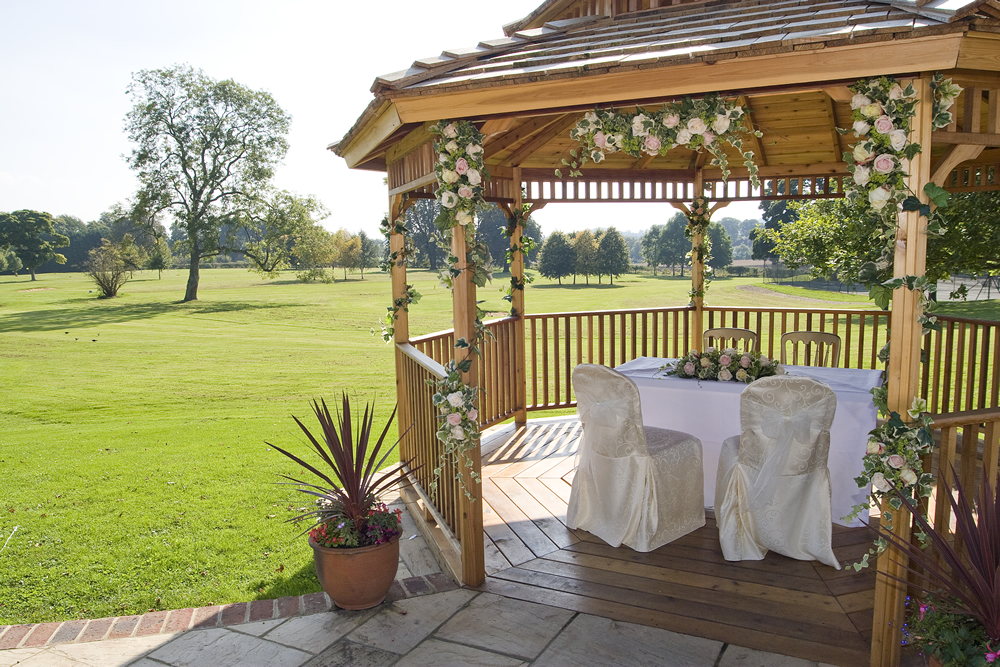 For an exclusive-use wedding venue that looks across the Chilterns, The Pavilion at Lane End should be top of your viewing list. This beautiful countryside location is made for weddings. With 26 acres of landscaping and stunning views, this place is a romantic love nest within an oasis of tranquillity.
There are two spaces on offer in which to say 'I do' and celebrate your union: The Pavilion, a perfect indoor ceremony room, and The Garden Gazebo, an impeccable backdrop to an outdoor wedding.
Outdoors, you will make your way down the aisle on the private terrace, ending your journey beneath the lovely wooden gazebo coveted by couples-to-be.
Indoors, your loved ones will watch you exchange vows in a beautiful room boasting large windows and French doors, allowing natural light to shine on your romantic moments.
Top it all off with a dining experience you won't soon forget. The talented chefs have a reputation for exceptional cuisine using only the best local ingredients.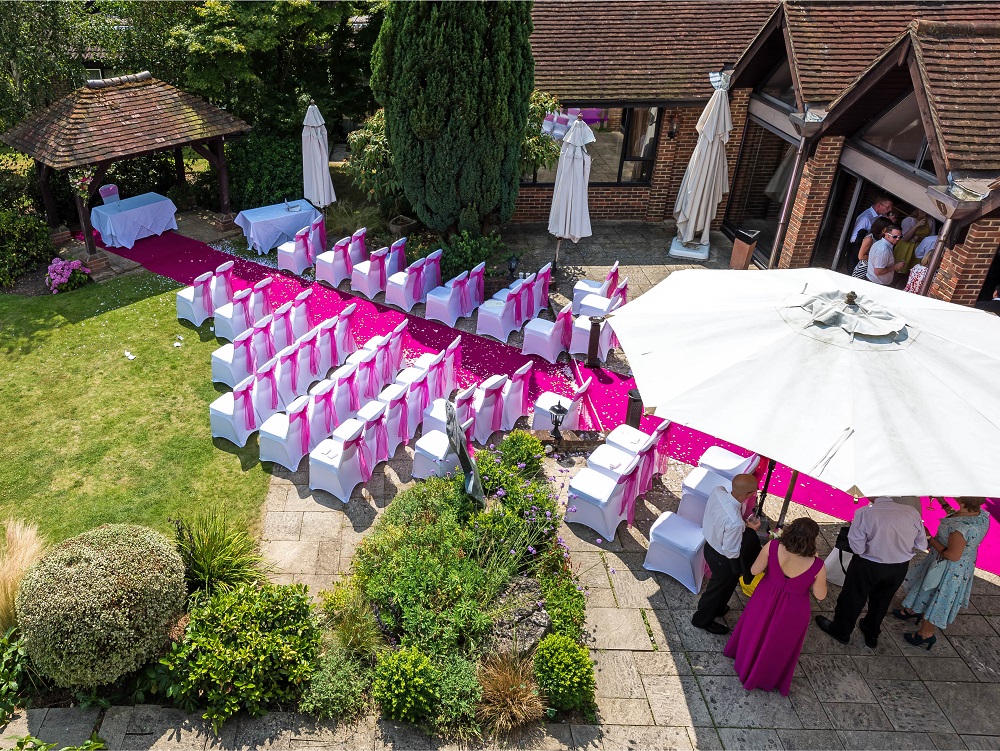 Fredrick's Hotel, Restaurant and Spa is a hidden gem when it comes to wedding venues. It boasts a myriad of luxurious indoor and stunning outdoor spaces in which to celebrate your wedding day. The hotel can accommodate your special celebrations in the Garden Suite, the Windsor Suite, or beneath the lovely Gazebo. Socialise with your guests in the one-of-a-kind sculpture garden – you and your guests will have fun taking photos there for sure! And while your loved ones enjoy games on the lawn, newlyweds can steal a few moments of privacy in the peaceful gardens between saying 'I do' and dancing the night away. This is a place of romance and tranquillity.
Whether your guest list is a post-it or a novella in progress, Fredrick's Hotel, Restaurant and Spa team are here to make your wedding day special and memorable.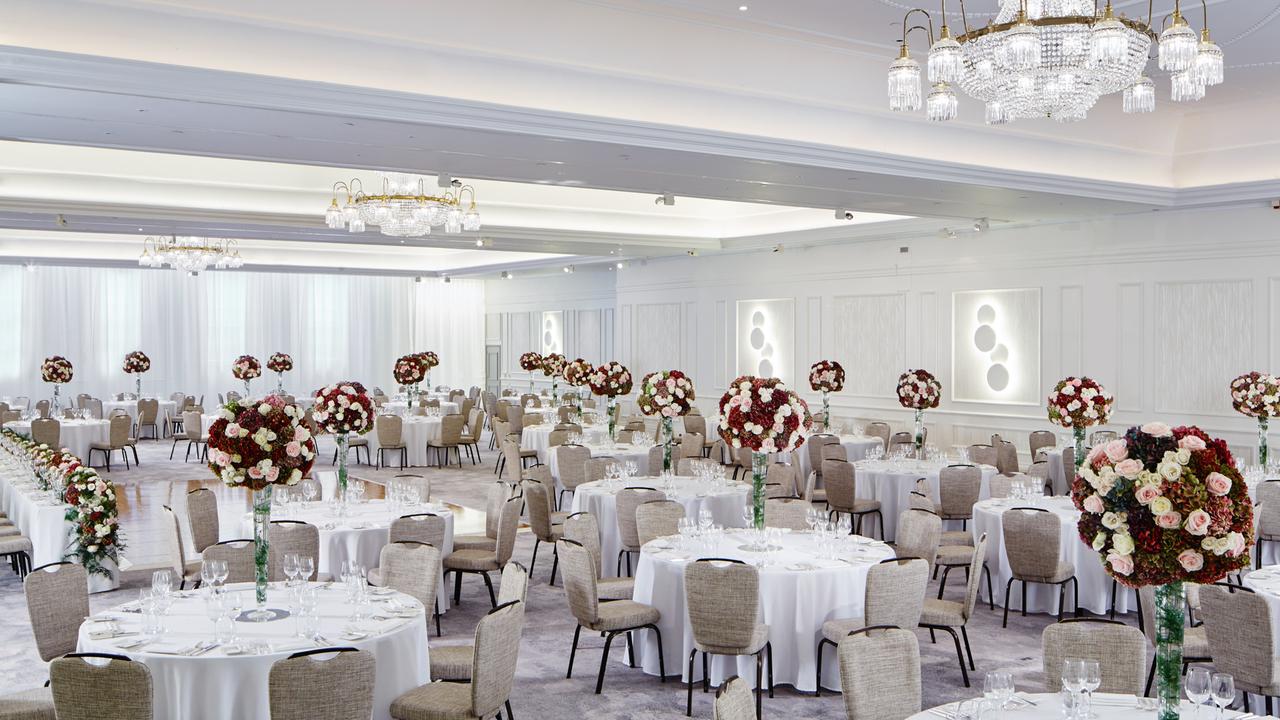 Bridgerton fans will love the wedding experience to be had in this Mayfair venue! London Marriott Hotel Grosvenor Square is a five-star wedding venue that exudes elegance in London's most exclusive postcode. Imagine taking to the floor for your first dance as a married couple in the grand, pillar-free Westminster Ballroom, beneath three incredible chandeliers. It sounds like a scene from a movie, doesn't it? Well, here it can be your actual wedding day!
The location is within a short walk of the famous Grosvenor Square Park and Hyde Park, providing picture-perfect opportunities for your wedding album. Inside, there are a variety of spaces to choose from, some of which are flexible, so whether your wedding is set to be an intimate gathering or feature everyone you know, the team at this illustrious venue are here to help – and can accommodate up to 550 guests!
Weddings can be fantastic festive occasions, but getting there can be stressful – planning, coordinating, and balancing opinions. It's enough to make you want to skip the celebrations and elope somewhere! But if that's not what you want deep down, Crowne Plaza Gerrards Cross may be the wedding venue for you and your love. Why? The spa, of course!
This venue boasts the luxurious Wave Spa and Wellness Centre. Here you'll find an indoor swimming pool, serene treatment rooms and a tranquil relaxation room. You will feel the difference in your tight shoulders and tense jaw! Top off your day of pampering with elegant afternoon tea. Now you're ready to say 'I do' without worrying where the party favours are – because the hotel staff has everything well in hand. There are no obstacles between you and your perfect day in this contemporary and stylish wedding venue.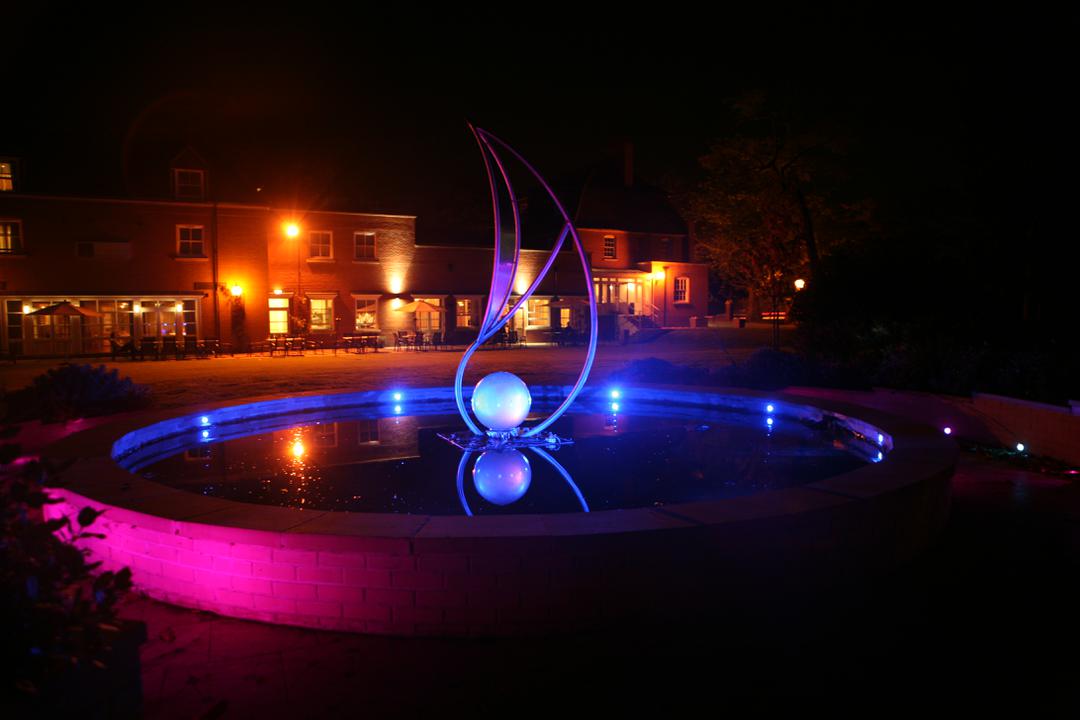 Pinewood Hotel is a fabulous wedding venue if you're looking for a place with interesting outdoor elements. Inside, you'll find an incredible selection of rooms waiting to host your ceremony, wedding breakfast, drinks reception and party. The major draw of this venue is the flexibility – both the staff's and the building's! The passionate team are driven to make your wedding happen your way, no matter what you want it to look, smell, taste, sound, and feel. The building offers so many simple but elegant backdrops it would be difficult not to find the perfect place to put your stamp for a day.
Outside, there are blooming gardens for photos and a gorgeous sun terrace for an outdoor drinks reception. The manicured lawns come complete with a stunning white gazebo which can be illuminated for the perfect romantic photo. And guests can enjoy the novelty of giant lawn chess while you take your snaps!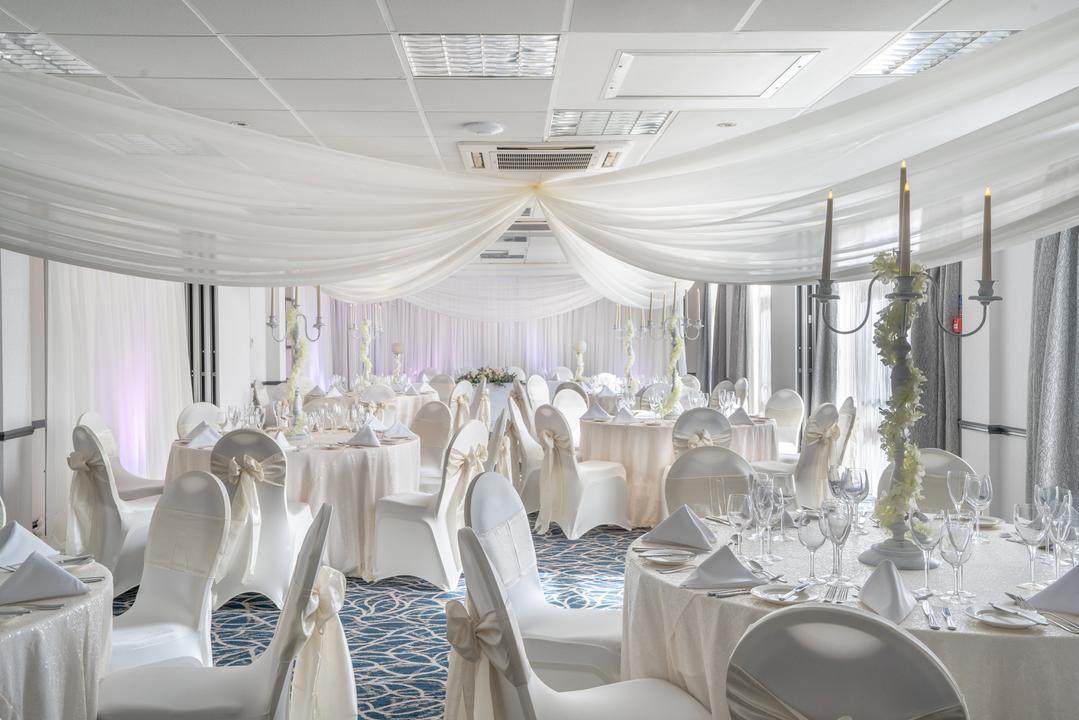 The Crowne Plaza Felbridge – Gatwick is a newly refurbished wedding venue, and my, what a result! This venue is luxurious and elegant but simple enough in décor that you can design your big day any way you want. There are many gorgeous spaces to choose from, and no matter the length of your guest list, your dream wedding is possible here. Crowne Plaza Felbridge – Gatwick can accommodate weddings of 10 to 500 guests! Invite everyone you know to celebrate in the stunning Grand Ballroom, or gather your most beloved into the Willow Suite, overlooking the beautiful courtyard.
The dedicated team here has a particular talent for Asian contemporary and traditional weddings. You'll find few venues with such a beautiful setup for the newlyweds to meet and greet their guests.
This place has everything: luxury accommodation, mouth-watering menus, civil ceremony license, Honeymoon Suite, and Chakra Spa!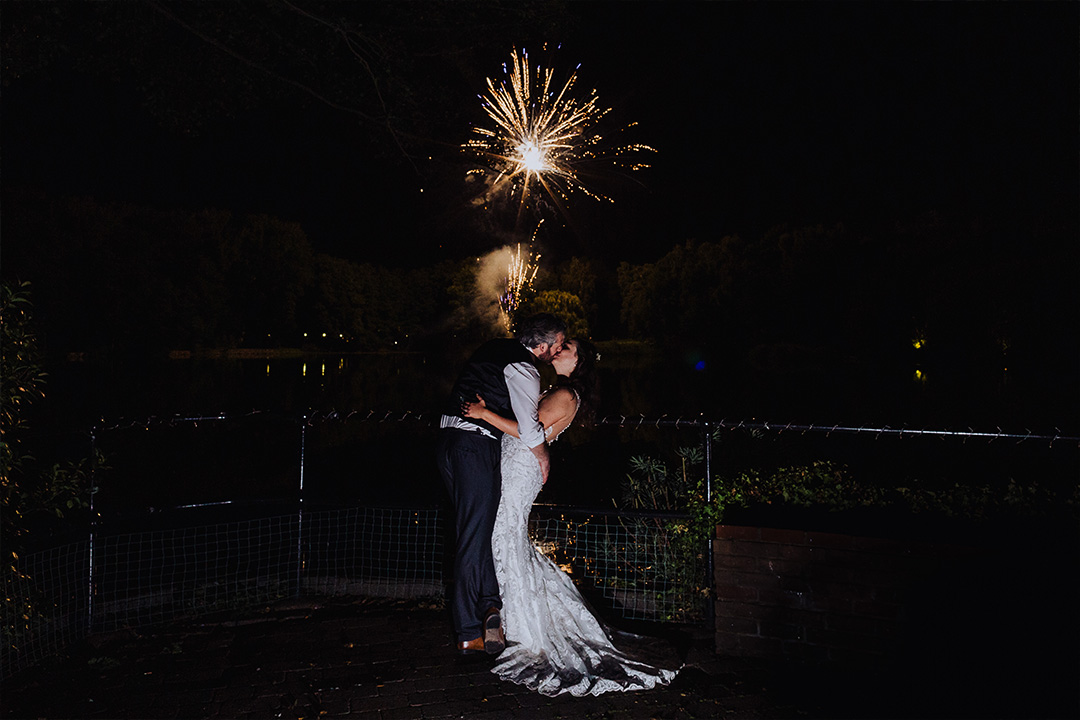 A lakeside wedding; can you think of anything more romantic? Just imagine reciting your vows against nature's backdrop. The water laps against the shore. The birds chirp in the trees, and some soar overhead. The leaves rustle in the slight summer breeze. The sunshine makes the rippling lake's surface sparkle. It's like something from a Hollywood movie! And it's possible at Silvermere Inn on the Lake.
This popular wedding venue sports picturesque countryside views and is immediately surrounded by one of Surrey's finest golf courses. Everywhere you look, there's a new and magical spot to take a photo or share magical moments with your partner or guests.
Indoors, the country club exudes elegance. Whether you wish for something simple yet divine or luxurious and lavish, the erect setting can be created at this venue by their dedicated team of highly experienced professionals.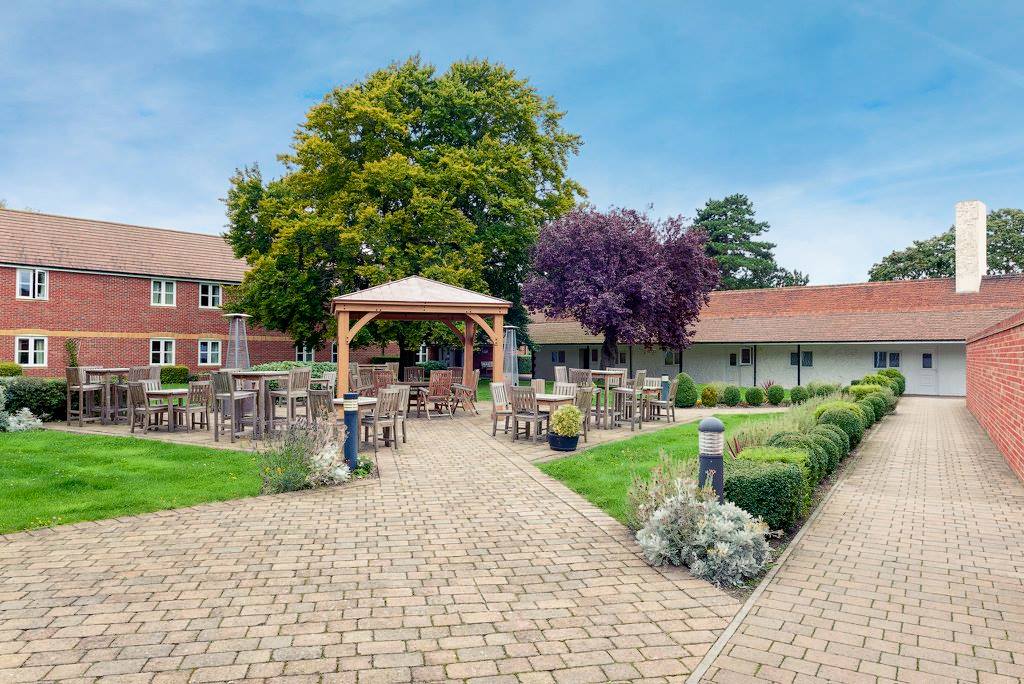 Mercure Thame Lambert Hotel is a mid-Victorian coaching inn. Stunning to behold in its own right, it sits at the foot of the beautiful Chiltern Hills, an area of outstanding natural beauty. The venue is licensed for civil, religious, and humanist ceremonies, so no matter your leaning, the perfect nuptials are possible at this stunning venue. On the outside, it reminds me of the quaint but lovely cottage Sleeping Beauty grew up in – only much larger! Weddings of up to 130 guests can be accommodated here, amongst the flexible but beautiful wedding suites and outdoor spaces. Outside you'll find yourself unable not to feel the joy in the fantastic gardens and picturesque centre courtyard.
The Mercure Thame Lambert Hotel prides itself on exceptional service too. The dedicated team couple scrutinous attention to detail with an unfussy approach to couples, culminating in a memorable and stress-free wedding day.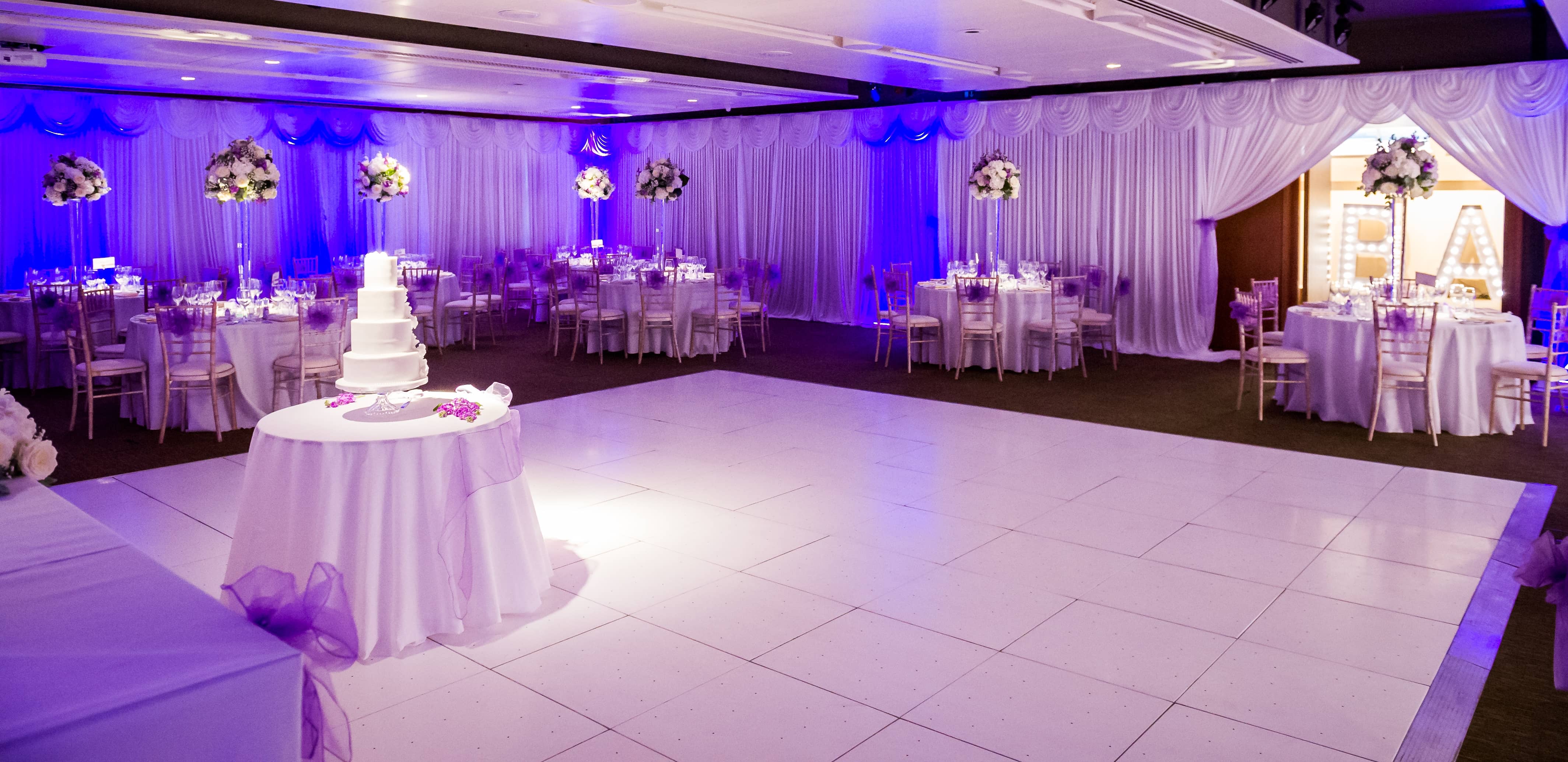 If you're looking for a chic and trendy place to host a metropolitan wedding, still with a hint of tradition and history, might we suggest No.11 Cavendish Square? This Georgian townhouse is truly gorgeous. It stands just around the corner from the bustling Oxford Circus, exuding vibrancy, yet can give an air of sophistication and distinguished elegance to any wedding amid the theatrics of London's West End.
The townhouse overlooks the historic square to one side and enjoys the charm and beauty of the gardens to the other side. You and your guests will be welcomed on the red carpet, and from then on your day will continue in glamourous Hollywood style. Surrounded by your nearest and dearest, you will say 'I do' in an opulent room or beautiful garden. You will clink champagne glasses on the lit terrace. You dance beneath a blanket of soft lights. Swoon!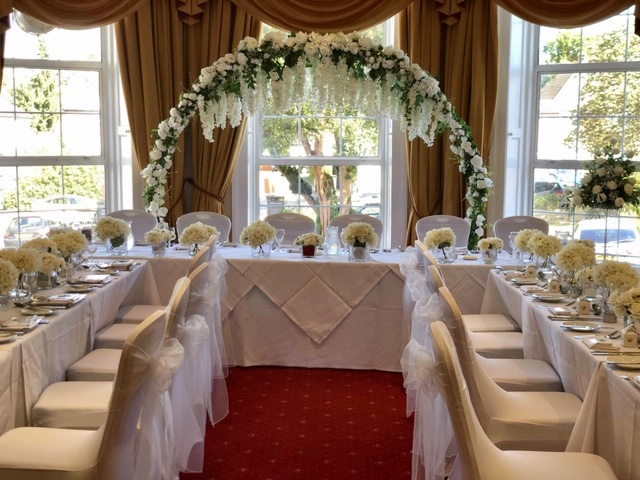 The final entrant on our list, but it may be the cream of your crop. Bromley Court Hotel is a gorgeous venue. It is contemporary in style, but its grounds still boast some original features from the past. There's a sense of romance to the gardens. Despite the welcoming building, you may not want to leave the outdoors! The manicured lawns roll on forever. Along the edge, you will find blossoms of all shapes, sizes and colours. It is a garden for the senses. Particular flower scents will surely bring back the joyous memories of your big day for decades to come. Wooded areas provide beautiful shelter from the scorching sun and glorious natural canopies for private moments and lovely photos. The pavilion is waiting for you and your love to steal your first private kiss as a married couple!