Nowadays there are so many owners that want to involve their dogs into this special occasion. Most people who end up going through with the decision make their fur babies ring bearers or walk down the aisle with them. There is nothing more heartwarming than being able to incorporate your best friend is such a special occasion. But you have to keep in mind that they are dogs and not children, they can be easily overwhelmed in such events. Therefore you will need to plan your whole wedding with them in mind so they enjoy the experience just as everyone else will. 
Pick a pet-friendly Venue
First and foremost you will need to pick a venue that will allow you to have animals inside or outside. You will have the biggest chance if you look at places like barns, outdoor venues or places that aren't like a museum. 
Warn Your Guests
Instead of just planning your whole wedding around your dog and having your guest surprised, make sure that you warn them. Write a short notice on the invitation to tell all of your guests that there will be a dog. Just in case someone is allergic so they know in advance to take their medicine. 
Make A Meet and Greet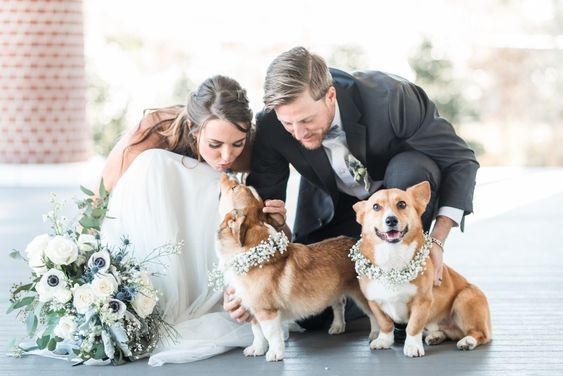 There is nothing better than having a dog that's a host for your guests. Make sure that your dog is supervised at all times and that they aren't roaming the wedding. Once they have met all the people who are coming into the wedding they will be more relaxed because there won't be as many strangers in one place. 
Plan Their Part in the Wedding

The point of throwing a dog-friendly wedding is to incorporate them into the ceremony. There are so many fun ways that they can be a part of the wedding like being ring bearers, best man or bridesmaid or even walk you down the aisle. But prepare yourself, they will steal your spotlight. The most important thing is to make sure that there is someone other than you and your husband to take care of the dog during the ceremony. 
Create a Designated Dog Section
When you are planning on having a pet-friendly wedding it is important that there is a designated space where they can go to calm down, eat, drink and play with other dogs if there will be some there. That way everybody will be able to celebrate and have fun in their own ways.
Prepare the Necessities
When you are in the middle of getting married you don't want any of your guests being thirsty, hungry or anxious even if they are not humans. Therefore make sure that there are enough food and water bowls, poop bags and most importantly make sure that there are some toys and treats. If you are making a wedding where there will be other dogs you have to make sure that everybody has dog id tags in case someone gets lost or to know who belongs to who. 
Prepare Your Dog In Advance to Help Them Enjoy Your Special Day
The most important thing when it comes to hosting a dog-friendly wedding is to make sure that all dogs that are present are well behaved and trained. Another thing that is good to do before coming to a dog-friendly wedding is making sure that all dogs know each other and that they feel comfortable with each other. Make sure that all the dogs are well behaved so they are not benign for food or stealing it, jumping and knocking people and children over as well as not peeing on the decorations as fake plants. Before the wedding work with your dog on sitting and being quiet for a short period of time so they are ready for the ceremony. If you or your guests know that their dogs don't work well with others and can't be around many people, it is better that they stay home. It is important that you are aware of your dog's feelings at all times because it is more important that they feel safe and loved than overwhelmed because you had something else in mind. 
The goal of your wedding needs to be everybody having the best time ever along with your furry friends. If other people are bringing their dogs too, prepare some fun goody bags with treats and toys that they can take home or use during the wedding. 
Photo Credits Caroline Logan; Audrey Rose;  Lucia & Marie