Countryside wedding venues are fabulous places to escape the metropolitan buzz and enjoy your day in rural tranquillity, surrounded by this country's natural beauty. What better backdrop to your wedding, memories, and photos than stunning panoramic views of the British countryside. Even on an overcast day where the eye can't see very far, these country estates boast landscaped gardens with gorgeous blossoms and luscious green trees. Capture your special day in natural light against any of these country house wedding venues, and you're sure to have a fantastic day to remember. That goes for your guests too!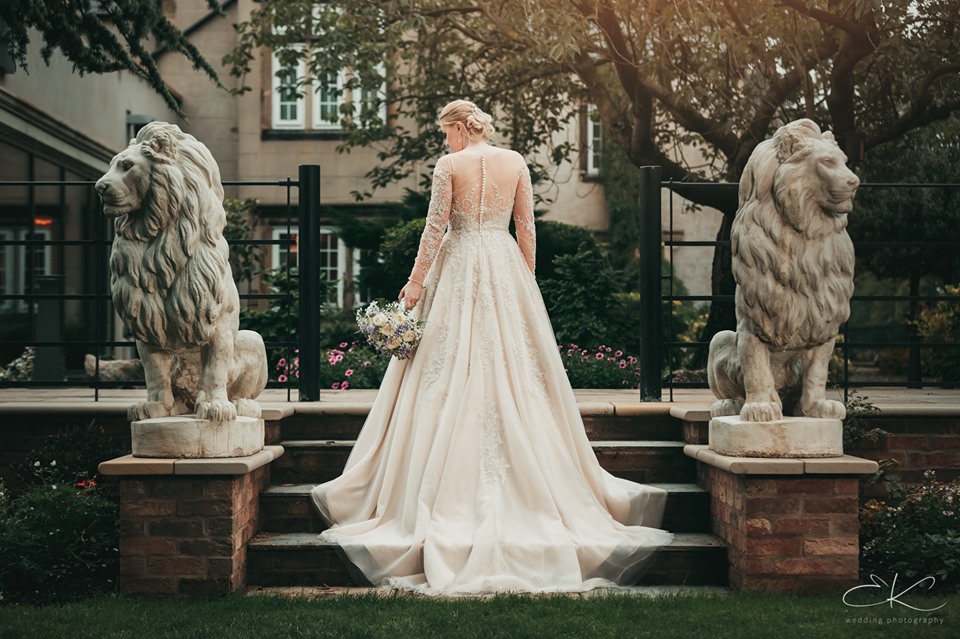 For those seeking a place to say 'I do' in Doncaster, have you considered a country house wedding venue? If you haven't, you should! Best Western Premier Mount Pleasant Hotel is the very definition of refined luxury. This estate is nestled amongst 100 acres of beautiful, unspoilt woodland. There's no need to landscape acres and acres of land when its natural state is just this breathtaking.
And lucky for couples-to-be, this country hotel offers outdoor weddings! There's a beautifully ornate gazebo under which you can exchange vows while your guests look on, enjoying the sunshine. Should the weather not be on your side (though apparently, it's good luck if it rains on your wedding day), you and your guests can bask in the venue's elegance indoors. Make this venue your own for a day, and you will have remarkable memories that last you a lifetime.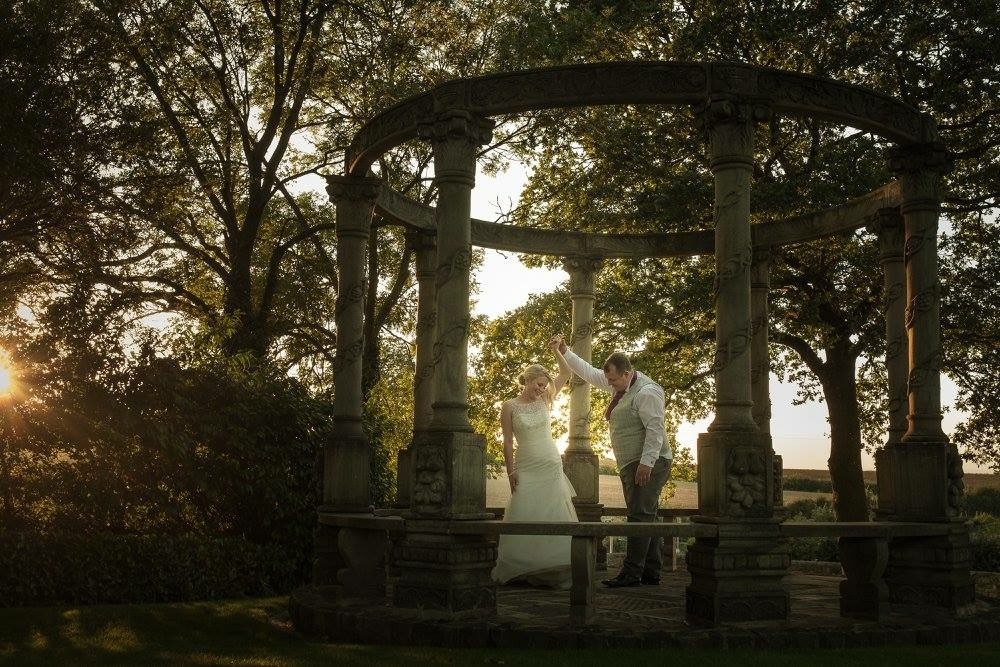 Rogerthorpe Manor Hotel is a beautiful manor house and was WeddingDates' Top Rated UK Wedding Venue of 2021. It has a reputation for its outdoor beauty and award-winning gardens overlooking the stunning countryside. Outdoor weddings are a speciality here as there are so many unique features on the grounds, which take in the panoramic views. Say 'I do' at the outdoor wedding temple, an incredible feat of stone masonry and the perfect place for your union. There are ample opportunities for amazing photos too. Of course, there is the temple. At sunset, a set of well-maintained stone ruins will take you back in time, and it's ever so romantic. There are even the remains of a church wall, with a beautiful arched doorway that makes for stunning photos against the lovely greenery.
Should the weather not be on your side, you won't be sorry to be escorted inside to the elegant wedding suites.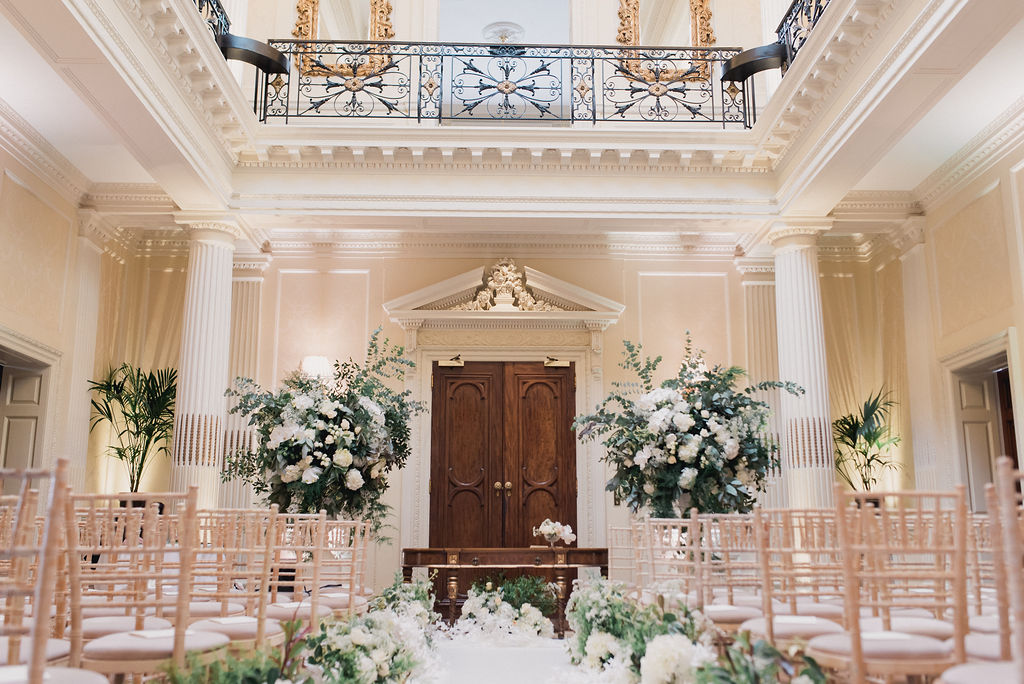 Next on our list is Vogue's Dream Wedding venue. Not only would we never dispute the opinion of the fashion tome but we're not surprised by this result. Hedsor House is a gorgeous Georgian country house wedding venue set within 100 acres of parkland. Arrive via the rhododendron-lined kilometre-long driveway. Before even stepping inside this stunning building, enjoy the views of the Buckinghamshire countryside and the River Thames down below – that rushed feeling of the morning of your wedding will simply wash away.
The venue comes complete with a landscaped and well-manicured garden. Take a stroll through to the pond and admire the greenery and colourful blooms along the way, all the while birdsong will accompany you.
Inside, say 'I do' beneath the Italianate domed Centre Hall and dine in the Ballroom beneath the trio of sparkling chandeliers. Magic memories await you!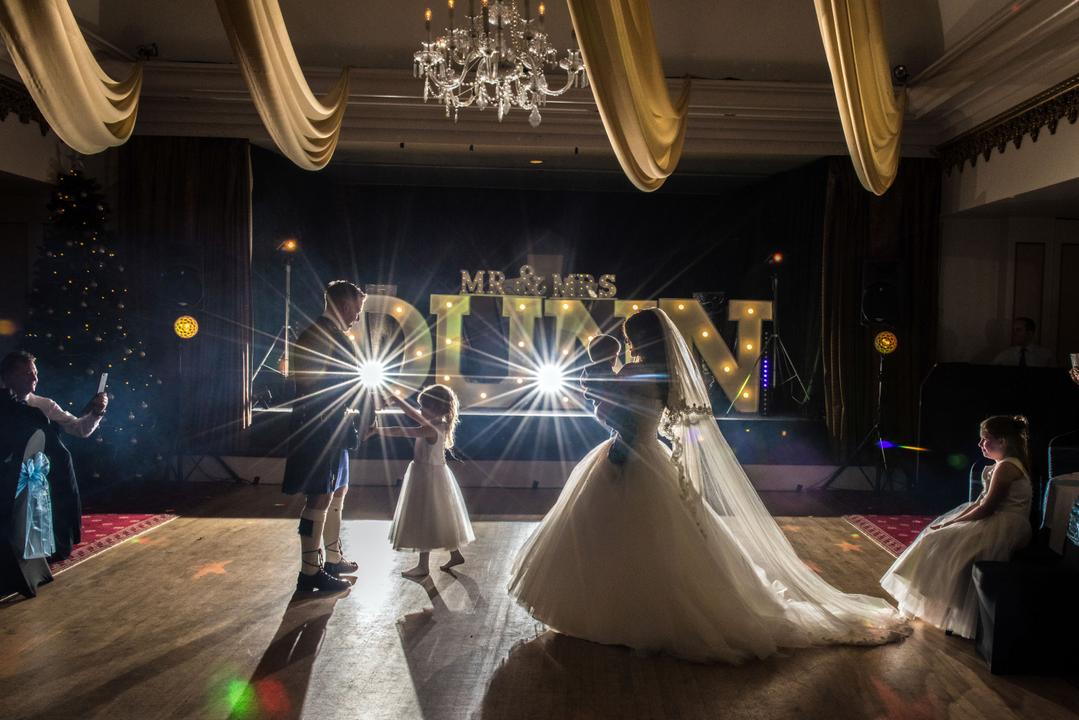 The Craiglands Hotel is set upon six acres of woodland, and while that may seem small compared to some other entries on this list, this country house wedding venue is anything but meagre – it can cater for lavish weddings for up to 600 people! For an indoor wedding, couples can enjoy any amount of natural light as it shines through the window-lined walls. Enjoy the views of the blossoms and tall trees filled with singing birds.
Inside the classically decorated and historic building, you will find various wedding suites, each a different size, but each beautiful and elegant, almost regal. The hotel also has a talent for traditional and contemporary Asian weddings, offering a gorgeous stage set-up by which the newlyweds can meet and greet their guests on this most memorable occasion. No matter what your dream wedding looks like in your head, it is possible to make it a reality here in West Yorkshire.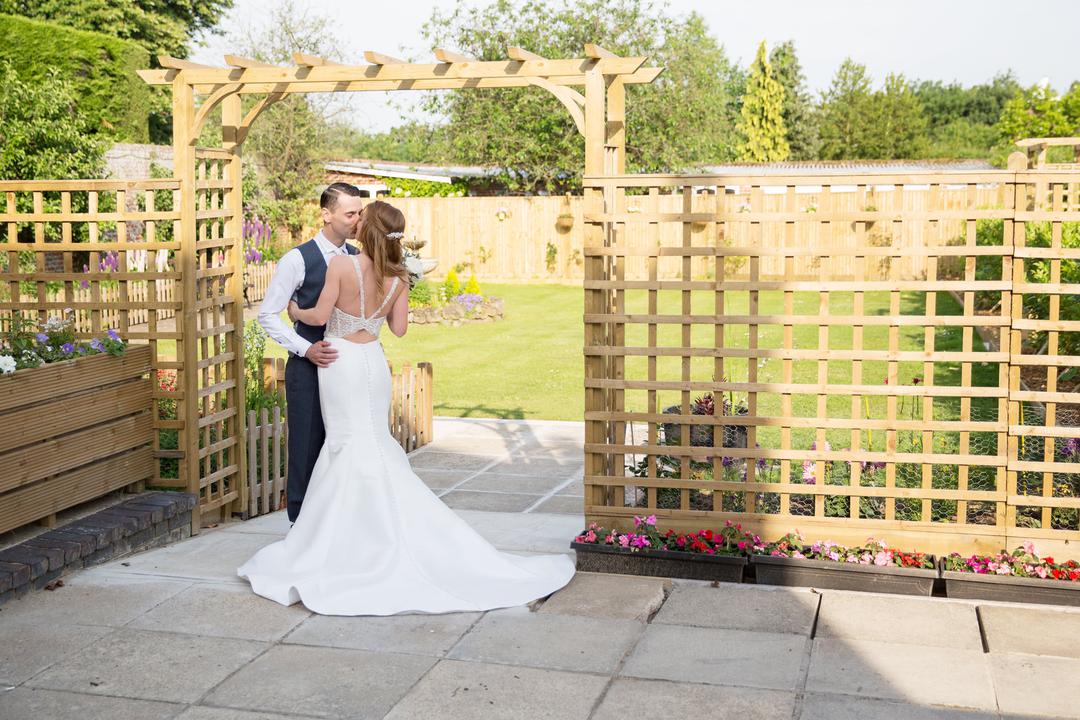 Hadlow Manor is so much more than its name implies. Yes, it is a manor house, but this 18th-century building is steeped in history and character. It has been refurbished into a country house wedding venue but has lost none of its charm throughout the process. Situated in the heart of the Kent countryside, it seems impossible not to have a sensational wedding amongst the beautiful grounds and stunning country views. You needn't don your wellies beneath your dress or suit trousers to enjoy them either! The venue has many relaxing patios from which to enjoy the scenes. A marquee can even be erected for outdoor weddings.
Inside, the manor is beautifully decorated with its origins in mind, yet with contemporary touches here and there, which combine into an elegant but stunning wedding venue fit for any dream wedding. Make memories at one of Kent's premier wedding venues.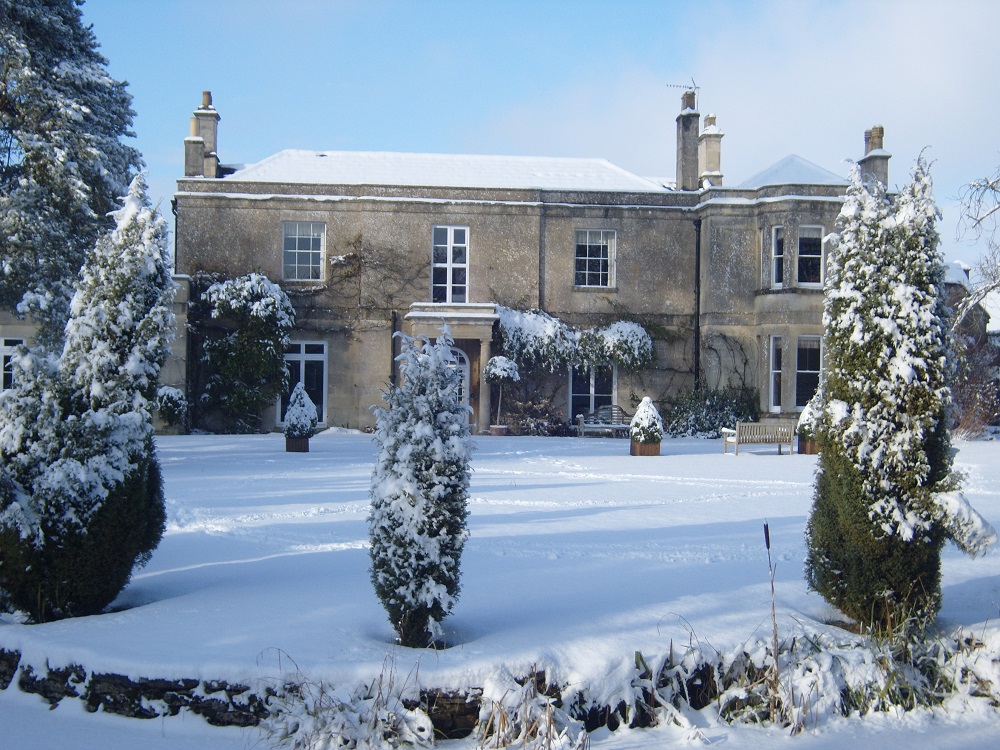 Nothing is too much trouble at Guyers House Hotel. The dedicated and passionate wedding coordination team at this country house wedding venue are motivated by your vision, so feel free to share it with them! And what a place to make your dream a reality.
This venue has beautiful gardens and pathways lined with wildflowers and lovely archways – the perfect place to take a post-'I do' stroll. Enjoy the sounds of the local wildlife while you admire the stunning pond. Exchange vows on the lawn and soak up every ray Mr Sunshine offers on your wedding day (don't forget your SPF!). In the evening, enjoy a marquee reception, complete with fairy lights and an open fire. Outdoor weddings are genuinely magical here at Guyers House Hotel.
Let's not forget the fantastic indoor offerings! This beautiful building is charming on the outside and built to be bridal on the inside.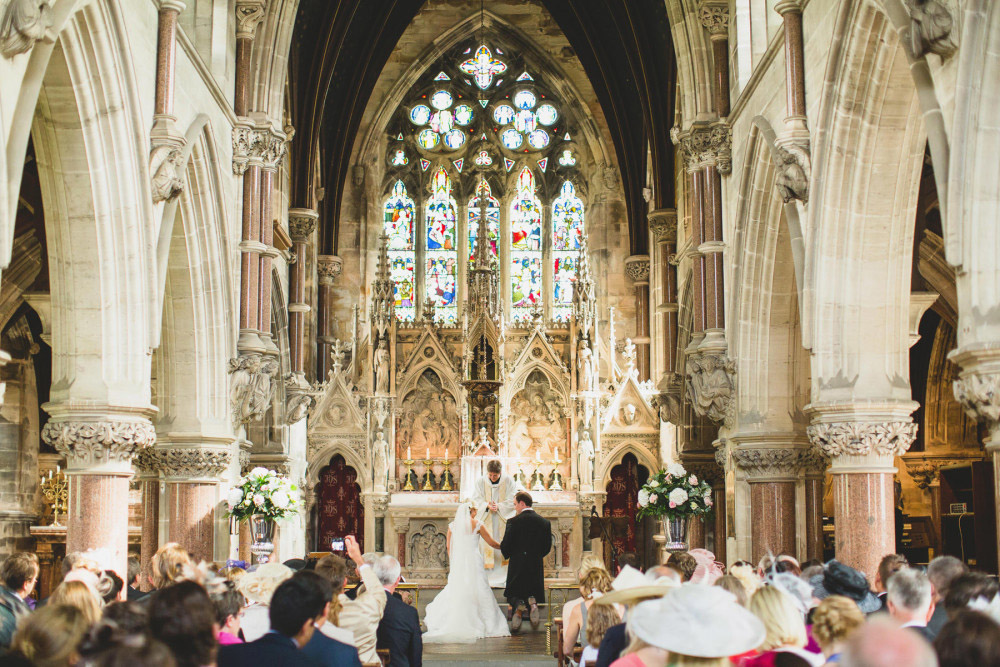 Yorkshire has any amount of wedding venues on offer, many of them award-winners, but none quite like Rudding Park, a stunning Regency-era house set amongst landscaped gardens. It even boasts a 19th-century chapel on the grounds, perfect for wedding blessings.
This country house wedding venue offers the ultimate Insta-worthy wedding experience – Love Island. No, it has absolutely nothing to do with the reality show! The grounds of Rudding Park include a sparkling lake containing a small island. Couples can row out to the island on the lake, where you can enjoy some alone time, toast to your first moments as a married couple and sip champagne. The island even has a weeping willow tree, adding romance and privacy and a picture-perfect backdrop. There really I nothing like it. Your guests will be impressed, and you'll have a unique wedding album you'll not just cherish but show off for years to come!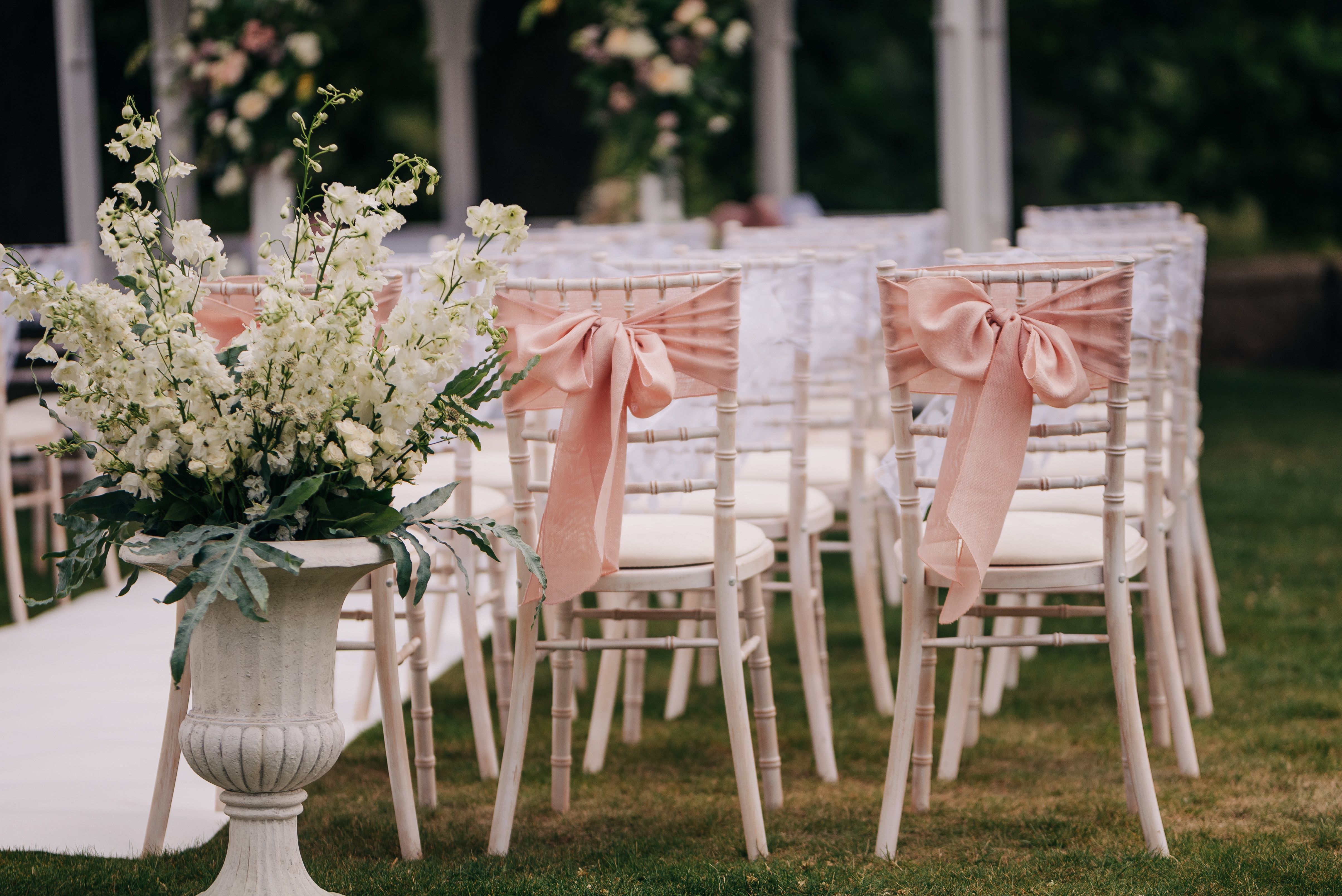 Foxhils Club & Resort, sits on a whopping 400 acres of gorgeous land. Now, it would be some feat to use all that land for a single wedding day, but it shouldn't stop you from enjoying the breathtaking views. Tucked into Surrey, one of the most beautiful parts of the country, it should go without saying that the panoramic views are to die for – but we'll tell you anyway! You will not be disappointed if you say 'I do' in the outdoor wedding pavilion. Directly behind the stunning white gazebo is a luscious tee line, with blossoming gardens to one side and dazzling Surrey countryside to the other. You and your guests will be mesmerised by the magic of the moment. Even looking upon the house with all its charm and character will take your breath away.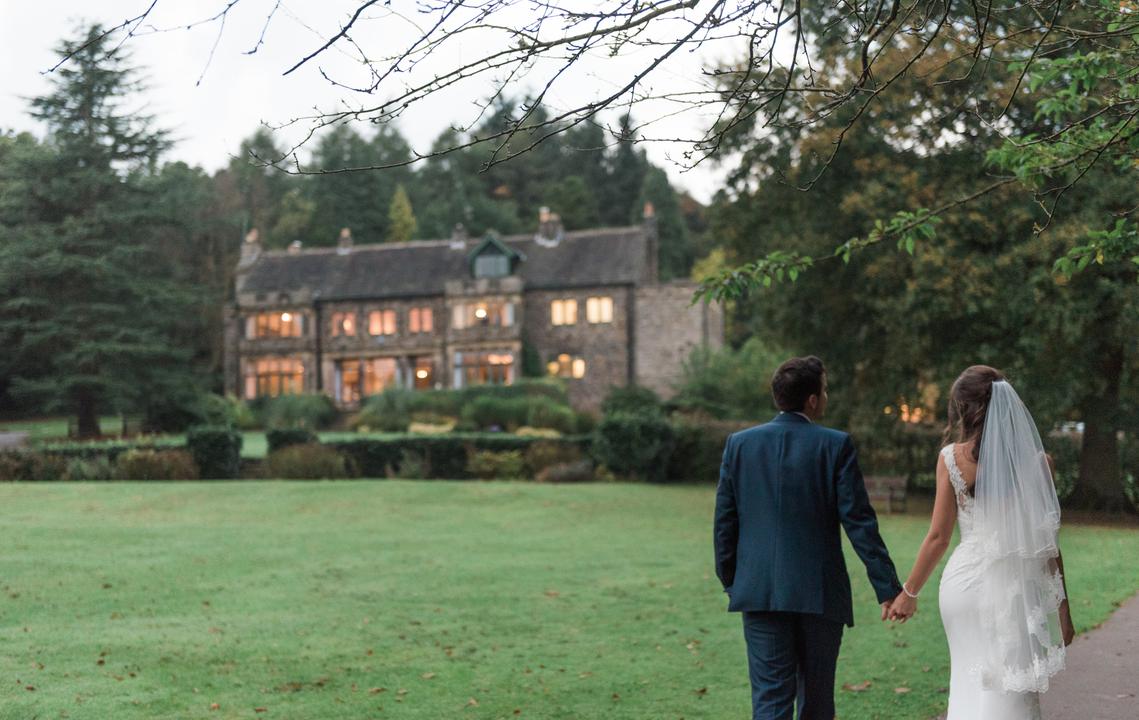 Sheffield in South Yorkshire already has a lot of attractive traits, but Whirlowbrook Hall should be top of the list. This historic country house wedding venue and gardens are classically decorated yet feel luxurious at every turn. At the end of a beautifully tree-lined country driveway, you'll feel like you've stumbled upon a British gem. The house's exterior stonework is incredible and full of character. All around the building are stunning green gardens, with colourful flowers thriving in landscaped flowerbeds. The gardens are nestled within a gorgeous and unspoilt woodland, full of secrets and surprises, each waiting to give you a perfect Kodak moment. If you can get an aerial shot on your wedding day, we'd encourage it!
Inside, the venue is charming and ornate, with many original features, like exposed beams and large, intricate fireplaces. You'll feel like a member of the nobility on the day you say 'I do'!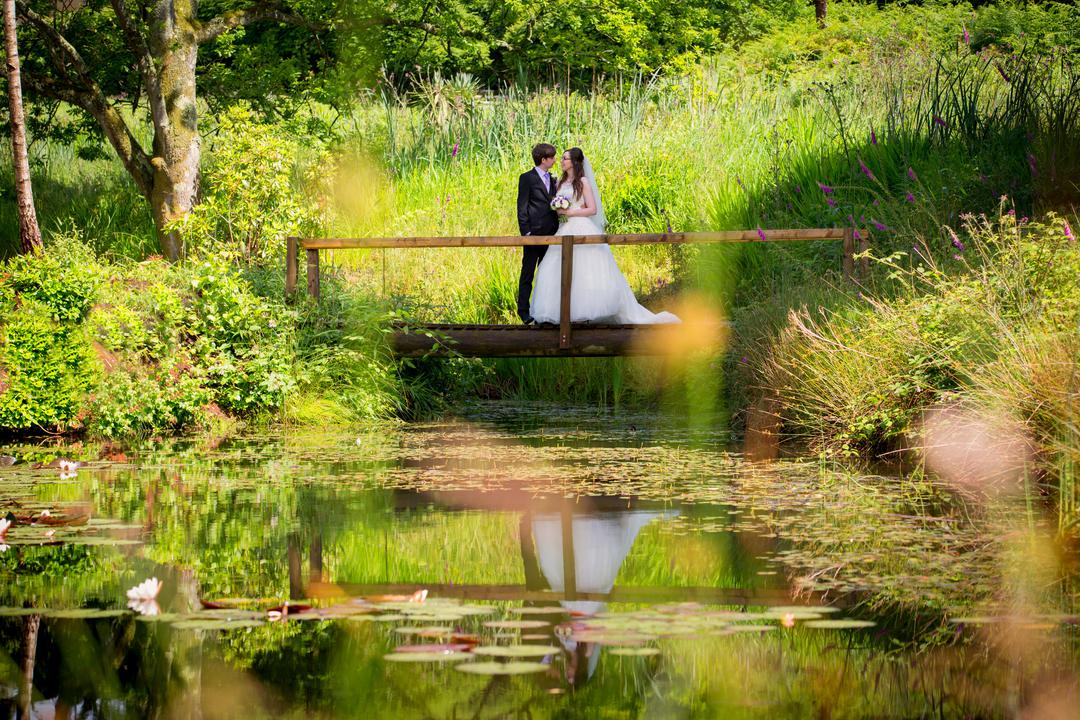 On The outskirts of Southampton, away from the city centre buzz, you may find your magical country house wedding venue. Best Western Chilworth Manor is the only Edwardian Manor in the area, and what a beauty she is. The building sits upon 12 acres of beautifully landscaped grounds, with incredible views of a conservation area beyond.
Arrive by the rhododendron-lined driveway and have your breath taken by a magnificent building that would make the characters of Downton Abbey jealous! Walk through the galleried halls and the structure; outside, you'll find manicured lawns and vibrant blooms. There is even a still river running through the property, which is guaranteed to give you some stunning photos on its quaint wooden bridge. In Winter, this estate has been known to be covered in a blanket of white snow too. Magic is in the air here!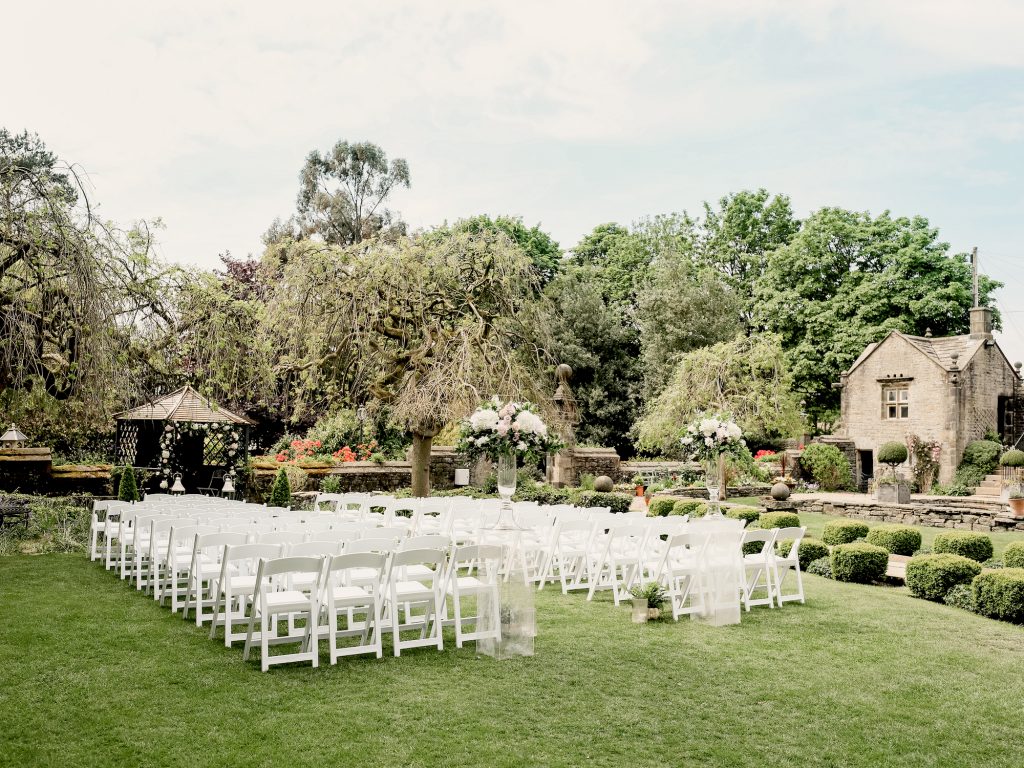 Your fantasies about your dream wedding may go back to early childhood, but has your dream always been about dressing like a princess and having a wedding fit for royals? Sometimes the objective is simply to get married somewhere The Beatles have been! The sensational pop group stayed in Holdsworth House Hotel in 1964, don't you know? And we're not surprised! This Jacobean Manor is a stunning beauty, hidden from plain sight by three acres of the beautiful walled garden.
The house dates back to 1633, and as backdrops go, it's a photographer's dream no matter the season – spring greenery, summer blooms, autumn leaves, blankets of snow. For smaller, more intimate weddings, say 'I do' in the incredible Stone Gazebo beside the lovely sunken Parterre garden. Larger outdoor weddings are possible for up to 120 guests on the rolling lawns or 60 guests in the Colonnade Courtyard.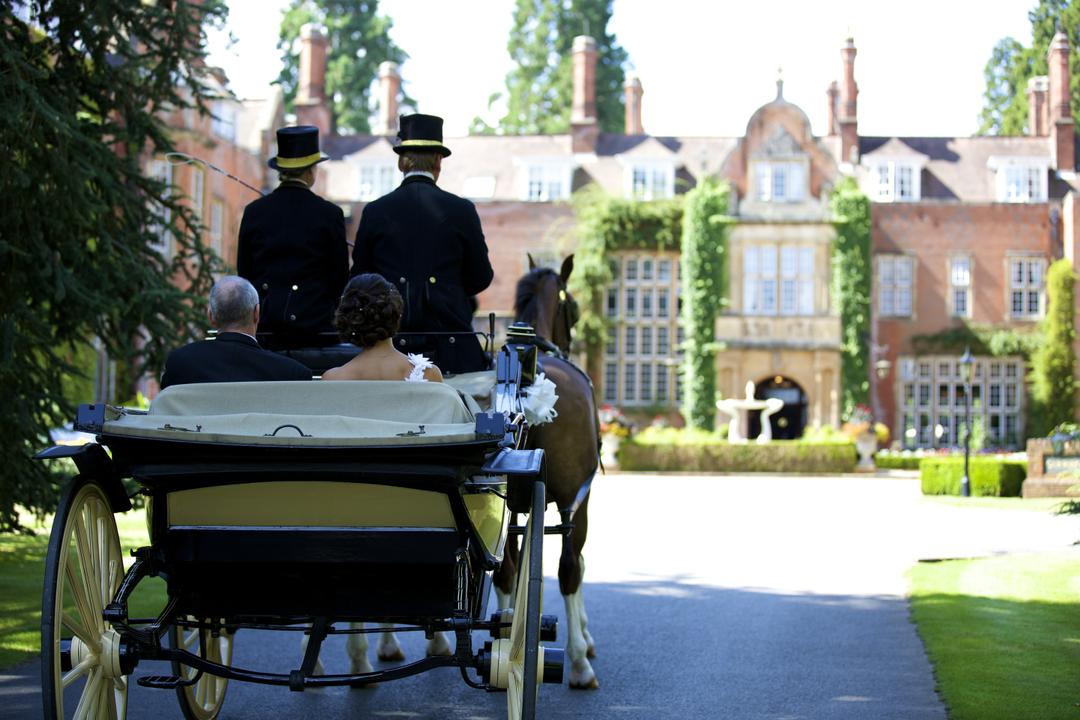 Tylney Hall Hotel is the complete Hampshire country house wedding venue inside and out. It's the perfect place to collect magical moments culminating in an unforgettable day. The baronial-style venue is stunning, but if an alfresco wedding is what you want, the Italian Garden is the place to be. Home to the stone gazebo, you'll find this space wonderful. Say 'I do' here, accompanied by birdsong, and later take your photographs in the Rose Garden, ever ablaze with colour from the blossoms and greenery. Or strike a pose on Boathouse Bridge, which spans the sparkling lake.
Should the weather not be on your side on the big day, inside, you will be far from disappointed. The Tylney Suite is romantic in ambience. It was high vaulted ceilings and even a minstrel's gallery from which musicians can play romantic music – that's something you won't find in many places!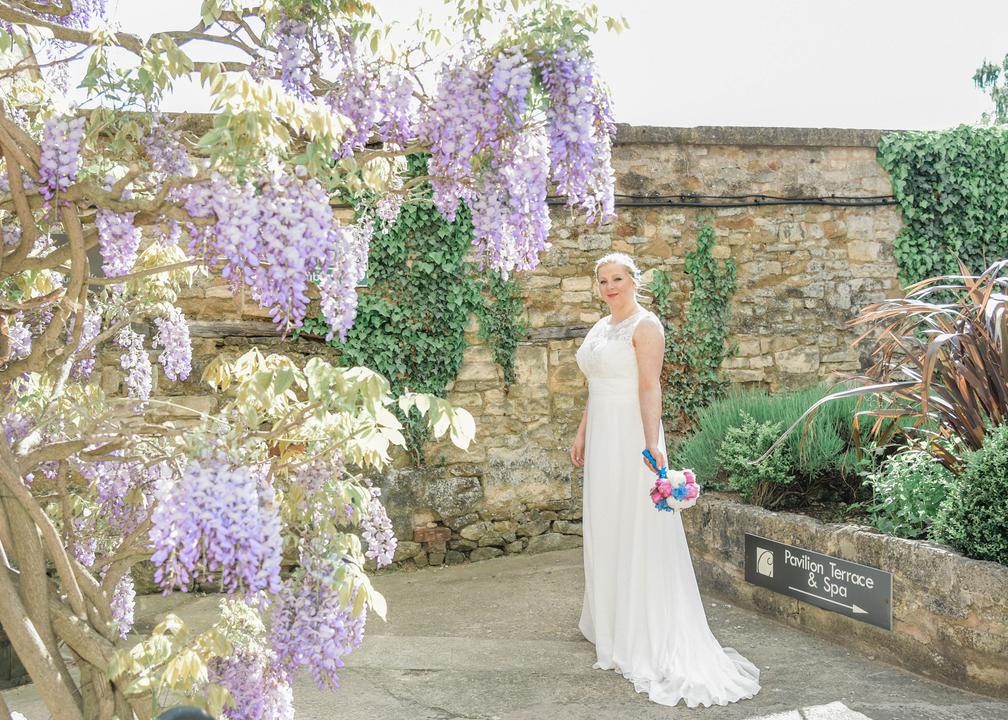 If you're looking for something gorgeous, with incredible views, but not too far from lively city life, Cotswold House is the townhouse wedding venue for you. The Regency-era building is in the heart of Chipping Campden but is set in two acres of beautifully landscaped walled gardens – an oasis hidden in the metropolis.
The wedding suite is a barn-style room, complete with exposed wood beams, high vaulted ceilings, and swimming in natural light. The suite overlooks the gardens, lush green in the colder months, blooming with colour in the warmer months. No matter the season, if you and your love stroll down the paved garden path after you say 'I do', you're sure to find a new place for those picture-perfect moments around every manicured hedge and colourful flowerbed. This garden has so much to offer up, but none so beautiful as the scented lilac draping over your outdoor proceedings.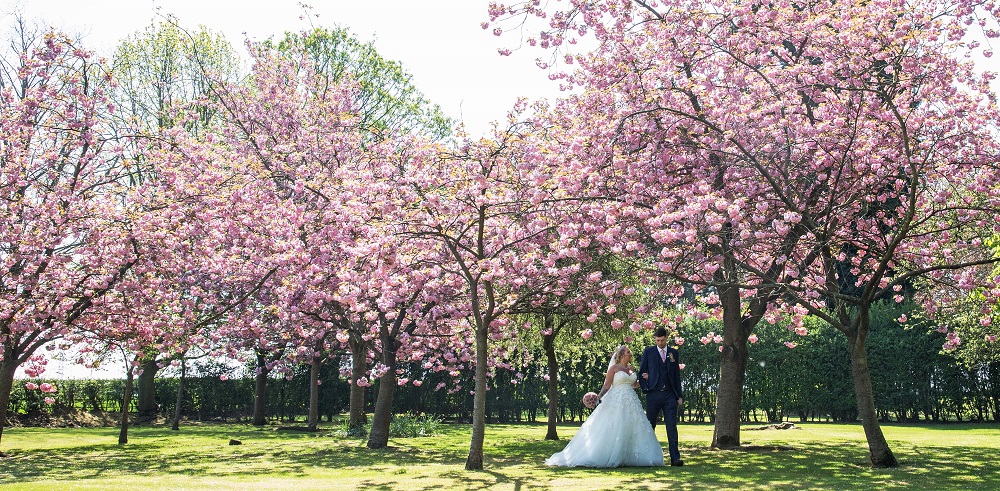 This Edwardian house has been fully restored to create a four-star wedding venue of enchantment. Mere Court Hotel has seven beautiful acres of spectacular gardens and a shining ornamental lake. There is no shortage of wedding photo backdrops at this venue.
On your wedding day, you and yours will have exclusive use of the hotel and gardens, so you'll have every opportunity to make the most of what this magical place offers. The lake is clear and surrounded by weeping green trees. A fountain in the middle is the perfect centrepiece of a lovely photo. The lawns host the gazebo; rustic and wooden, it is romantic and intimate – the ideal spot for an outdoor ceremony. Out front, there is a landscaped statue garden, quaint in size but majestic in beauty, with a two-tier fountain in its heart. The entire venue is surrounded by trees of varying green and plum colours.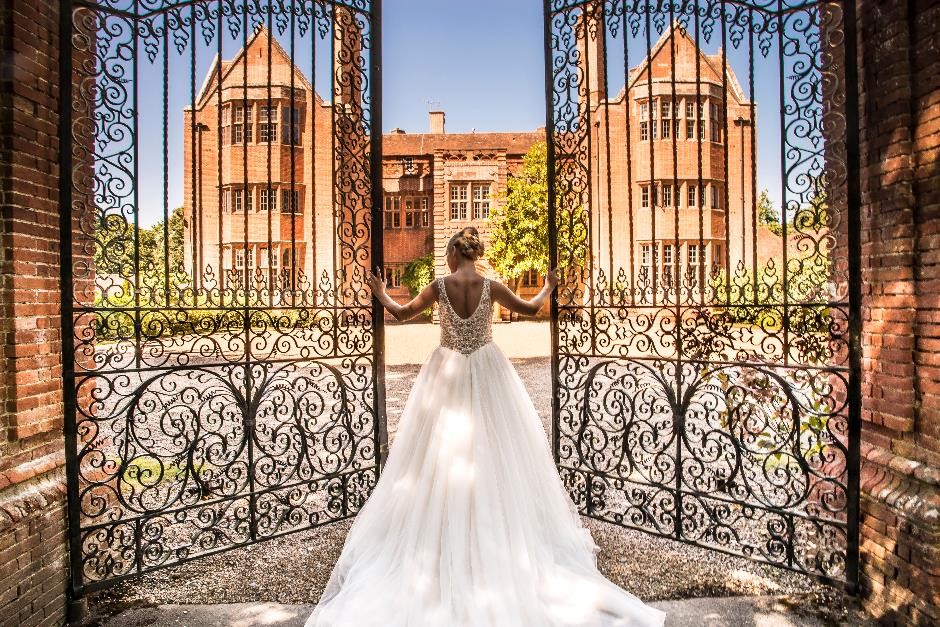 New Place Hotel may not sound like it, but it's a place steeped in history. It was fittingly commissioned as a wedding gift, designed and built by the British architect Sir Edwin Lutyens. This country house wedding venue is a gorgeous manor house, fit for a royal visit – even a royal stay! Choosing to say 'I do' amongst its breathtaking beauty and historic grandeur won't be difficult.
Enter through the ornate wrought-iron gates (sure to leave a lasting first impression upon your guests), and you'll find the house a true masterpiece of brickwork. It combines Tudor and Elizabethan eccentricities with subtle modern touches. And of course, the service is exceptional, with staff focused on you and your day alone. You'll feel like a movie star on the set of a period drama! Outside, the grounds are filled with archways of stone with climbing ivy, canopies of lush trees, and romantic lighting.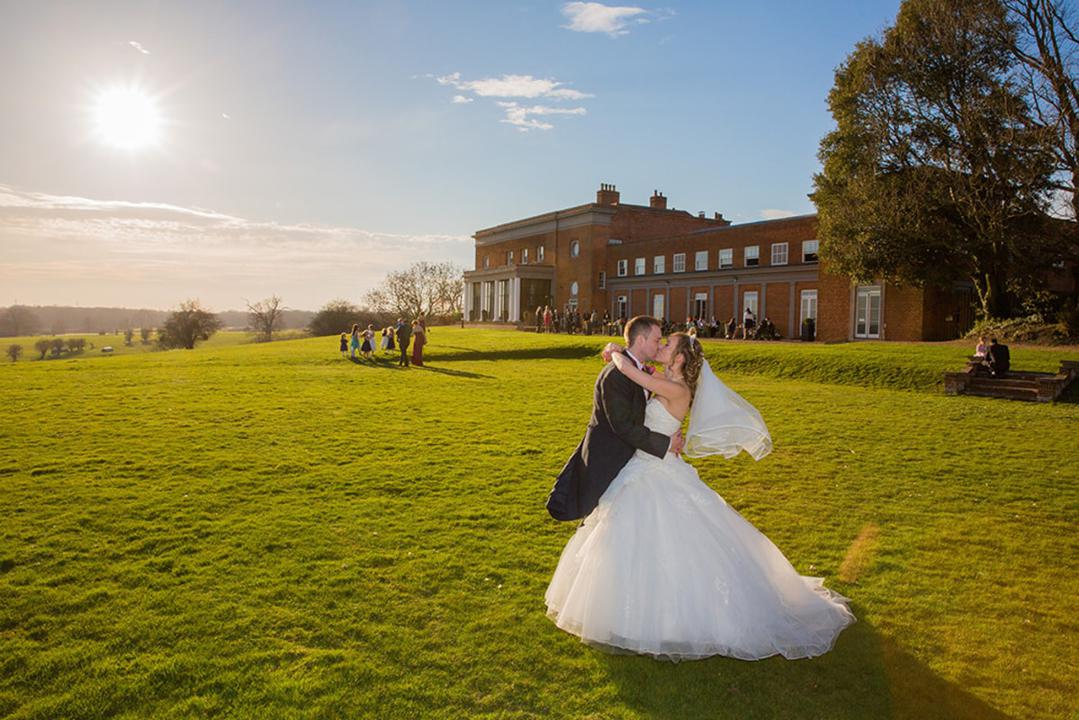 Highfield Park. Finding the words to describe this Queen Anne and Georgian-era country house wedding venue is challenging, but we'll try our best.
You'll arrive via the tree-lined driveway and pull up to the grand entrance of this elegant house, surrounded by 35 acres of beautiful parkland. The park is a collection of rolling hills, each greener than the last, topped with dense green woodland, hiding the wildlife that makes this place so wonderful. If you can, get some aerial shots of your wedding's outdoor festivities! There is a stone, pillared pavilion on the grounds by the house too. It is the perfect place for your aisle to lead. Exchange vows in front of your guests beneath the ornate structure draped in gorgeous ivy and framed by blossoming trees. At dusk, enjoy the sun setting over the parkland – make a toast, clink champagne and enjoy the next chapter of your life.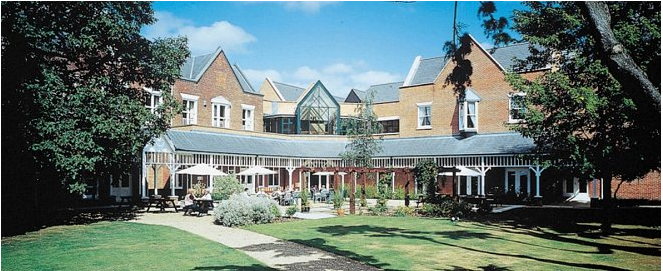 Fancy a retreat to the countryside? Then Coulsdon Manor Hotel & Golf Club is the ideal place for you to get married. Originally built as a manor home, the building was refurbished into a countryside retreat in the 18th century and now stands as a perfect country house wedding venue.
It is nestled into a whopping 140 acres of landscaped parkland. The views are spectacular in every direction. You'll find yourself breathless with every new scene all day, so it's a good thing this place was built with rest and relaxation in mind, as well as lavish soirees. Inside, catch your breath in the glass atrium and look down upon the manicured gardens, wildflowers and woodland, and challenging golf course.
The venue offers character and charm from times gone by and features open fireplaces, original to the home. Relaxing in the run-up to your wedding will be simple here.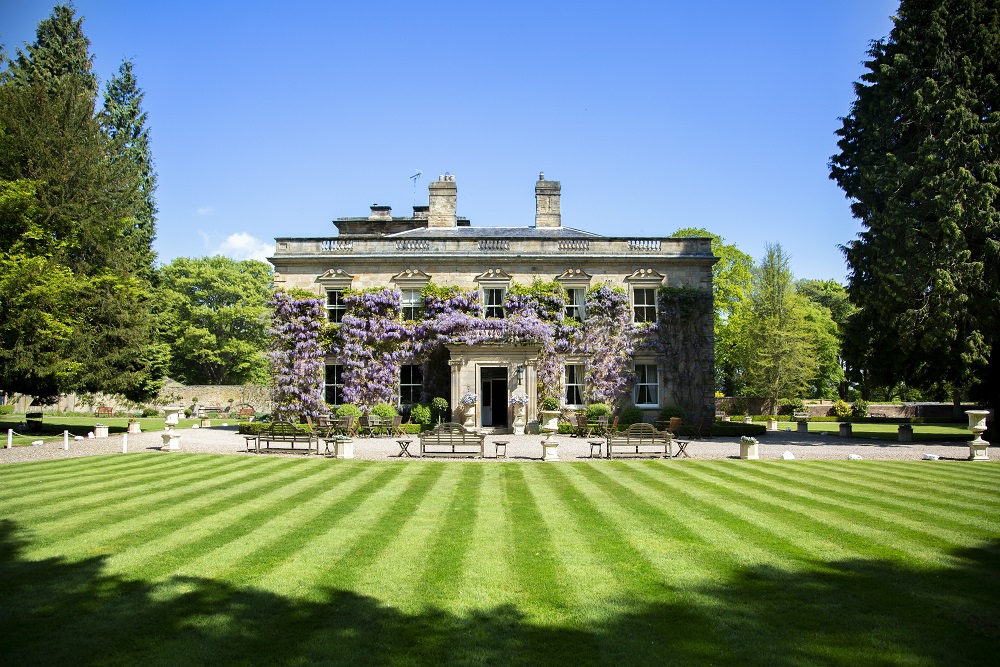 You will find something special about this Georgian-era gem at the end of a tree-lined driveway. Eshott Hall is a mellow honey-coloured stonework building, the likes of which you won't encounter often. The exquisite architectural detailing makes it romantic in its ornate appearance and a perfect wedding album setting. The entrance is ordained with beautiful lilac, the scent of which is sure to set off joyous memories for years to come.
Surrounded by the venue's own private English-style country gardens, it won't be challenging to find a beautiful spot for your photos, your ceremony, your receptions, and all those other magical moments you'll share with your partner and your guests.
Inside, the venue boasts a majestic winding staircase, perfect for your ceremonial entrance. The food is mouthwatering and elegantly presented. A warm Northumbrian welcome is waiting for you. Exceptional service in the venue of your dreams is at the other end of the phone!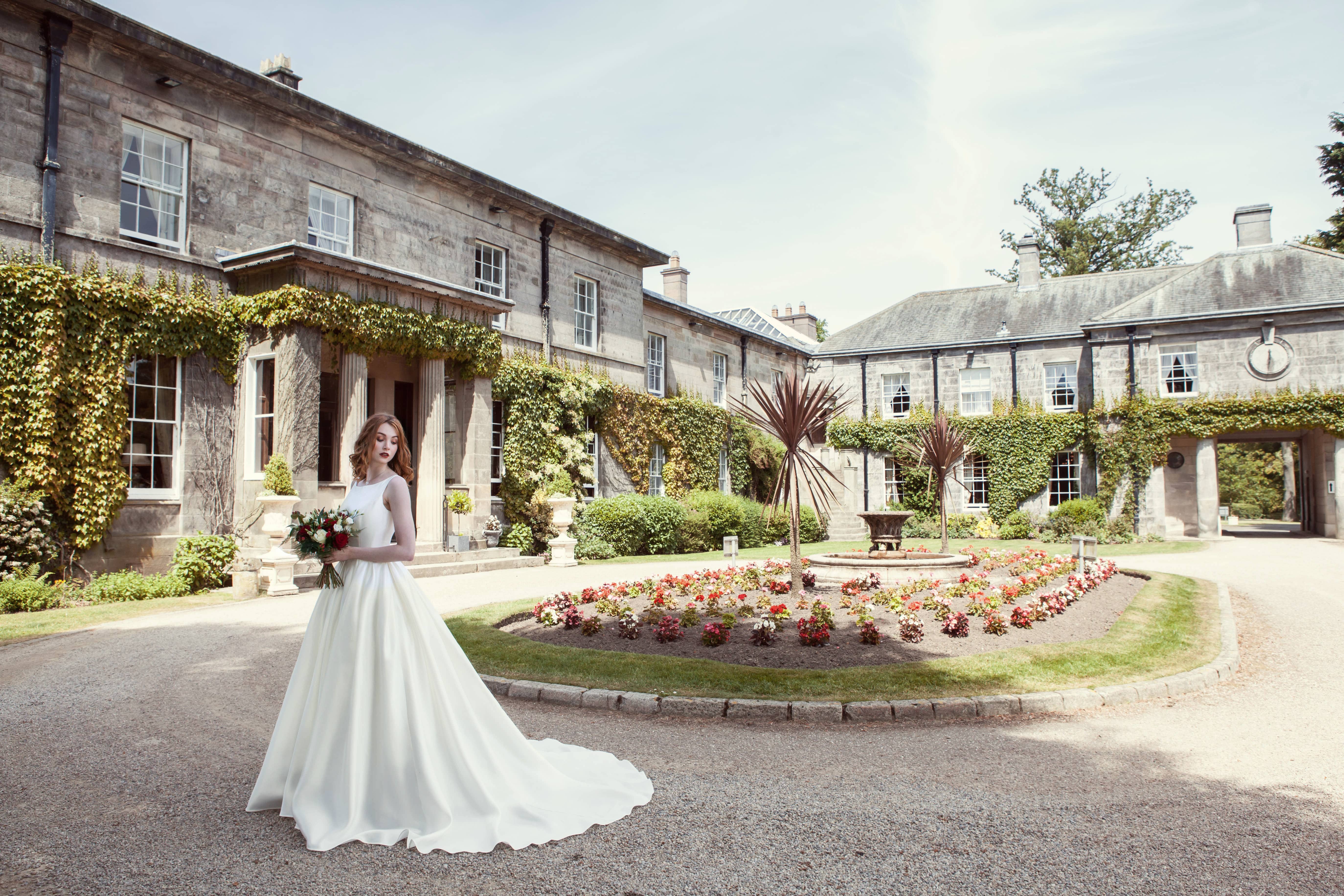 Imagine sitting in the vintage car you booked for the day, wearing your wedding attire, and driving down a sweeping driveway through 10 acres of stunningly kept grounds. At the end of the drive, you will pass through a wrought-iron gateway, ornate in its construction. In front of you will be a formal garden, manicured and colourful. Beyond that will be a sunny and relaxing terrace. A building of exquisite craftmanship stands before you in all its Georgian splendour. Inside, there's fine wood panelling and a grand staircase, the epitome of elegance. This is Doxford Hall Hotel and Spa. And it could be your country house wedding venue.
This award-winning wedding venue has been granted four AA red stars and is the only such venue in Northumberland. Plan your wedding here, knowing everything is in expert hands.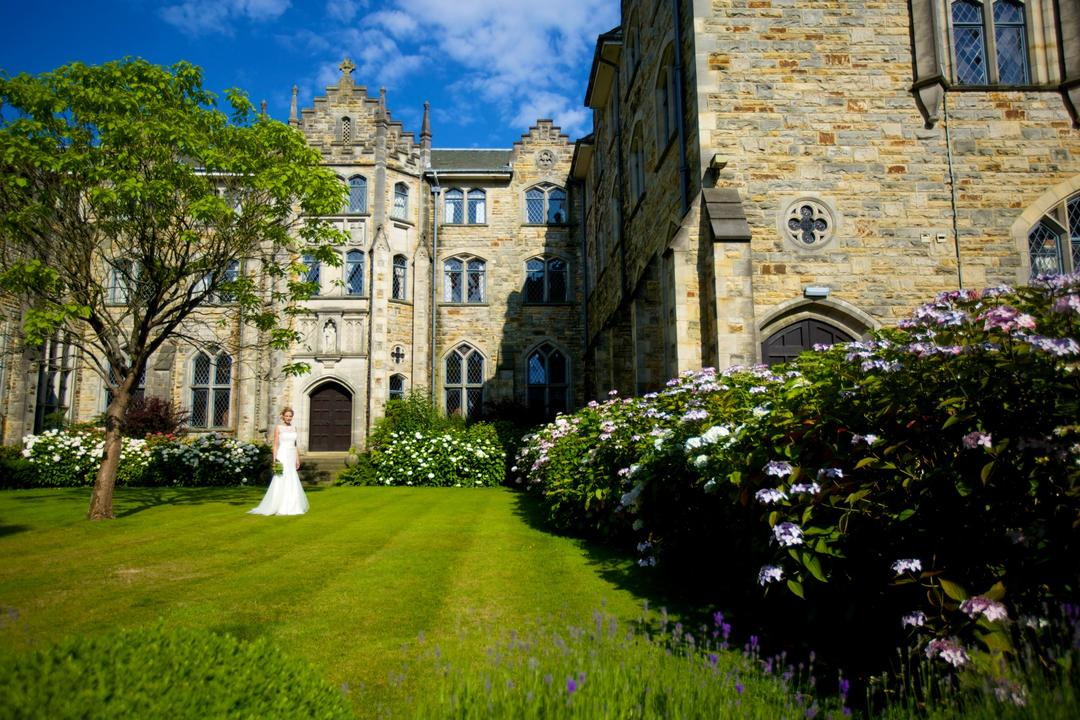 Does Ashdown Forest in East Sussex sound familiar? It may be triggering memories from childhood or raising your children because it is, of course, the home of Winnie the Pooh and all his friends! No wonder A. A. Milne chose such a beautiful part of the countryside for this story setting. Ashdown Park Hotel & Country Club is tucked into 186 acres of landscaped countryside, and the venue is closely surrounded by immaculate lawns, secret gardens, lakes and woodland trails.
The grounds include a converted chapel sporting stunning stained glass windows, which will shine a rainbow of colour over your romantic proceedings.
Couples are encouraged to find the Secret Garden during their special day. A wedding day can be invigorating but sometimes exhausting, from the socialising, the dancing and general merriment. Take a moment just to be married, the two of you, in a shady spot by the sunlit lake.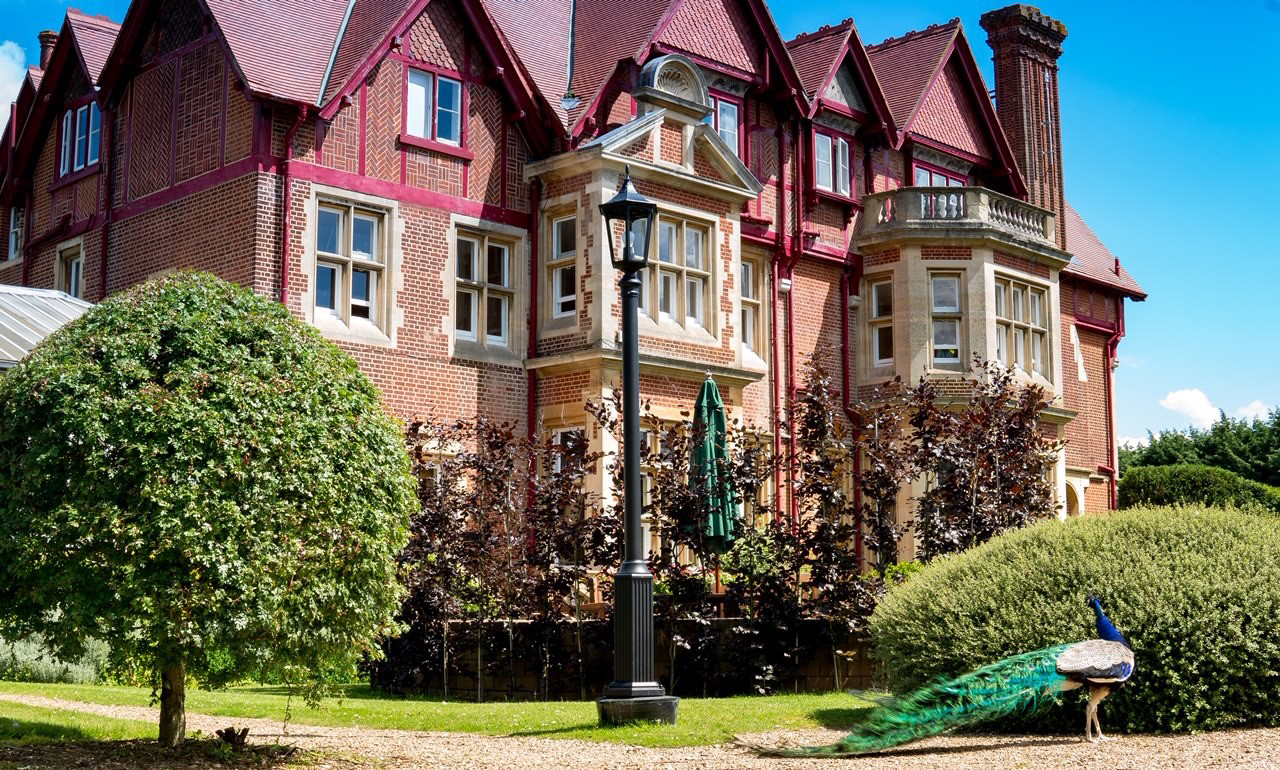 Pendley Manor Hotel is a Victorian country house wedding venue that must be on your viewing list. It sits upon 35 acres of landscaped gardens and wooded parkland, each nook and cranny waiting for you to start creating a remarkable wedding photo album.
The ceremony room is adorned with wooden beams and classic styling – the picture of elegance. The rose garden boasts positively beautiful blooms in a myriad of hues. You'll never be alone, for this hotel has resident peacocks! Their colourful plumage is quite a sight, and their presence will add a novelty to your wedding that guests will speak of for years! Not to mention, there's something about peacocks at a wedding that gives the proceedings a touch of Regency royalty.
Everything about this venue is elegant but also unique. And they have the capacity and expertise to accommodate weddings of many traditions, faiths and ethnicities, so no matter your fairytale dream, it's possible here.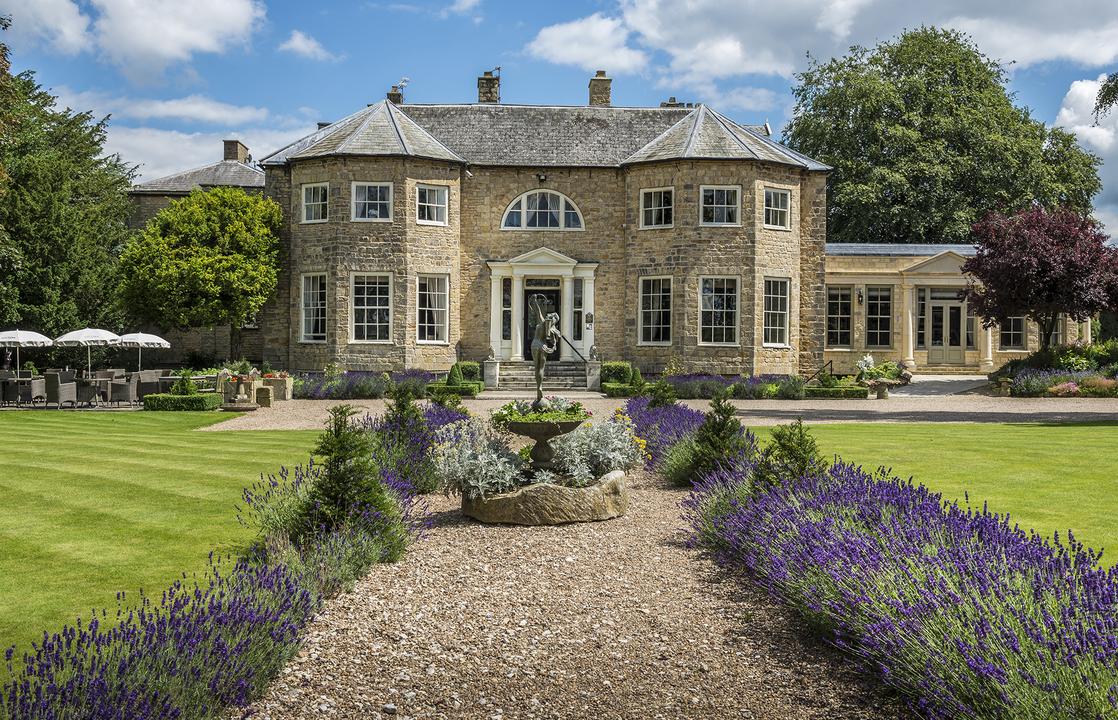 Washingborough Hall Hotel takes romance very seriously. So much so that the owner, Lucy, titles herself Director of Romance! The director and her team plan each wedding according to a couple's individual requirements, so no two weddings are the same, but each one is magic.
The beautiful and secluded grounds of the country house wedding venue contain a private entrance to the village church, so if you want a church wedding and a grand reception without an hour's drive in between, that's a dream that can quickly come true here.
The mature gardens a stunning, featuring scented blooms lining the paths, ornate stone fountains taking centre stage, and manicured lawns as far as the luscious tree line. The building itself is heavenly and an elegant backdrop. Inside, the manor is full of classic stylings and fine antiques, each adding a touch of grandeur. You won't regret saying 'I do' here.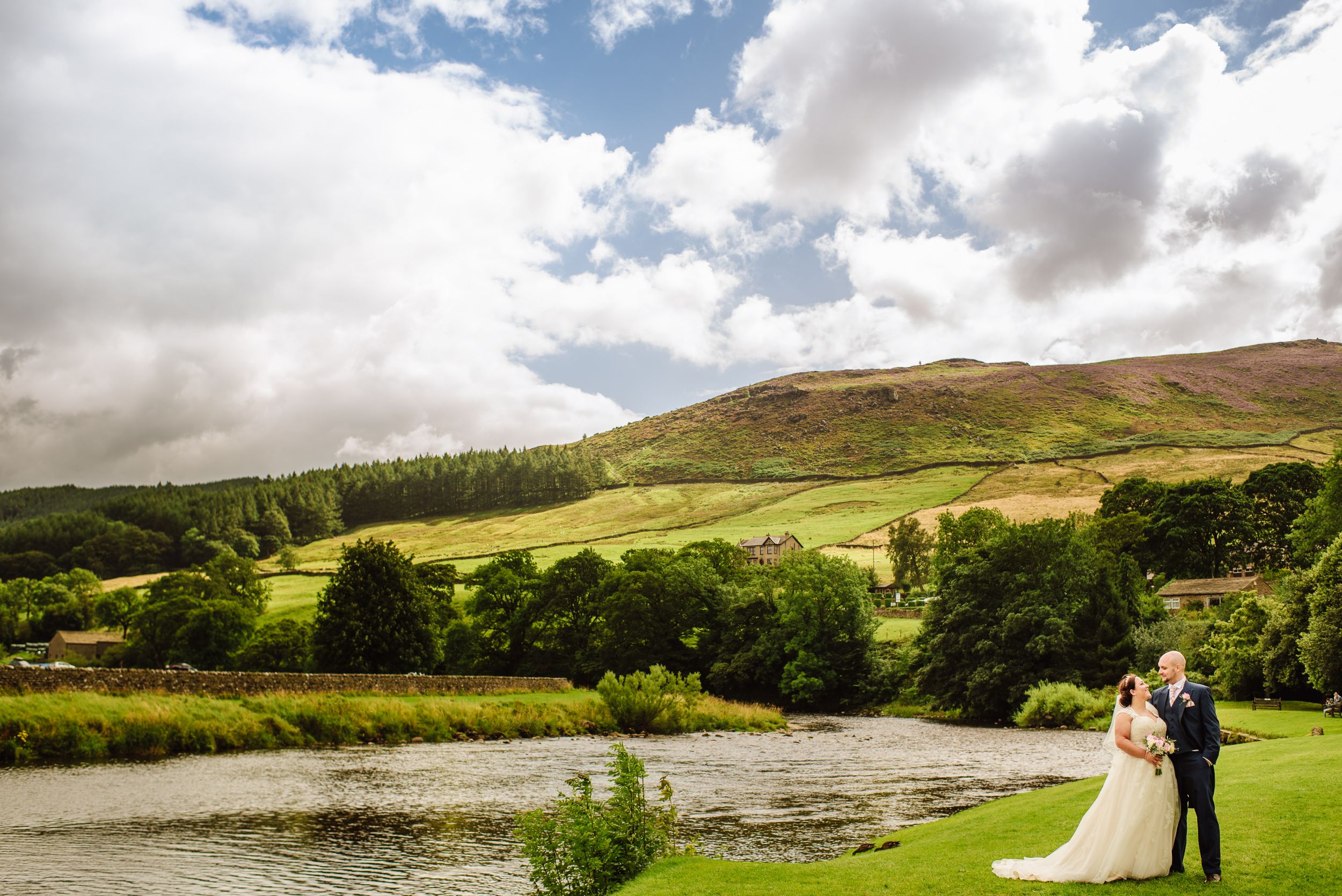 If the thoughts of a countryside wedding in North Yorkshire sets your heart racing, The Devonshire Fell is the country house wedding venue for you. The four-star boutique hotel offers chic city stylings inside to give you a metropolitan touch. However, outside you'll find your wedding looks upon the beautiful Yorkshire countryside and the stunning River Wharfe, running through the Yorkshire Dales National Park.
The Edwardian home sits on a small hillside and enjoys formal landscaped gardens with vibrant scented blooms along the edges of the manicured lawns. Stone terraces and balconies overlook the green fields separated from vast blue sunny skies by lines of beautiful trees. Pop down to the river's edge for gorgeous photos sure to make a splash in your album.
The Devonshire Fell is an exclusive-use wedding venue that exudes luxury and chicness in the heart of rural northern England.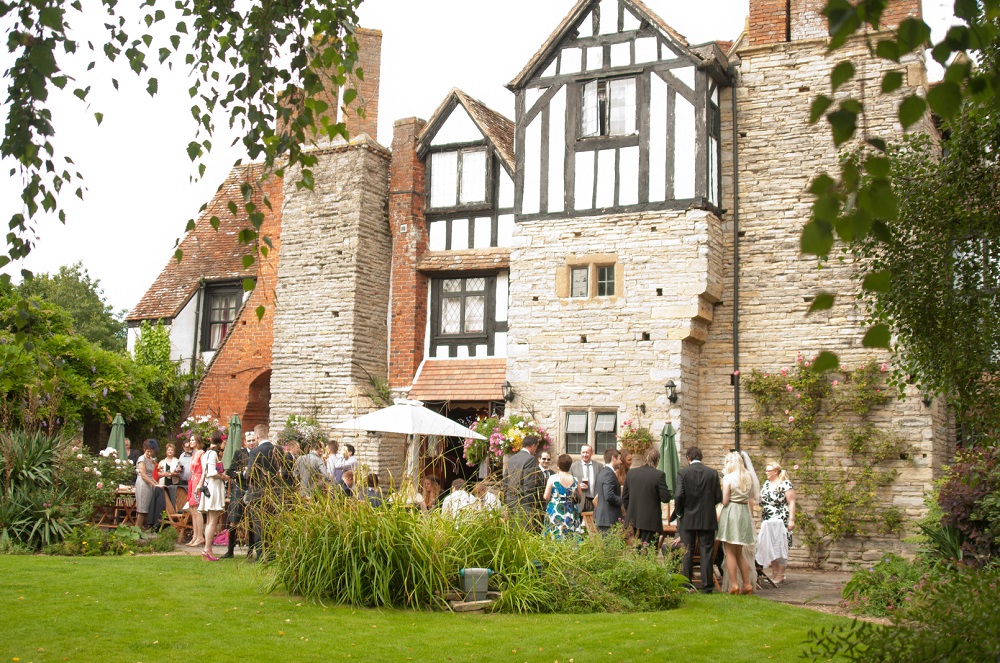 The Karma Salford Hotel is not just a part of British history but its legend. It dates back over 700 years! Found in the Vale of Evesham by the Cotswolds, this historic country retreat is a picturesque treat. The venue sits in one of the prettiest rural regions in the British Isles. Its grounds are the stuff of dreams and easily make for a fairytale backdrop, no matter the season. Choose the marquee for an alfresco wedding, and you won't be disappointed.
The building itself resembles a charming cottage – but on a much larger and grander scale! Its stonework and wooden beams add charm and character around the back, while the front is elegant and luxurious, the perfect way to make an entrance. If you elect for an outdoor ceremony, you will be surrounded by the well-looked-after gardens in all their colourful glory.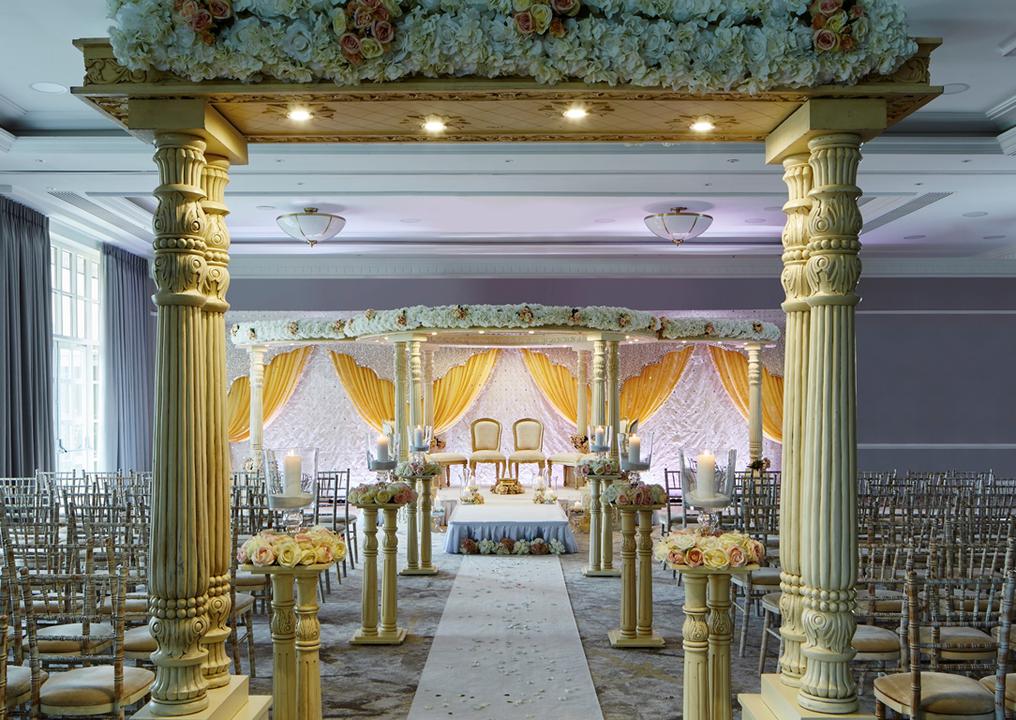 Forest of Arden Marriott Hotel & Country Club can be found in the heart of the Midlands, amongst 10,000 acres of picturesque woodland. It is a place where anything can happen! If you wish to tie the knot in a rural setting, it doesn't get much better than this country house wedding venue.
For a grand and lavish celebration, choose the marquee. It's self-contained and overlooks the championship golf course. It also has a private bar with a late license, so there's nothing to stop you and yours from dancing the night away until the wee hours. This venue can accommodate up to 350  guests, so showing off your chosen venue to everyone you know should be no problem. And boy, will you want to! The sparkling clear lake. The manicured soft lawns. The beautiful tree lines. The sunsets are even unique here!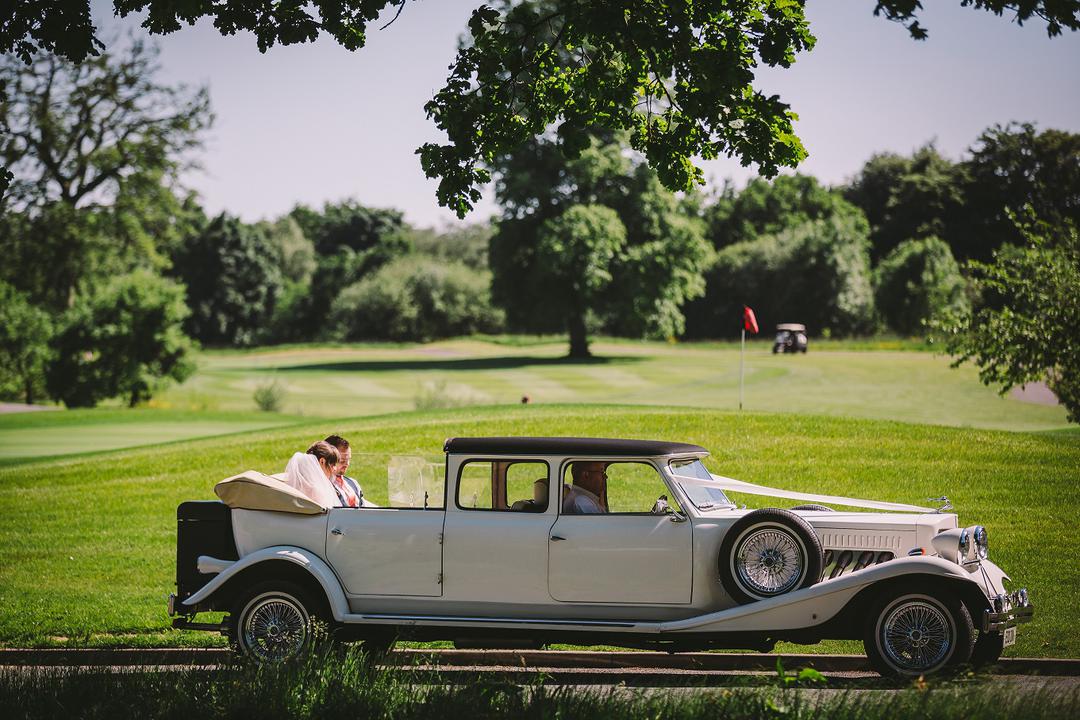 Worsley Park Marriott Hotel & Country Club is a gem in Manchester wedding venues. The four-star venue is surrounded by scenic woodland. The building is a red brick beauty and includes a glass-covered vaulted canopy to keep you pristine on the walk from your car to the entrance, no matter the weather. The Worsley Suite is elegant and can accommodate up to 220 guests, each of which will enjoy the large double doors that open onto the gorgeous courtyard. Alternatively, choose the Terrace Suite, which can accommodate up to 80 guests and overlooks the Worsley Parks Championship golf course and country scenery beyond. The gardens are packed with exotic-looking flowers of various vibrant colours, mindfully sown along the manicured hedges and soft lawns. There is a home away from home feel here, yet you'll be the stars of your day, enjoying exceptional and intuitive service.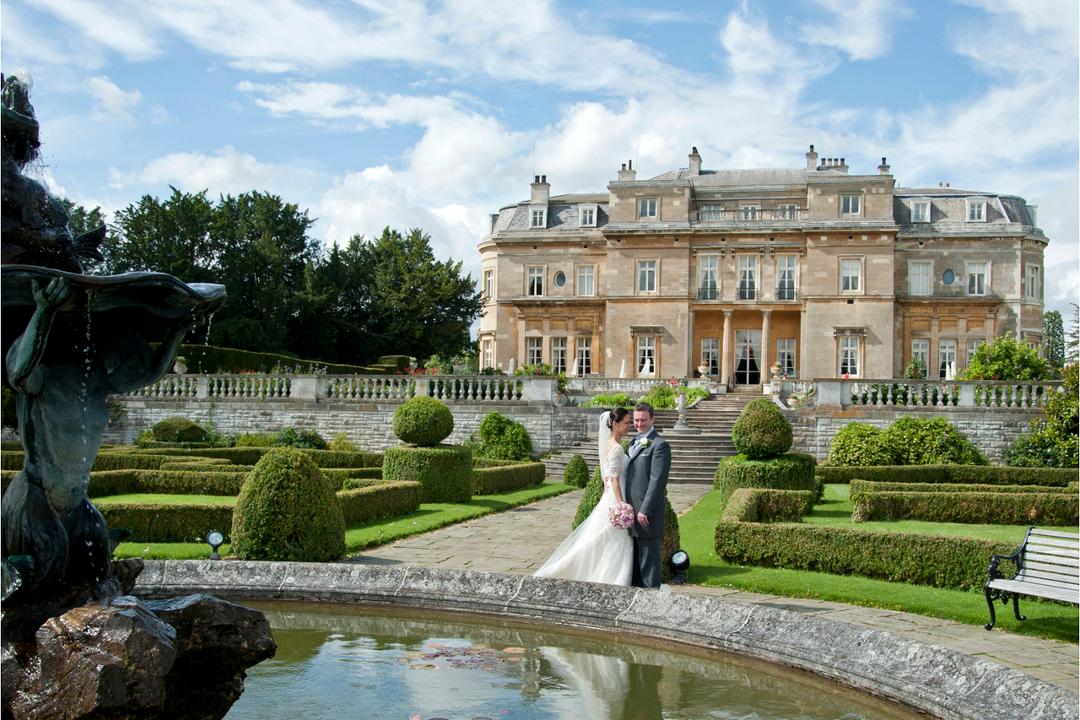 Looking for a country house wedding venue with a royal stamp of approval? Luton Hoo Hotel, Golf and Spa was, in the early years of the marriage, a favourite anniversary getaway of Queen Elizabeth II and the Duke of Edinburgh Prince Philip. We can see why.
The 1,065-acre estate is most impressive. The five-star mansion has a royal history, marble interiors and stunning period-styled rooms. Your guests will be left in awe. Newlyweds can also have exclusive use of the Warren Weir. It can accommodate up to 290 loved ones and is located on the lake's shore. The reflective surface of the still lake is bound to give you stunning photos on a clear and sunny day too!
There's something truly breathtaking about this hotel. Its size is incredible, its appearance majestic. It exudes elegance and classic style. It awaits your royal wedding.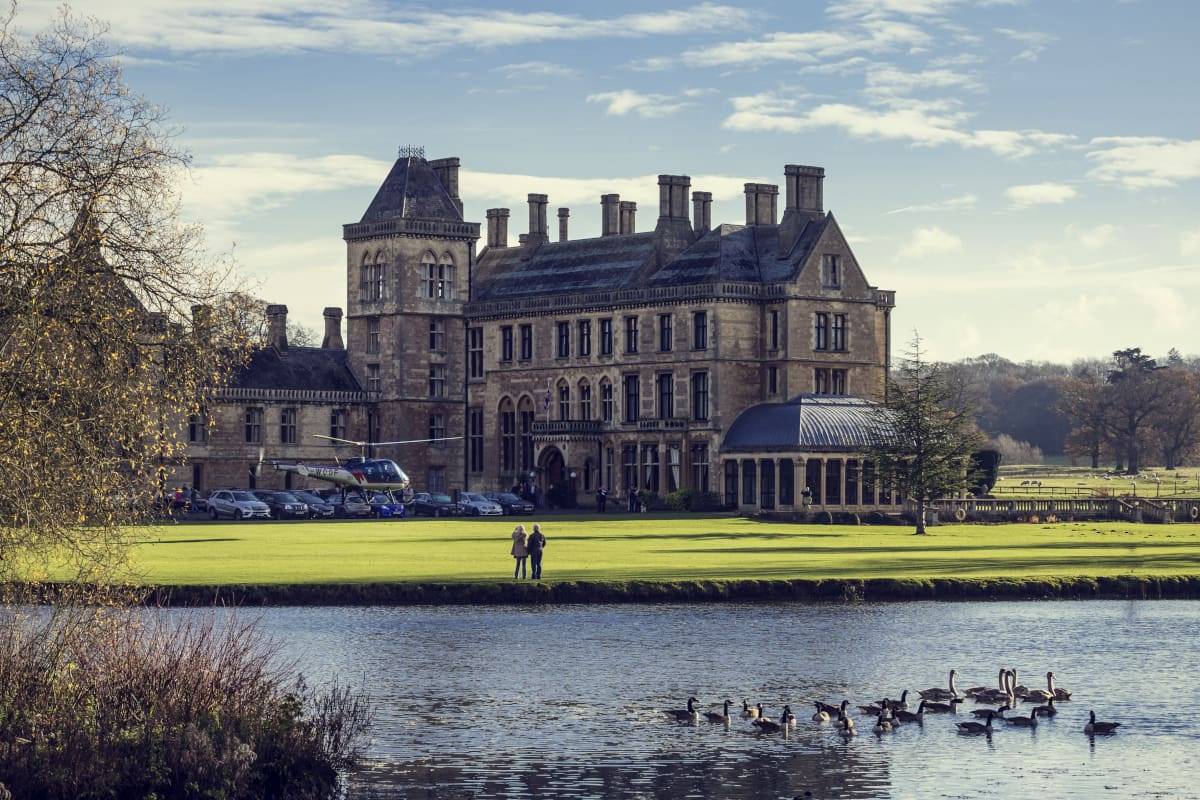 Mercure Warwickshire Walton Hall Hotel & Spa is nestled away in the Warwick countryside, waiting for you to step in and say 'I do'. This charming and romantic hotel is everything a couple needs for an unforgettable day.
The building dates back to the 1500s. Once the backdrop to historical events, it now hosts grand affairs and the making of love stories. Inside, gorgeous function rooms boast elegant open fireplaces and exquisite chandeliers, and overlook the beautiful gardens.
Say 'I do' outside and enjoy the rolling green lawns, the sparkling water, the lovely birdsong, the tree-lined drive, and the colourful sunset over the clear horizon. There's even room for a helicopter entrance!
Between the outdoor beauty, the indoor grandeur, and the on-site chapel, there's no reason every moment of your special day can't take place on this extraordinary estate.