Whether you're planning on a small and intimate affair with close family and friends only, or a lavish celebration with everyone you know, you may still want your wedding to be private. An exclusive-use wedding venue means you will have the whole venue and property reserved for your big day. No other guests will be on the property, wandering through your celebratory drinks or photobombing your wedding album! You can have peace of mind that your wedding day is for you and yours alone. It will be a day you'll cherish.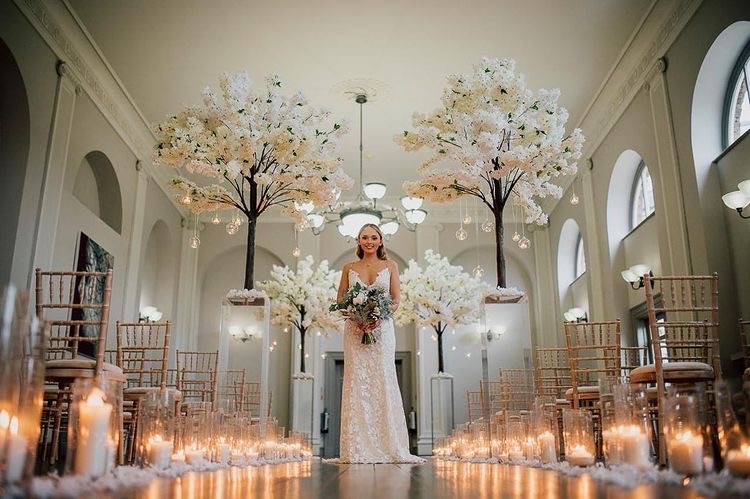 You've found The One; now it's time to find The One wedding venue. The Cotswolds has many a wedding venue but few so captivating as Kings Head Hotel, Cirencester. The four-star beauty stands directly opposite the local church, so those vying for a church wedding can experience the best of both on their big day.
For the large and lavish, choose Corn Hall. Built in 1862, it is full of historical architecture and will easily impress 80 to 400 guests! The Assembly Room is beautiful and has a rooftop garden, ideal for sipping champers. The Panel Room and The Library are quaint in size but equally as lovely, and each is perfect for an intimate ceremony of two to 30 guests.
Where shall you dance? The Vaulted Cellar, of course! It may be at basement level but comes with the WOW factor!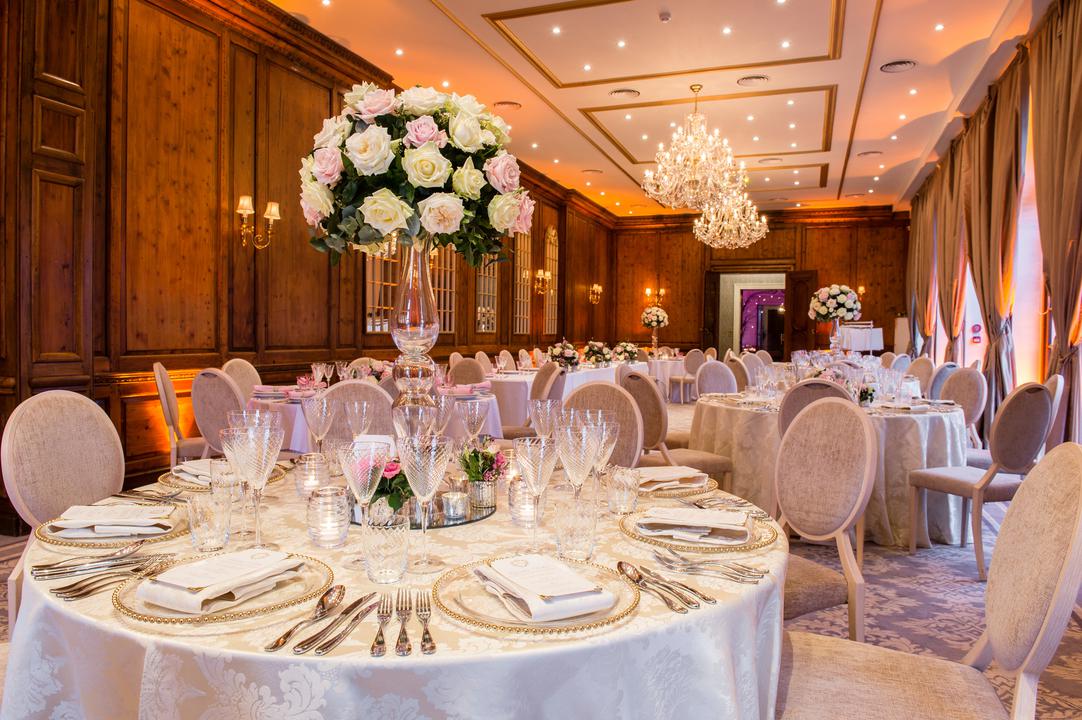 Hedsor House is an exclusive-use wedding venue set within 100 acres of stunning parkland, so when we say you'll have the place to yourselves, we mean it. The Georgian-era country house boasts the largest wedding-prep suite in Europe and is luxe to boot, along with the 13 luxury bedrooms of which your guests and bridal party can take advantage.
From one magnificent room to another, couples can say 'I do' underneath the Italianate domed Centre Hall. It's a truly spectacular space, and that moment you share a kiss as a newlywed couple will be captured against the gorgeous backdrop. From there, couples and their guests can dine in the Ballroom beneath a sparkling chandelier trio.
This award-winning wedding venue was named Vogue's Dream Wedding Venue, and we can easily see why. Everything's got that fairytale element at Hedsor House.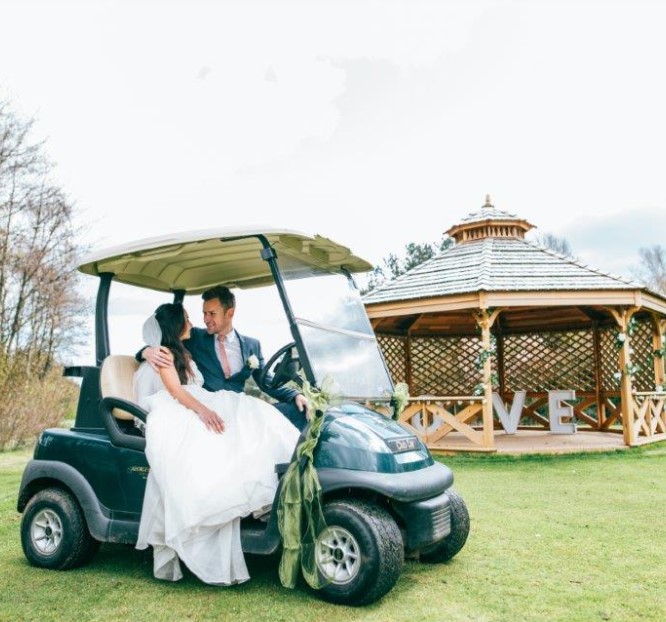 Mercure George Washington Hotel is a contemporary and stylish exclusive-use wedding venue found in the rural backdrop of Newcastle upon Tyne. There's so much to explore and enjoy here that you'll be overjoyed to know it's all yours for your big day.
Couples can stroll through the beautiful and bright Orangery space, Brasserie and Abraham's Bar. Outside, the lawns offer a stunning walk to the Pavilion and its gorgeous floor-to-ceiling windows. Your guests won't miss any of the outdoor beauty.
The Washington Suite in the main hotel building comes complete with coloured LED lighting. Easily add to your personal décor and colour scheme with their perfect glow in your chosen hue. During the day, the room is full of natural light for those Kodak moments. There's also a private bar, so you and your guests never have to leave the party.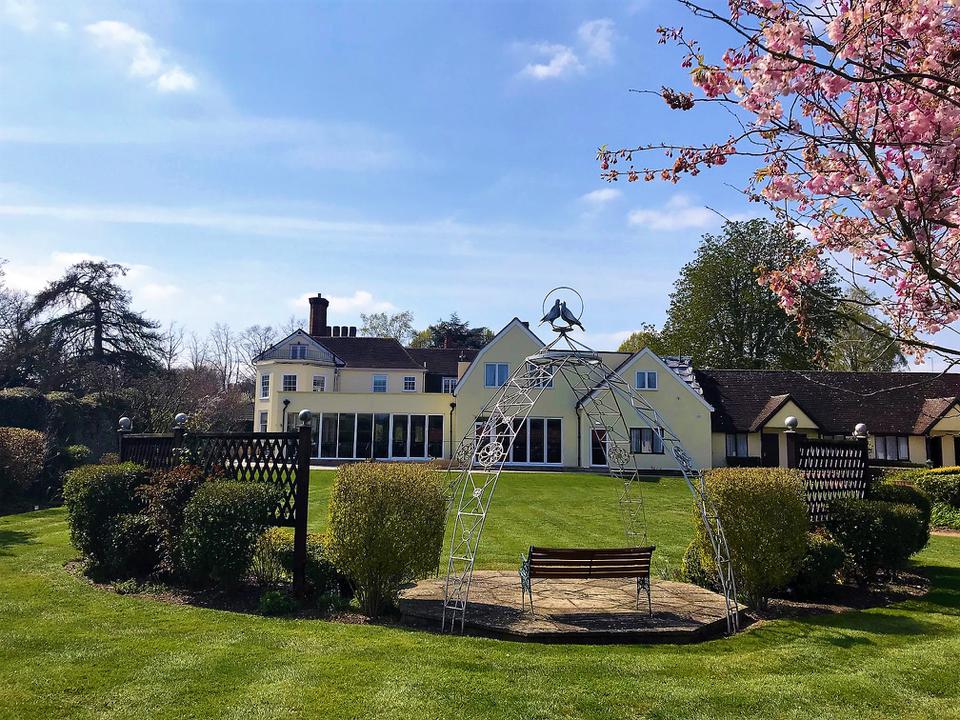 Best Western The Priory Hotel is the perfect place for an exclusive wedding. Hidden behind the historic walls of an old monastery, you'll find the recently refurbished hotel. A luscious hedge-lined path will take you to the classic and elegant building. Inside you'll find the décor simple, elegant and contemporary. It is beautiful yet a blank canvas on which you'll create the perfect wedding day, with the guidance and assistance of the dedicated wedding coordinator and personable staff.
Outside, the gardens are sprinkled with perfect nooks to take your wedding photos. The garden has a stone patio with a three-legged arch and a lovely wooden bench. Atop the arch is a set of kissing lovebirds. Could there be a more perfect backdrop for newlyweds in love?
The Priory also has an unbeatable culinary team, whose food has won a AA Rosette. Not something one often thinks about when looking for a wedding venue, but the suites each have air-conditioning, and as the summers get hotter, this is a welcome modern feature in such a historic building!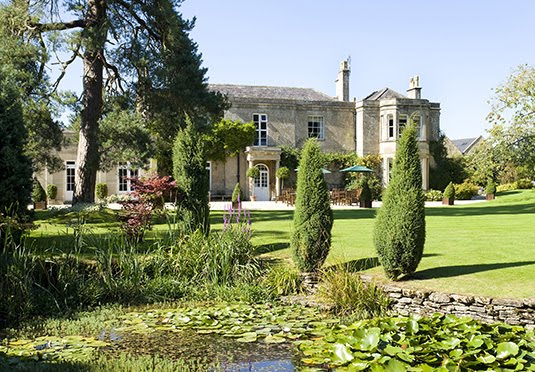 Guyers House Hotel is a genuinely stunning exclusive-use wedding venue. Manicured lawns surround the classic stone building. Pillars frame the entranceway, and large bay windows allow in oodles of natural light. Inside, the wedding suite can host up to 80 guests. The rooms are elegantly styled, and beautiful portraits and landscapes adorn the walls. Large and ornately carved stone fireplaces stand impressively while the doors open onto a stone-paved terrace. There's an air of nobility about the place.
If a larger wedding is more what you're imagining, the marquee can hold up to 200 wedding guests and is even capable of holding sparkling chandeliers. From the marquee, you'll enjoy all this venue has to offer; stunning views of the garden and flower-lined paths, the beautiful pond, the gorgeous building, and the AA Rosette chef's delectable dishes. The wedding of your dreams is possible here.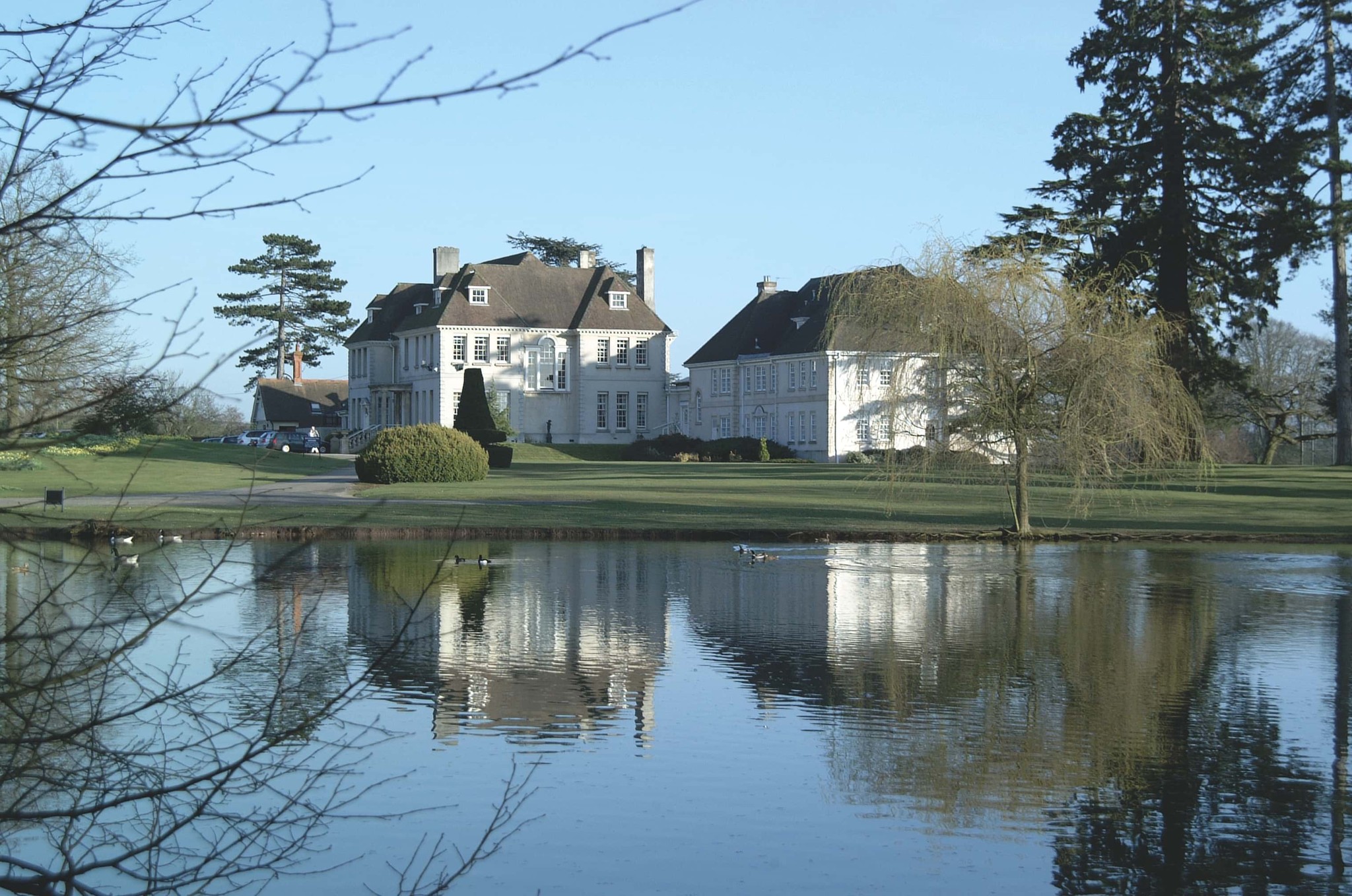 If you're looking for a place to celebrate your big day with just your love, your family and friends, and no one else in Worcestershire, Brockencote Hall Hotel may be the striking venue for you.
The building is grand and elegant with its French-inspired architecture. It has attractive features such as a restored dovecote, each making for a covetable photo backdrop.
The hotel has a dedicated team passionate about weddings and dedicated to creating your day your way. You can sit back, relax and enjoy your day – even the planning stages – for they have your vision well in hand.
If a church wedding is your wish, the nearby Chaddesley Corbett's Saxon church is available, and the hotel staff can arrange for a horse-drawn carriage to pick you up after you say 'I do' and sweep you off your feet, taking you to Brockencote in style. Swoon!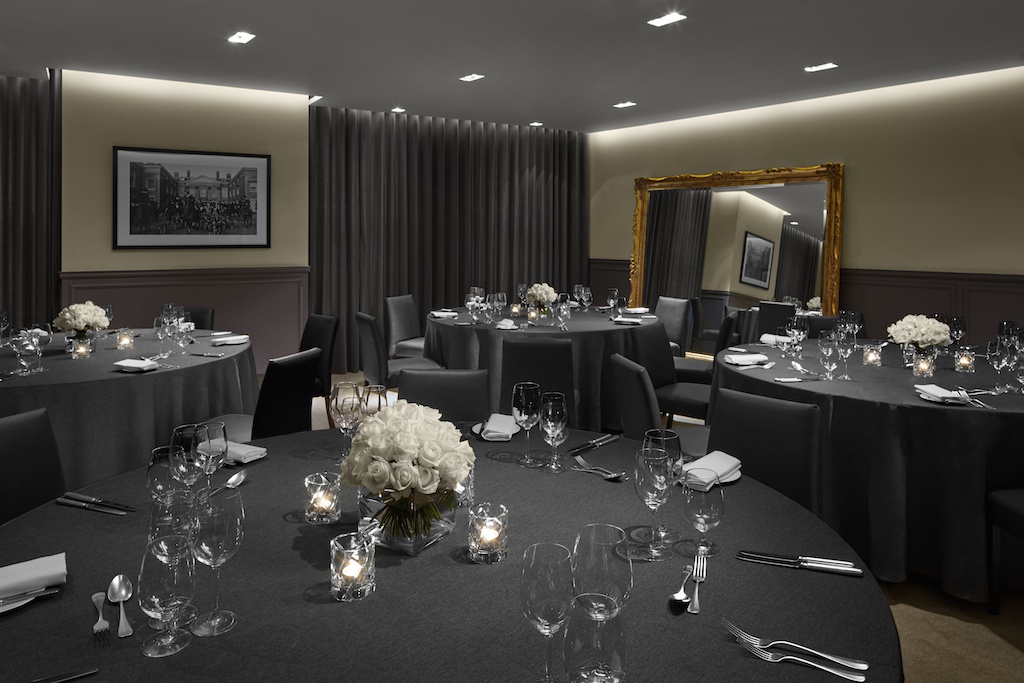 You may have thought it impossible to celebrate your wedding with only your guests and no one else in London, but a private metropolitan wedding is possible. The London Edition is in Fitzrovia on the edge of Soho. The awe-inspiring wedding venue was built in 1835, and its history contains many happy occasions. The boutique hotel blends intuitive service with gorgeous design, excellent dining with lively nightlife in a space that brilliantly combines the past with the present. And you can have it all to yourselves!
Outside, the building makes a jaw-dropping first impression, with its pillared entryway and classic stone carvings above the door. Inside, it feels like entering the world of The Great Gatsby. Everything is elegant and steeped in British history yet has all the glitz and glamour of old Hollywood. This exclusive-use wedding venue needs to be seen to be believed!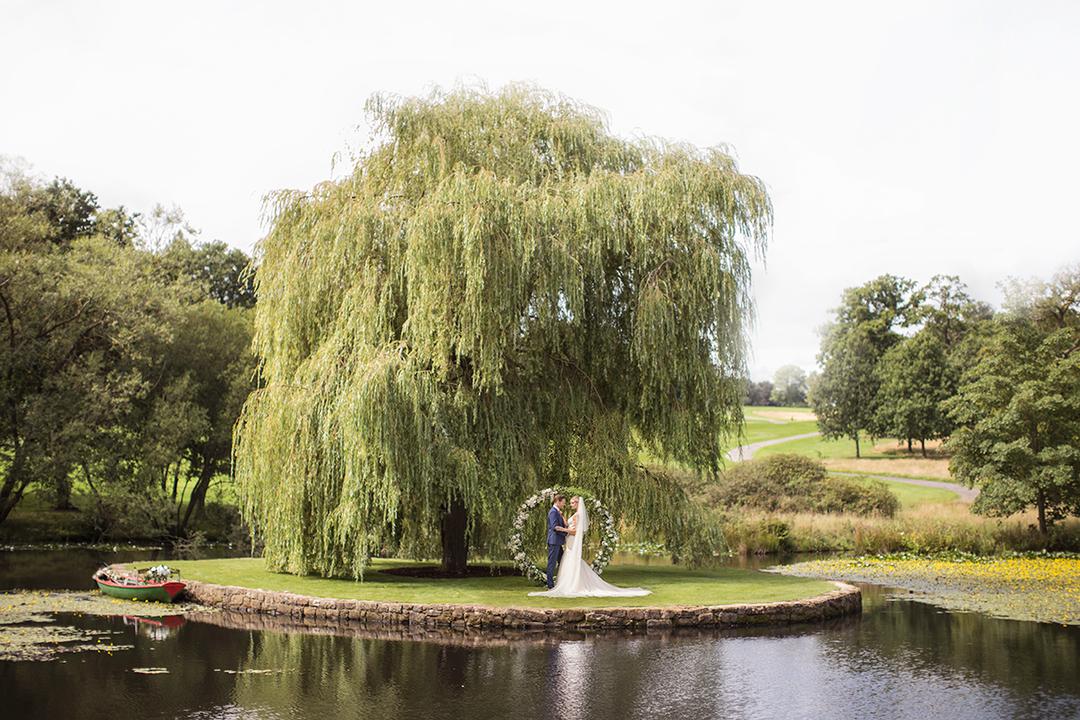 Rudding Park is a wedding venue of fairytales. This award-winning four-star spectacular in North Yorkshire is a Regency-era house, so think of the stunning country houses of Bridgerton. The beautifully landscaped gardens feature a lovely 19th-century chapel, ideal for blessing your nuptials.
The venue also features Love Island. No, nothing to do with the popular reality show. This is an actual island amid a crystal clear lake. A flower-strewn arch stands in front of a weeping willow. Couples can row out to the island for a moment of privacy as newlyweds and to create photos that will make your already married friends green with envy!
Every step you take at Rudding Park, inside or out, reveals something magical, something beautiful, and something you'll never forget.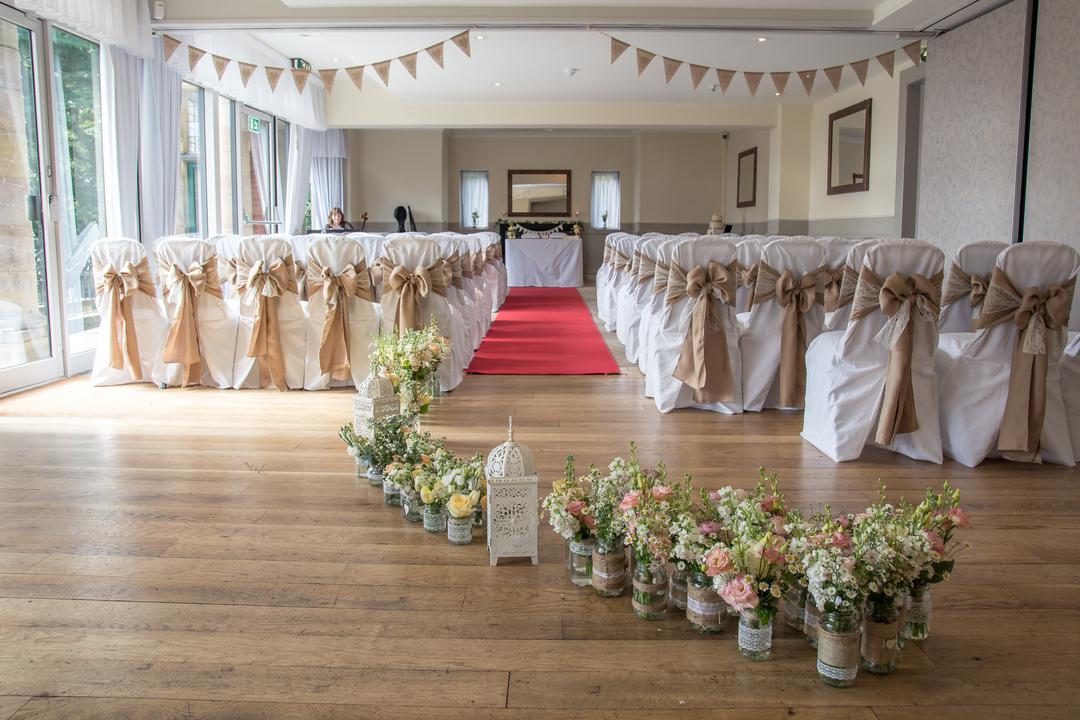 South Yorkshire is proud to have such an exclusive-use wedding venue as Whirlowbrook Hall, and we can easily see why. It's so beautiful that you'll need to see an aerial photograph of the property to take it in all at once. The Hall sits on 39 acres of landscaped gardens in Whirlowbrook Park. The manor house maintains many original features, such as ornate fireplaces, yet exudes contemporary elegance and classic styling. The marvellous Oak Room is available for civil ceremonies. You may not want to leave such an enchanting space after saying 'I do', but more loveliness awaits you in the Garden Suite, which overlooks the delightful gardens and is ideal for any wedding breakfast.
The venue is hidden from plain view by a series of gorgeous tall trees so that no one will stumble upon your private celebrations.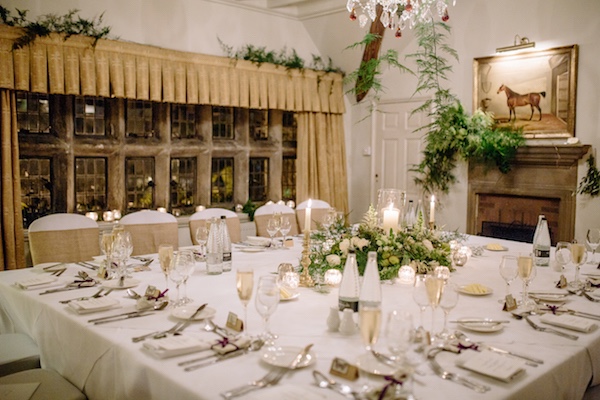 We have the answer if you're envisioning a quaint ivy-strewn cottagecore wedding venue large enough for all your friends and family to celebrate your wedding day. Holdsworth House Hotel in Halifax is a Jacobean manor steeped in history. It is hidden from view by three acres of the walled garden. One stumbles upon it like they would a castle in an enchanted forest. It dates back as far as 1633 and is every photographer's dream. Of course, your wedding isn't all about the photographs.
Intimate wedding gatherings are ideal for The Ayrton Room or the De Aldworth Room. The Beatles once slept here, so that's enough of a recommendation for us! The Stuart Room is up for grabs for large and lavish celebrations and even opens onto its own courtyard.
Outdoor weddings are an option here, too, and the Stone Gazebo by the sunken Parterre garden is the way to go. It is truly stunning and unique.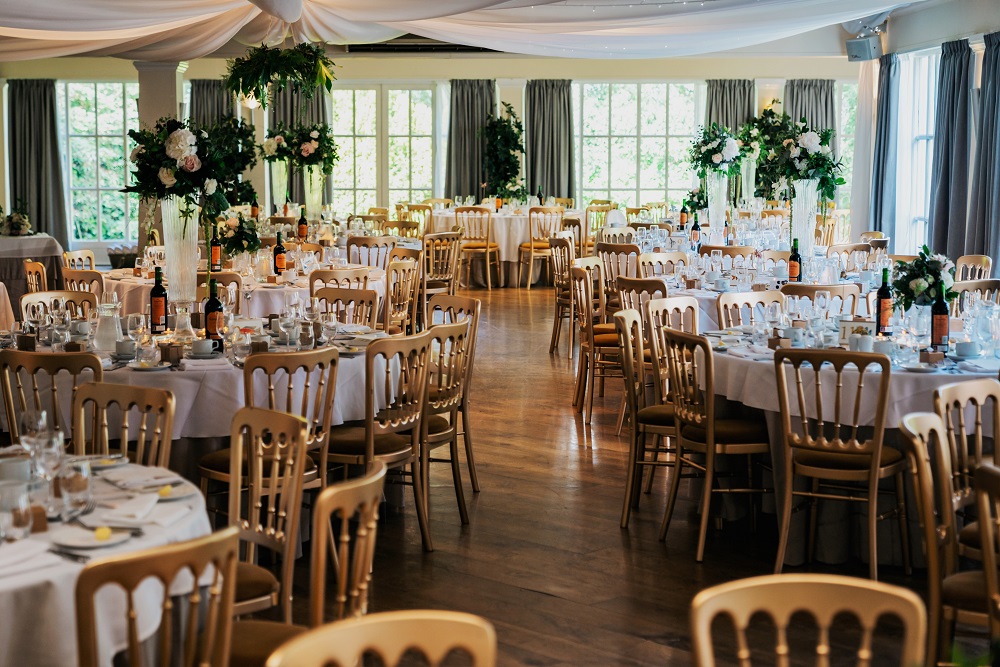 Cheshire has a gorgeous Edwardian country house available as an exclusive-use wedding venue. Mere Court Hotel is enchanting and very different to other wedding venues. Seven acres of spectacular gardens are included in the property, including an ornamental lake with a fountain. The lake is surrounded by luscious green plants and trees of all sorts. It is a wedding wonderland. It won't be difficult to find spots for beautiful wedding snaps. The lawn is the home of the stunning wooden gazebo, ideal for outdoor ceremonies. The front lawn features a landscaped formal garden with a sculpted fountain.
Inside, couples will be taken aback by the contemporary style of the historic home. Everything is simple, neutral, and elegant, waiting for your personal touches.
To top it off, this hotel boasts a brigade of chefs, and each dish is perfectly prepared. Your guests' mouths will water at the memories for years to come!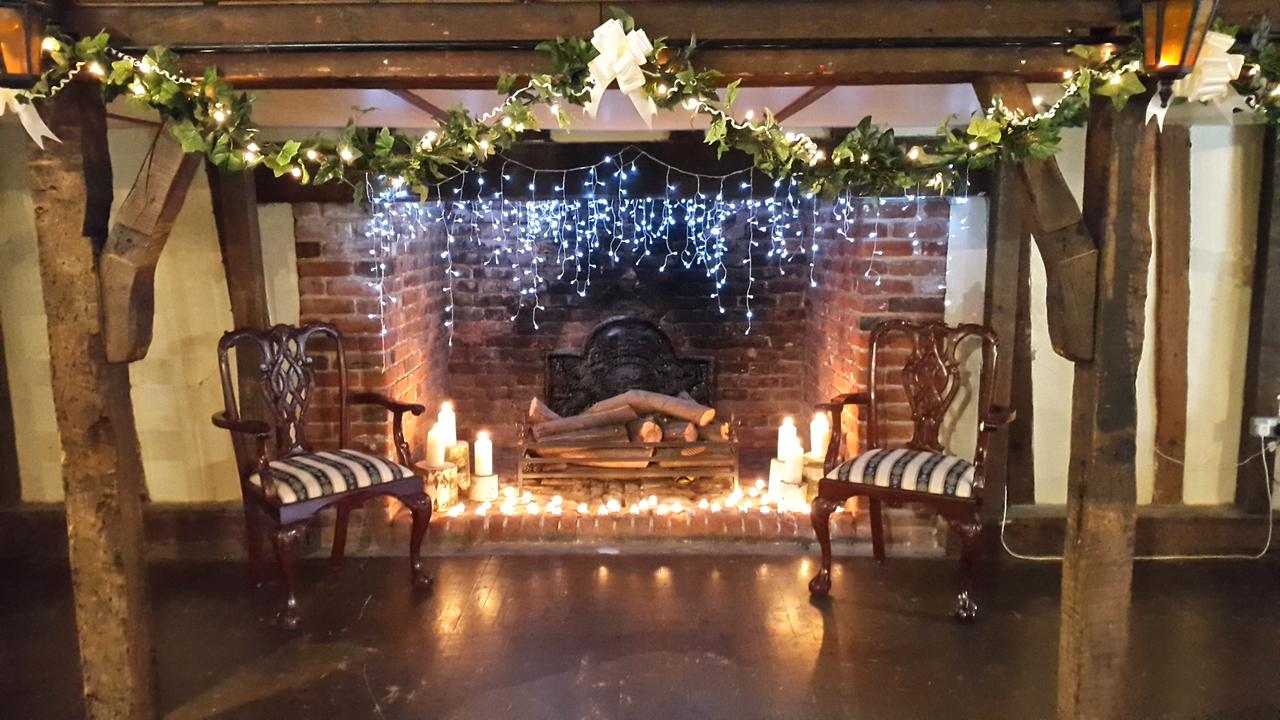 This is an exclusive-use wedding venue with a difference! Best Western Brome Grange Hotel has a Tithe Barn. Yes, a barn! Long gone are the scents of farmyard animals and hay. This 16th-century barn has been restored and refurbished into an elegant place to say 'I do'. The room has rustic wooden beams in the high vaulted ceiling. Sparkling chandeliers twinkle above dancing newlyweds. There is a gallery raised just above the floor from which musicians can play as you walk down the aisle. Sensing the magic is simple in this barn.
Best Western Brome Grange Hotel's staff create beautiful weddings because they care. They know this is one of the most special days of your life, and they'll ensure you remember it for all the right reasons.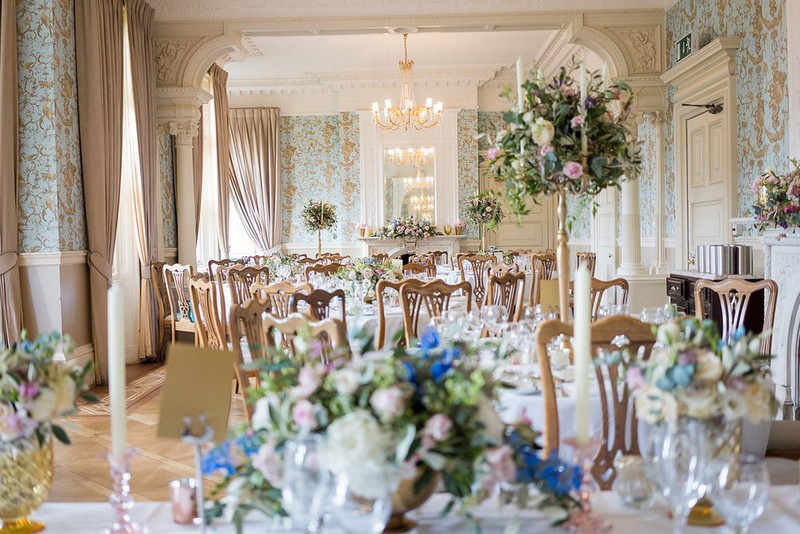 Some couples simply look at the Pendley Manor Hotel from the outside and think, 'yes, this is the one'. We get it. This 84-bedroom Victorian country house ticks all the boxes for an elegant wedding.
Upon arrival, you'll drop your jaw at the sight of this red brick building and its many intricate gables. Directly opposite the entrance is a small formal garden acting as a roundabout. It features primped trees and a raised stone platform. It is the perfect spot to take a wedding photo with this gorgeous building in the background.
Exchange vows in the oak-beamed ceremony room. Head to the rose garden for photos, and maybe the resident peacocks will join you! Don't forget the signature snap on the magnificent staircase.
Enjoy drinks on the perfectly manicured lawns with your guests before venturing into an ornate and private wedding suite to dine on fine food, which can accommodate all tastes and dietary requirements.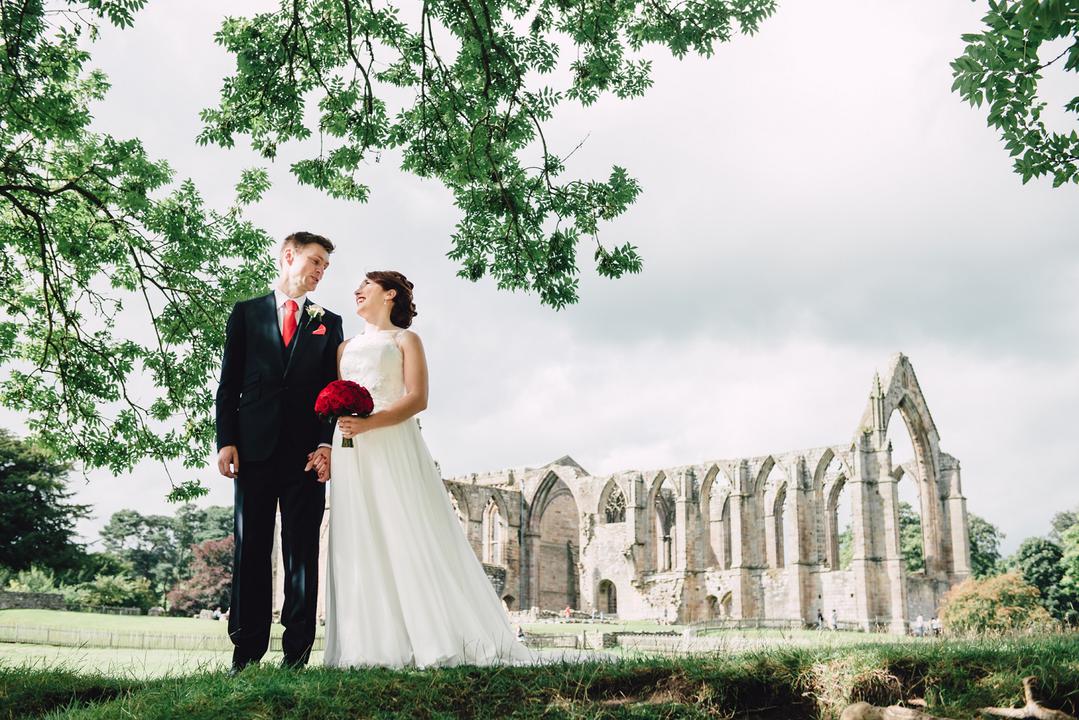 A river-side wedding might be just what you want for your private wedding. In that case, The Cavendish Pavilion is just for you. The venue is on the Bolton Abbey Estate, belonging to the Duke and Duchess of Devonshire, so you know it has an air of royalty.
The rooms feature traditional open fireplaces and integrated bars and can be decorated to suit any theme you have in mind. You and your guests can enjoy panoramic views of the Bolton Abbey Estate and the sparkling River Wharfe.
A very short drive away, couples can also take advantage of the beautiful Bolton Abbey Priory Church.
You'll experience expert organisation, delicious food, and friendly, attentive staff to complete your dream wedding day. Your big day will be one to remember for decades to come.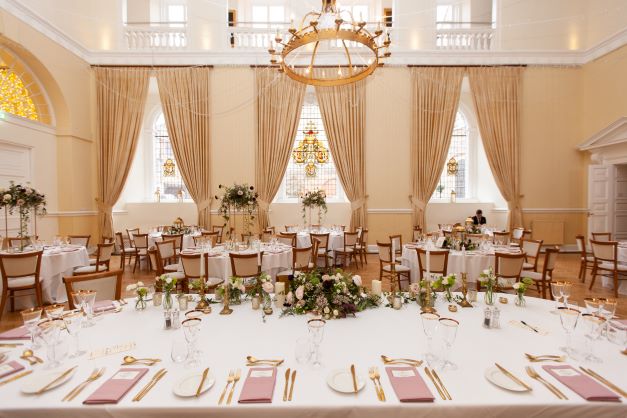 Who doesn't dream at least once about getting married in a castle? It's the ultimate fairytale wedding venue. Farnham Castle is an exclusive-use wedding venue that will make you the envy of your social circle. It's historic, spacious, and has a myriad of charming rooms filled with personality and character. It is surrounded by beautiful grounds and includes luxury guest accommodation. Its elevated position overlooking the town of Farnham may make you feel like the reigning monarchs for a day!
Your special day doesn't begin with you walking down the aisle. It starts much earlier than that. The Gatehouse and the Pembroke Suites are luxurious and tranquil places for you to begin your day. Have breakfast in the room, sip champagne with your wedding party, and don your dress or suit in a relaxing and stress-free environment. Everything after his gets more lavish and elegant as the day goes on!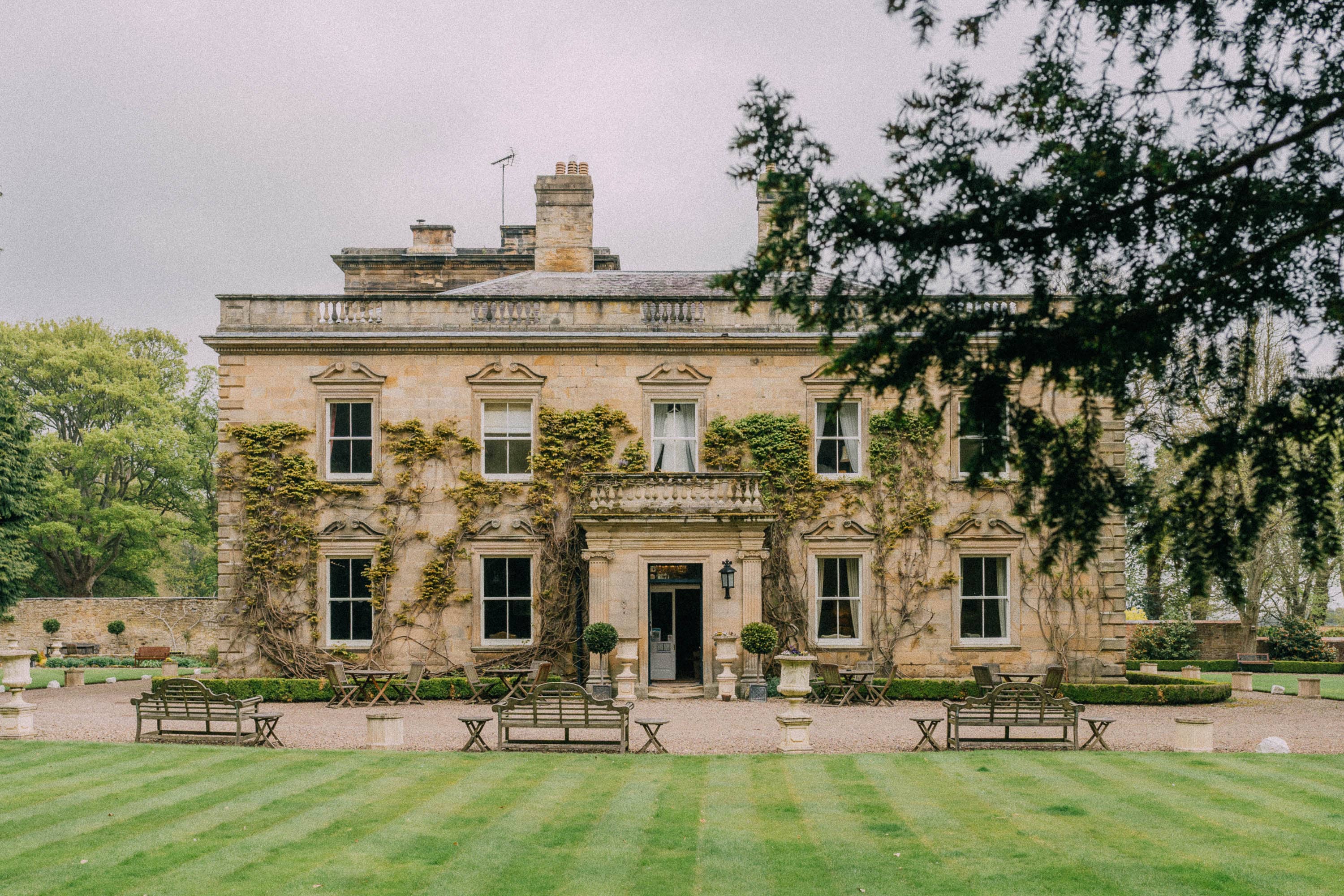 A tree-lined driveway will whisk you through the Northumberland countryside and lead you to Eshott Hall. This Georgian-era four-star gem is built of honey-coloured brick and strewn with ivy and purple blooms. Its façade is picture-perfect. Its lawns are perfectly manicured – ideal for a game of croquet, we'd say.
Inside you'll find a grand staircase waiting for you to make your showstopping entrance to your ceremony. The house itself exudes romance and perfectly blends elegant period features with modern design and convenience.
If you and yours choose to spend the night, you'll find yourself sleeping in the lap of luxury too.
There are 23 luxury bedrooms, some of which boast four poster beds and freestanding baths, and all have stunning views of the grounds – either the rolling lawns or the ancient woodland.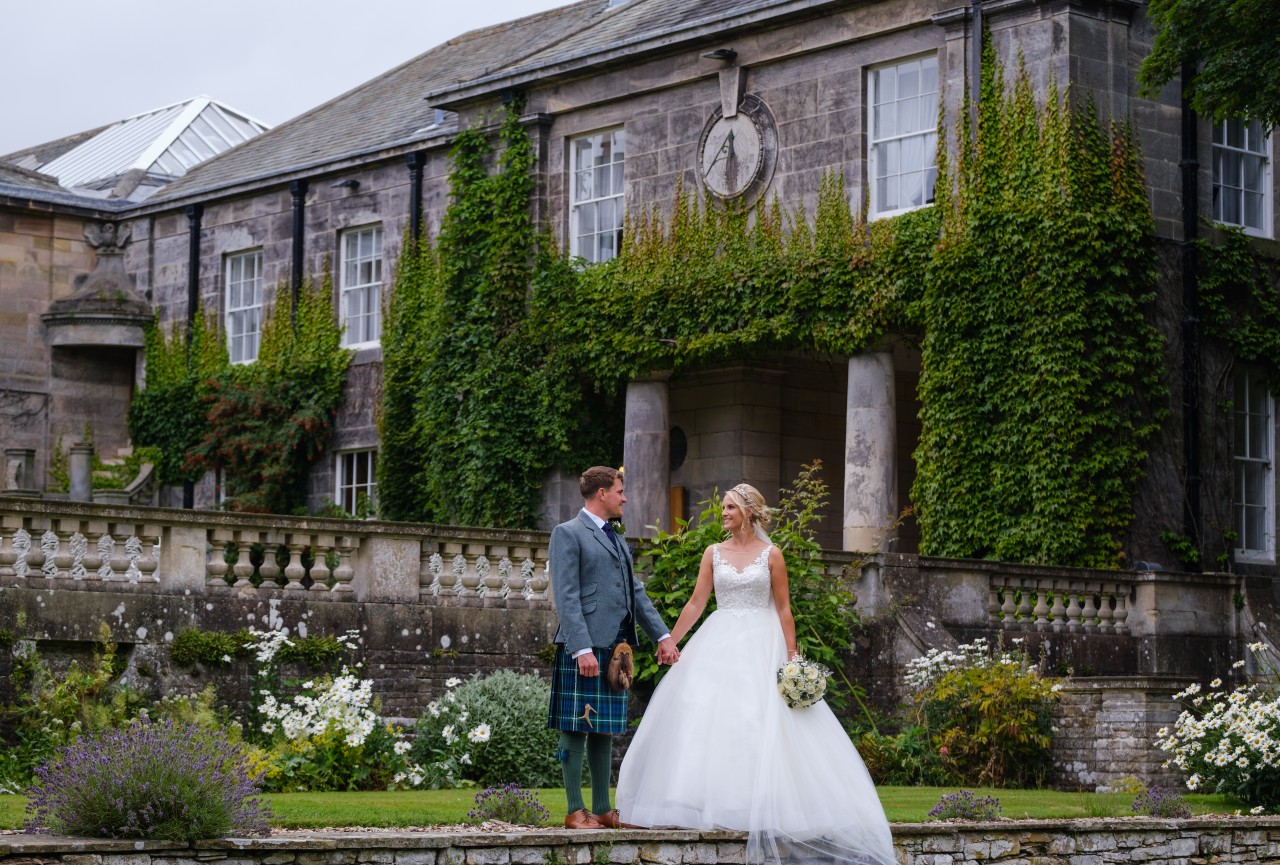 Doxford Hall Hotel and Spa is a four-star wonder near the historic town of Alnwick. Built in 1818, this epitome of Georgian splendour has been lovingly restored. It boasts a wealth of exquisite craftsmanship, including fine wood panelling and a grand handmade staircase.
A sweeping drive will take you through 10 acres of gorgeous grounds to the Hall. In the front, you'll find formal gardens beyond a sunlit terrace with classic stone features and wrought iron gateways. This is not only an enchanting photo opportunity but also the beginning of a day full of grandeur.
Inside, the house will transport you to a time of noble elegance. Each room has its own character and personality, yet each is capable of becoming your vision of your wedding day.
The venue is the only one in Northumberland with four AA Red Stars, granted to only the best hospitality properties in the British Isles.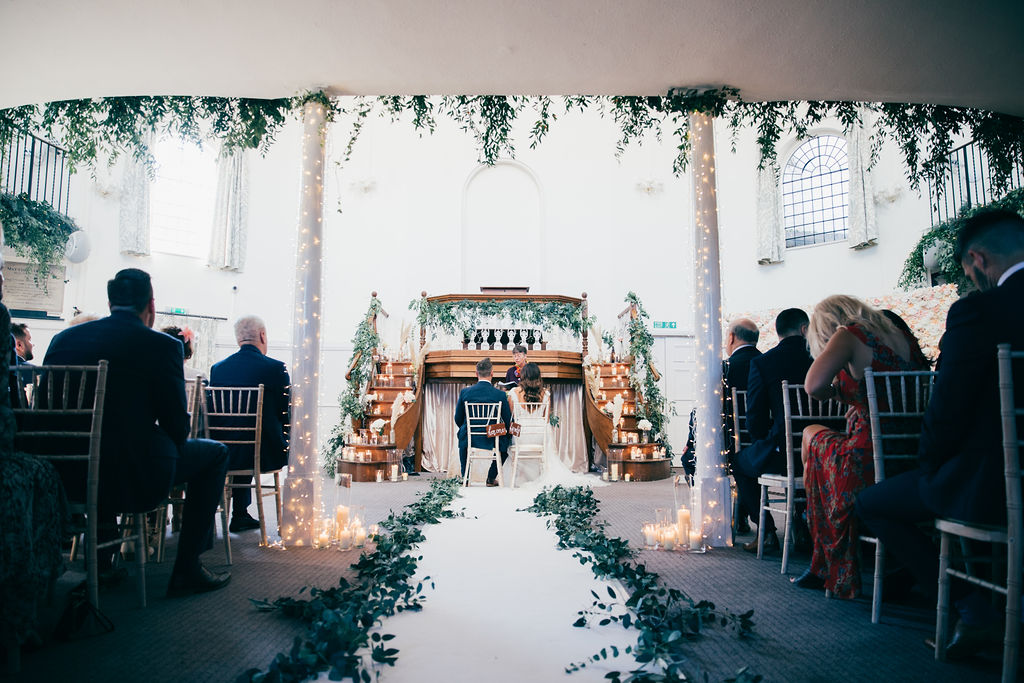 Kings Chapel is a beautiful 18th-century chapel in the town of Old Amersham. It's the perfect place to tie the knot and celebrate your union with all your loved ones.
Say 'I do' beneath the domed ceiling – the most enormous unsupported dome ceiling in Britain and second in the world only to St Paul's Cathedral, don't you know? Beneath the dome is the Romeo and Juliet balcony. If you and your love stand upon the balcony to exchange vows with all your guests looking up at you, views completely unspoiled, there won't be a dry eye in the chapel.
An outdoor ceremony is possible here too. The walled garden is full of year-round blooms, which create a unique ceremony space.
This exclusive-use wedding venue can cater to 130 guests at banquet tables and boasts nothing less than culinary excellence. From a traditional roast dinner or five-course feast to a relaxed barbeque or hog roast, the talented chefs cater for all tastes and dietary requirements.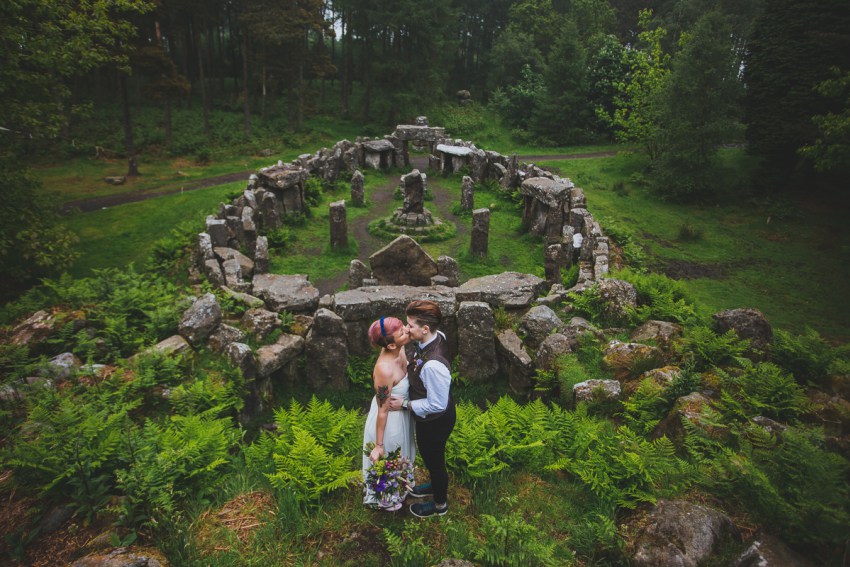 Swinton Estate is a series of wedding venues! There's so much to choose from here, it will be difficult, but no matter where you decide to say 'I do' and where you choose to celebrate into the evening, you're guaranteed to have a magical day. Swinton Park, Deer House, and Swinton Bivouac are all up for grabs for your private wedding day.
Swinton Park is a unique castle steeped in history and sits on 20,000 acres of picturesque parkland and gardens. It includes Lake Island, which has a quaint Georgian summerhouse, ideal for intimate meals and alfresco dining accompanied by birdsong.
Deer House is beautifully restored and is a wonderful spot to enjoy the parkland views, from the ancient trees to the lake. By night enjoy the torch-lit area with acoustic music and braziers to keep the evening chill away.
Swinton Bivouac is a rustic space with a unique druid temple, a tipi for post-ceremony celebrations, and the Meadow Yurts, Tree Lodges and bunkbarn in which to enjoy a night beneath the stars.
No matter where you step or look there'll be another pace to take a beautiful photo for your wedding album. May we suggest making a list on your showaround? That way you won't miss a single picture-perfect spot and you can get back to celebrating ASAP!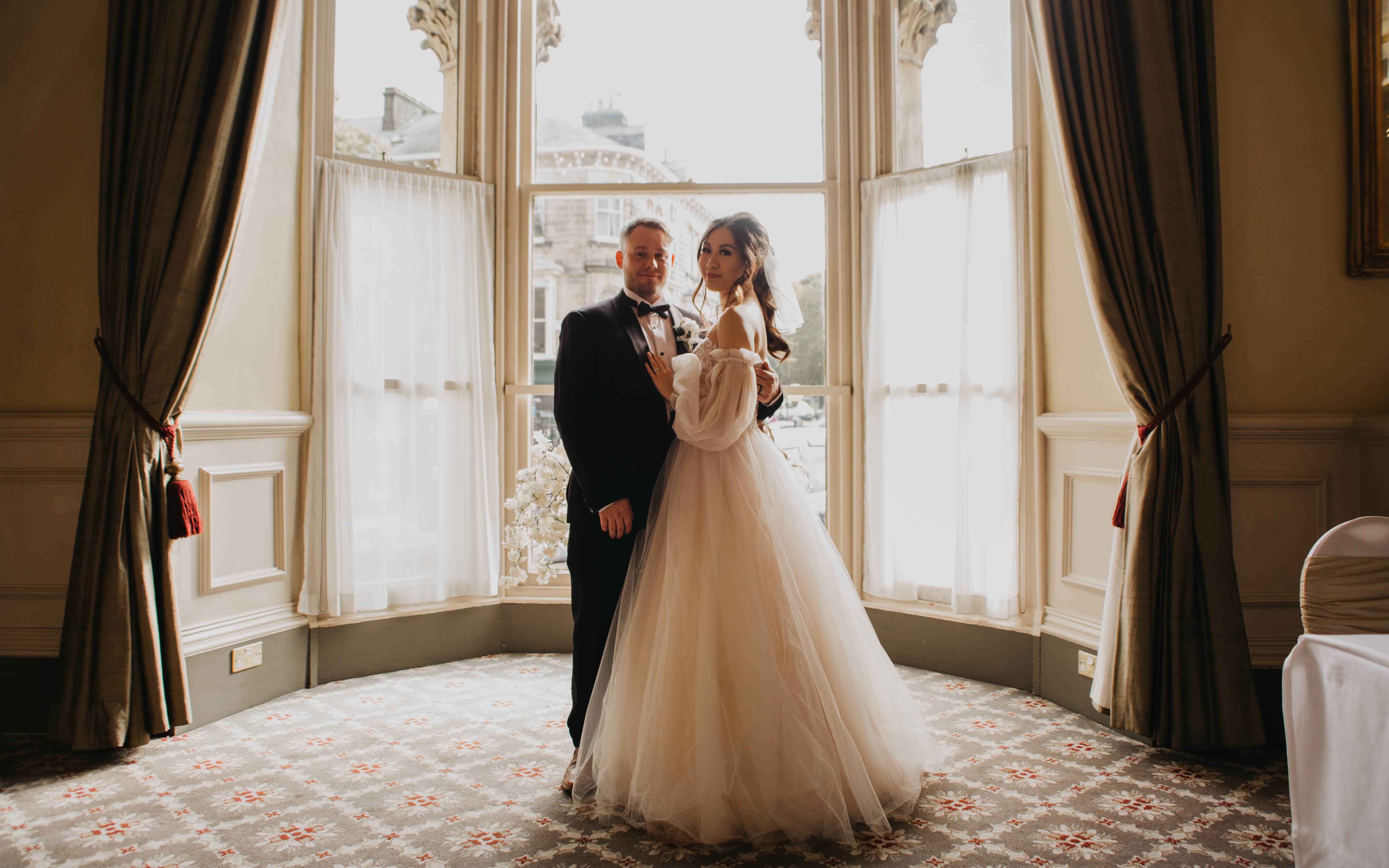 Harrogate is home to the illustrious Crown Hotel Harrogate, a gem with a 300+ year record of exceptional service to guests. Your wedding day is no different. The dedicated staff strive to ensure your wedding day is a dream come true.
The hotel is vast in size, grand in architecture, and surrounded by one of the most colourful gardens imaginable. It will be challenging to take a lousy photo in this garden! Inside, the wedding suites have high ceilings and classic styling. Gold-framed artwork and mirrors adorn the walls. Rich fabrics are soft to the touch. The food is delectable. This is a wedding venue for the senses.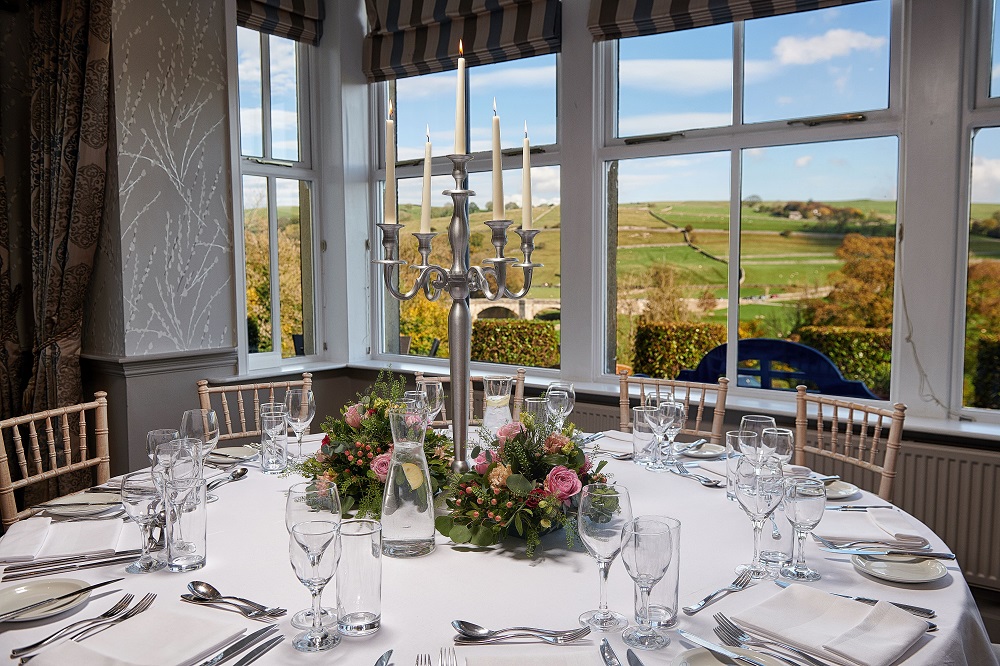 The Devonshire Fell is an incredible country house wedding venue that combines excellent service, warm hospitality, and twice-awarded AA Rosette food to create the most elegant of wedding days.
The boutique four-star hotel is styled to offer city chic in the rural Yorkshire Dales. Now you can have a metropolitan wedding near home! On the outside, the hotel is an impressive Edwardian building. Step inside, and you'll find yourself surrounded by vibrancy and contemporary design.
The gardens contain manicured lawns, perfect for outdoor games for all the family to enjoy. They're surrounded by primped hedges and bushes, sprinkled with colourful blooms. The building stands elevated to the garden so that you can take beautiful wedding photos with this lovely building creating a perfect backdrop. Alternatively, face the other way, and you'll lose your breath in awe at the Yorkshire Dales and the river flowing nearby.